A Brand New Baby with Down Syndrome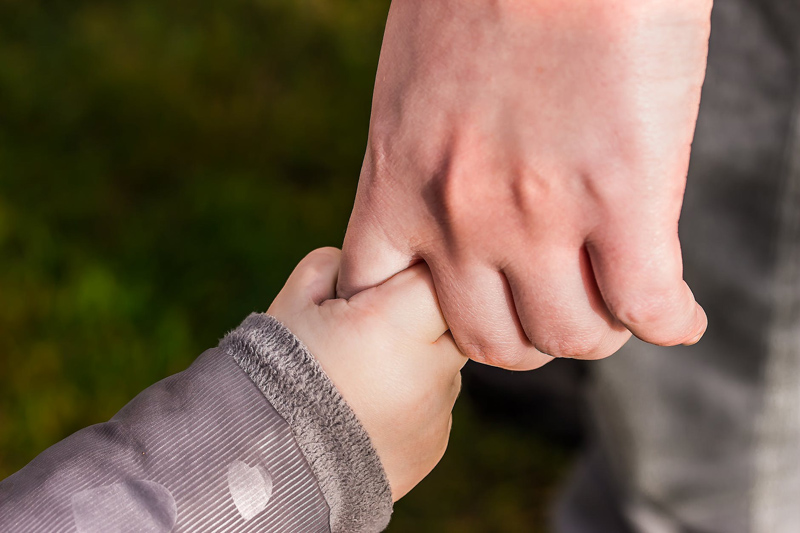 If you have a brand new baby who was diagnosed with Down syndrome, thank you for seeking the reliable information about your baby's possible challenges and support needs from the first.
When a baby is identified by a diagnosis soon after birth, the outside world can intrude on the very special private moments that mothers and fathers share with babies in their first days of life. I hope that you can find a peaceful place to take time to enjoy your son or daughter and fill yourself up with transcendent joy and pride that all children offer their parents.
You have a perfect right to drink in your baby's scent, memorize the feeling of your baby's sweet little head on your cheek, kiss baby toes and fingers, and exchange long soulful looks with your newborn. No book or article that you will read about Down syndrome will give you a clue about who your child will be. Someday you will look back on these first weeks and months with wonder, as you leaf through snapshots in a baby book with a child or teenager who laughs at your hairstyle and your clothing, and pronounces himself or herself the cutest baby in the world.
This child will read the funny and sweet comments you have written in photo albums, the captions in photo CDs, and sentiments in birthday cards, tease you about them and give you hugs. You may have other sons or daughters, but this child will know them as brothers and sisters first, squabbling over little things but united in their knowledge that they are of a generation different and much better than yours.
No matter how many special needs for intervention or support your child may develop, it will be apparent before long that this baby can outsmart you any day of the week. Surrender now, and enjoy your child as an amazing individual from the start.
Down syndrome is just a small part of your child's makeup. Remember that the extra chromosome that brought down the diagnosis is not one that is shared with any other child. That extra chromosome is unique to your baby, and we don't know what the future holds except that this little girl or boy is and will be more like his or her mainstream peers than different.
As you read, and talk with other parents, advocates, experts or poorly informed strangers, remember that babies write their own stories as they grow up. You may find as much useful information or effective child rearing and education strategies in mainstream books as those that focus on children with Down syndrome in general.
Early intervention programs for babies with Down syndrome developed infant stimulation and early learning support that are the basis for many mainstream Mommy and Me and early childhood learning programs. Physical therapy exercises may seem suspiciously like play, and speech therapy sessions may look very much like games. Your best education will come from the baby you hold in your arms right now.
As your baby's life unfolds, you will learn more about yourself and everyone you love than you ever thought possible. This happens with any newborn adding to the richness of experience in any family, but you may find that your baby brings more to your life because so much of who she or he is will be unexpected. One of my best friends told me when my son was born, "For him, every win will be a big win." Looking back, I wish I had celebrated more, and had faith that my son would be just who he was supposed to be.
Your extended family may not have the pleasure of getting to know your newborn without concerns about the diagnosis weighing heavily upon them. They will worry about your baby, and worry about you as one of their own babies, grown up.
Years from now they may insist that they could tell from the first that your son or daughter would be a real firecracker growing up. Nothing you expect to happen because your baby has Down syndrome will happen as you can imagine it now. Live as if you knew your baby was going to grow up to be an amazing and wonderful person from the first. No matter how high you think you can set your expectations, this baby will prove you foolish. We all worry about the wrong things anyway - thank goodness!
Browse at your local bookstore, public library or online retailer for books or DVDs about raising your wonderful son or daughter with Down syndrome, like
Babies with Down Syndrome - A New Parent Guide
or
Gifts: Mothers Reflect on How Children with Down Syndrome Enrich Their Lives
.
I have been surprised
https://karynslater.wordpress.com/2013/10/17/31-for-21-i-have-been-surprised/
The 1000 miles of Luca - A father talks briefly about life with his son who has Down syndrome
https://vimeo.com/84061549
Two conversations that changed my life | Tamara Taggart | TEDxSFU
https://www.youtube.com/watch?v=vjRlFCgQ1e8
Down Syndrome Pregnancy organization absorbed by University of Kentucky's Human Development Institute (HDI)
https://downsyndromepregnancy.org/dsp-news-and-gratitude/
Diagnosis to Delivery: A Pregnant Mother's Guide
to Down Syndrome by Nancy Iannone and Stephanie Meredith
https://downsyndromepregnancy.org
Down Syndrome Pregnancy site absorbed by University of Kentucky's Human Development Institute (HDI)
https://downsyndromepregnancy.org/dsp-news-and-gratitude/
National Center for Prenatal and Postnatal Down Syndrome Resources
https://createsend.com/t/y-81BD225C1E21261D
Loving a Child With Down Syndrome: Far From the Tree Doesn't Do It Justice
https://www.slate.com/articles/double_x/doublex/2012/11/andrew_solomon_s_far_from_the_tree_parents_children_and_the_search_for_identity.single.html
Far From the Tree: Parents, Children and the Search for Identity
https://tinyurl.com/b864hvx
One Year Down This Path: A Fathers Perspective On Down Syndrome
https://www.youtube.com/watch?v=-jZoPggEfVQ&feature=share
Nine Myths About Raising a Baby with Down Syndrome
https://www.fudgebananaswirl.com/9-myths-about-raising-a-baby-with-down-syndrome
Having A Child With Down Syndrome: What Nobody Tells You
On Adopting a Kid With Down Syndrome
https://huff.to/KA8Xwx
https://www.huffingtonpost.com/kari-wagnerpeck/on-adopting-a-kid-with-down-syndrome_b_4608455.html
Down Syndrome:
Shifting Perspectives at the Dublin Arts Council
https://www.youtube.com/watch?v=TQ61vJdqyWw
Just Like You - Down Syndrome
https://www.youtube.com/watch?v=5M--xOyGUX4
The Atlantic: A Generational Shift in Understanding Life with Down Syndrome
https://tinyurl.com/c9o2msm
Dear mom with a prenatal Down syndrome diagnosis
https://sippinglemonade.com/dear-mom-with-a-prenatal-down-syndrome-diagnosis/
Newborns Sleeping Through the Night: A DANGEROUS Myth
https://www.youtube.com/watch?v=e2PfSaHwSco&feature=share
10 True Things About the First Year of Parenthood
https://www.huffingtonpost.com/karyn-thurston/10-true-things-about-the-first-year-of-parenthood_b_4254464.html
Warrior Mum and Learning Disability Nurse - Sandy's Journey
https://michelledaly.blogspot.co.uk/2013/12/warrior-mum-and-learning-disability.html
Keep Abortion Politics Out of the Pro-Information Movement
https://www.thismess.net/2014/06/keep-abortion-politics-out-of-pro.html
You Should Also Read:
Welcoming Babies with Down Syndrome
Bienvenidos Bebes con Sindrome de Down
Accueillir les bébé trisomiques


Related Articles
Editor's Picks Articles
Top Ten Articles
Previous Features
Site Map



Follow @DownSynAdvocacy
Tweet





Content copyright © 2022 by Pamela Wilson. All rights reserved.
This content was written by Pamela Wilson. If you wish to use this content in any manner, you need written permission. Contact Pamela Wilson for details.