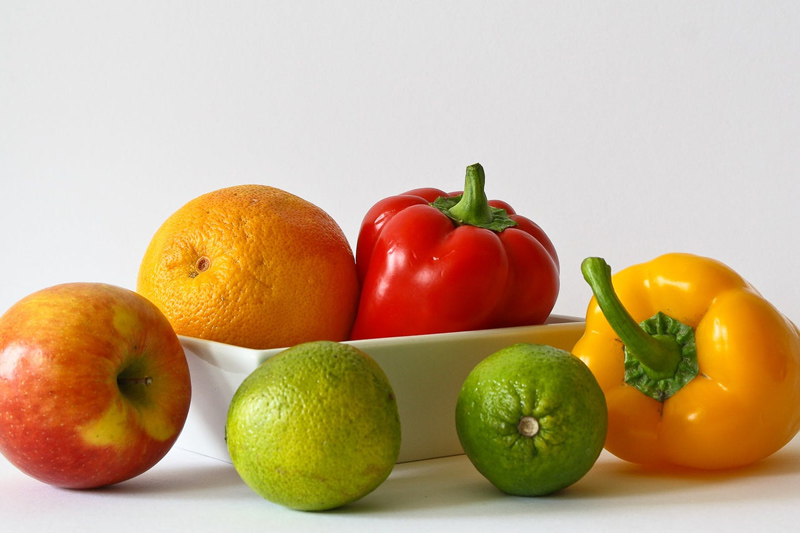 We have all heard about the health benefits of omega-3 fatty acids. One of the best places to get omega-3 fatty acids is from fatty fish such as salmon. Start with a good piece of salmon from the fish market or your grocer's fish counter. The pre-packaged filets found in the freezer section often have added salt and just don't taste as good as the fresher version. You will be more likely to keep adding fish to your diet if it tastes good. Another advantage of buying fish from the fish counter is that you can usually get a piece cut to the size you need. That way you won't be buying more than you need or wasting fish that you can't eat. This recipe takes advantage of vegetables that are available in abundance during the summer months. So take the money you save on the vegetables and buy a little better piece of fish.

The vegetables and salmon in this recipe combine to create an energy-boosting, nutritionally dense meal for less than 500 calories. The monounsaturated fats in the fish and the 8 grams of fiber in the vegetables will keep you full for hours. Most of us do not get enough potassium in our diets to counteract the sodium that is so prevalent in the average diet. But this dish offers a whopping 2,113 of potassium. It will also boost your energy with 57 percent of the recommended daily allowance of vitamin B-12 and 78 percent of the recommended daily allowance of vitamin B-6. If you have cannot eat all the vegetables at one meal, you can mix the leftovers with rice or quinoa for a healthy vegetarian lunch the next day.

This recipe makes one serving and can be adjusted for more people.

1 tablespoon olive oil
2 cups zucchini, chopped or cut into strips
1 tomato, diced
1/2 onion, sliced or chopped
1 tablespoon Italian seasoning
3-4 ounce salmon filet

Heat the olive oil in a skillet that has a lid. Add the zucchini, tomato, onion and Italian seasoning to the skillet. Cook until the vegetables become soft. Place the salmon filet on top of the vegetables and cover. If you do not have a lidded skillet, you can create the same effect by covering the pan with tinfoil to hold the steam in the pan and cook the salmon. Cook for five to seven minutes, or until the salmon flakes easily with a fork. Serve immediately.

Nutrition information: 443 calories, 80 mg cholesterol, 93 mg sodium, 2113 mg potassium, 8 g fiber, 33 g protein, 104% RDA vitamin A, 57% RDA vitamin B-12, 78% RDA vitamin B-6, 91% RDA vitamin C, 70% RDA niacin, 78% RDA selenium (nutrition information estimated on SparkRecipes.com)



Related Articles
Editor's Picks Articles
Top Ten Articles
Previous Features
Site Map





Content copyright © 2019 by Angela Thornton-Millard. All rights reserved.
This content was written by Angela Thornton-Millard. If you wish to use this content in any manner, you need written permission. Contact Megan Mignot for details.