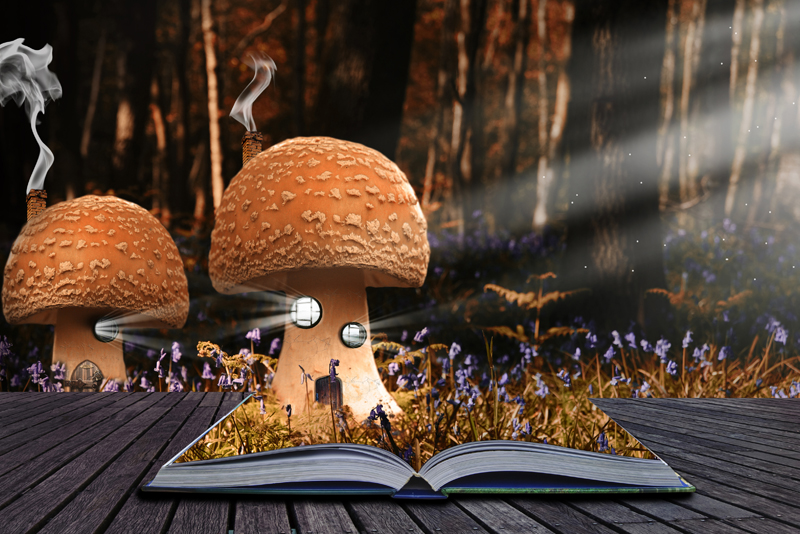 You can time travel with Jack and Annie in the Magic Tree House series. This brother-sister duo live in Frog Creek, Pennsylvania. Close to their house is the Frog Creek Woods. Completely by accident they discover a magic tree house in the very top of the tallest tree.
The
Magic Tree House
Series is written by Mary Pope Osborne.
Jack is eight-years-old and Annie is seven. Jack is the fact collector and carries a notebook in his backpack. Annie, the little sister provides the humor in the Jack and Annie books. Also, her daring nature and innate inquisitiveness allows the pair to accidentally find the clues that help them on their travels.
Annie and Jack are brother and sister and live in Frog Creek, Pennsylvania. One day, completely by accident, they discover a magic tree house. Annie is the more curious and adventurous of the two so she climbs the rope ladder up to the tree house. Jack does not plan to follow her until she tells him that there are many books up there. He loves to read so he climbs the rope ladder to check out the books.
The magic is in the pictures in the books. When Jack and Annie open a book, and then point to a picture and say "take us there", the magic tree house begins to spin. It stops at the pictured destination, but they always have to be sure to also take the book with the picture of Frog Creek so they can return home.
Here is the list of the Magic Tree House books' titles. Many different mysteries and locations are available if you want to follow along. If you have never read a Magic Tree House book now is a good time to start. It is so much fun to learn about other times and places. Read along with your children and follow Jack and Annie as they go on their time travel adventures.
Don't let your kids miss even one adventure book by investing in the Magic Tree House Book collection.
Jack and Annie Magic Tree House Mystery Books
1.
Dinosaurs Before Dark
2.
The Knight at Dawn
3.
Mummies in the Morning
4.
Pirates past Noon
5.
Night of the Ninjas
6.
Afternoon on the Amazon
7.
Sunset of the Sabertooth
8.
Midnight on the Moon
9.
Dolphins at Daybreak
10.
Ghost Town at Sundown
11.
Lions at Lunchtime
12.
Polar Bears Past Bedtime
13.
Vacation Under The Volcano
14.
Day of the Dragon King
15.
Viking Ships at Sunrise
16.
Hour of the Olympics
17.
Tonight on the Titanic
18.
Buffalo Before Breakfast
19.
Tigers at Twilight
20.
Dingoes at Dinnertime
21.
Civil War on Sunday
22.
Revolutionary War on Wednesday
23.
Twister on Tuesday
24.
Earthquake in the Early Morning
25.
Stage Fright on a Summer Night
26.
Good Morning, Gorillas
27.
Thanksgiving on Thursday
28.
High Tide in Hawaii
Merlin Missions Titles
29.
Christmas in Camelot
30
Haunted Castle On Hallow's Eve
31.
Summer Of The Sea Serpent
32.
Winter Of The Ice Wizard
33.
Carnival at Candlelight
34.
Season of the Sandstorms
35.
Night of the New Magicians
36.
Blizzard of the Blue Moon
37.
Dragon of the Red Dawn
38.
Monday with a Mad Genius
39.
Dark Day in the Deep Sea
40.
Eve of the Emperor Penguin
41.
Moonlight on the Magic Flute
42.
A Good Night for Ghosts
43.
Leprechaun in Late Winter
44.
A Ghost Tale for Christmas Time
45.
A Crazy Day with Cobras
46.
Dogs in the Dead of Night
47.
Abe Lincoln at Last
!
48.
Perfect Time for Pandas
Drop in the forum. Share why you like Magic Tree House books.
Sign up to receive the Children's Books Review newsletter, that way you won't miss any future articles.
Note: I borrowed these books from my eight year old granddaughter. She has the entire collection.
You Should Also Read:
Folk and Fairy Tales
Young Detective Books
Early Reader Chapter Books


Related Articles
Editor's Picks Articles
Top Ten Articles
Previous Features
Site Map





Content copyright © 2022 by Launa Stout. All rights reserved.
This content was written by Launa Stout. If you wish to use this content in any manner, you need written permission. Contact Launa Stout for details.