Grilled Chicken Pasta Primavera Recipe
After over-indulging on major holidays such as the Fourth of July and Thanksgiving (in America,) not to mention Christmas all over the world, I love to pull out this recipe for a light and healthy dinner. It just makes you feel better about yourself after all of the rich and wonderful food. When you combine a few fresh, simple ingredients and easy cooking techniques, you end up with my Grilled Chicken Pasta Primavera.
In my Grilled Chicken Pasta Primavera recipe, I used zucchini squash (also known as courgettes in European countries,) yellow squash (or banana squash,) celery, onions and spices along with thin sliced grilled chicken breasts and pasta. Squash are seasonal during the summer months and are rich in vitamins A and C, folate and potassium. However, you can still get the nutritional benefits and great flavor during the winter months. Also, as squash has a high water content, it is low in calories – which is one of the reasons why I created this recipe. Please feel free to change up the veggies in this recipe if you wish.
This delicious recipe can be vegetarian and vegan friendly by simply omitting the grilled chicken. Enjoy!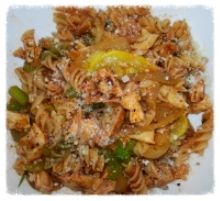 Ingredients
1 lb. dried Rotini or Gemelli pasta
2 tbsp. + 2 tsp. kosher salt
2 large zucchinis (courgettes)
2 large yellow squash (banana or crookneck)
1 large yellow onion, halved and thinly sliced
4 large stalks of celery, cut into 1/2" pieces
4 cloves chopped, fresh garlic
1 tbsp. dried basil leaves
2 tbsp. dried Italian seasoning
1 tsp. red pepper flakes
1 tsp. ground black pepper
3 tbsp. olive oil
6 thin chicken breasts
1 – 15 oz. can tomato sauce
Grated parmesan cheese for garnish (optional)
Method
1. First, wash your squash! Cut off the end parts and slice them lengthways, then slice them into half-moons (between a quarter and a half inch in width.) Place the squash and the next 8 ingredients into a large bowl and toss well. Set aside.
Next: - Place your pan of water on high to cook the pasta according to package directions while preparing your chicken.
2. Grilling the chicken. You can do this 1 of 3 ways: - First, drizzle a little olive oil on the chicken and sprinkle with the 2 tsp. of kosher salt and black pepper.
(a) On an outdoor grill on high heat, cook for about 3 minutes per side.
(b) On a cast iron griddle on high heat on your stove, grill for about the same time as an outdoor grill.
(c) Alternatively, if you don't have A or B above, you can sear the chicken breasts in a large skillet over medium high heat for approximately 4 minutes per side.
In all 3 methods above, set the chicken aside to cool a little and then slice thinly or chop into chunks – with whatever look you prefer in your finished dish.
3. In a large skillet over high heat (and in batches if your pan is less than 10 inches,) sauté the vegetables stirring or tossing frequently for about 5 minutes. You are looking for some browning here. If you overload a small pan with too much squash, it will steam instead of brown due to the high water content of the veggies. The heat releases the water from the veggies. On the last batch of veggies add the can of tomato sauce and cook for 2 minutes more. Add this to the rest of the veggies and mix well.
4. When you have grilled the chicken and almost finished sautéing the veggies, add 2 tbsp. salt to the pasta water. Cook the pasta according to the package directions until al dente (firm to the bite) and drain.
In a large serving bowl, toss the well-drained pasta together with the veggies and the chicken. Serve in individual bowls or family style on the table like I did, letting everyone help themselves. Place some grated parmesan cheese for sprinkling if desired.
You Should Also Read:
Visit my other site American Regional Cuisine for more great recipes


Related Articles
Editor's Picks Articles
Top Ten Articles
Previous Features
Site Map





Content copyright © 2022 by Allyson Elizabeth D´Angelo. All rights reserved.
This content was written by Allyson Elizabeth D´Angelo. If you wish to use this content in any manner, you need written permission. Contact Allyson Elizabeth D´Angelo for details.