Damn The Weather, It's a Whiteout: Gin Recipes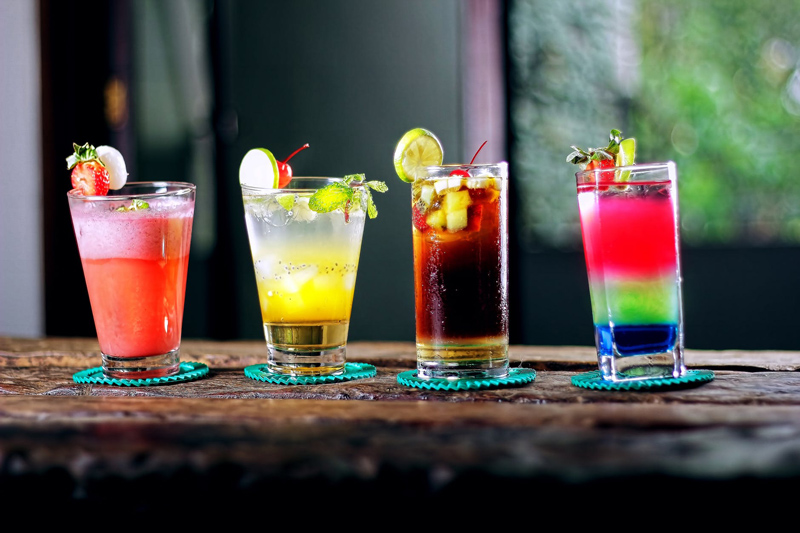 Winter is definitely upon us and weather is a hot topic. Cool off with these two refreshing cocktails both based on gin. Damn The Weather defies the winter's gloom with a potent mix of gin, vermouth, and sunshine-kissed orange while the Whiteout sweetens up the winter doldrums with some truly luscious ingredients - white chocolate and rich, luxurious cream.

---------------------------------------

Damn The Weather

Fill a cocktail shaker with ice and add:

1 jigger (shot) gin
1 pony (2/3 shot) red vermouth
1 pony orange juice
1 teaspoon (1/3 shot) triple sec or orange curacao

Shake till shaker is icy cold. Then strain into a whisky / rocks glass.

An orange twist makes a nice, cheerful garnish to this one.

---------------------------------------

Whiteout

Chill a cocktail (martini) glass then fill a cocktail shaker with ice and add:

1-1/2 jiggers (shots) gin
1 jigger white creme de cacao
1 jigger heavy (double) cream

Garnish: white chocolate shavings*

Shake like crazy to thoroughly blend the cream with the alcohol, then strain and pour into the chilled cocktail glass. Top with white chocolate shavings.

*To make white chocolate shavings, use a potato peeler to 'peel' thin strips off a bar of chocolate, just like you might do to a potato or carrot. You could also grate the chocolate for smaller bits of chocolate garnish. Shaving and grating work equally well with any version of chocolate you might be using.

For added luxury, frost the rim of the cocktail glass with cinnamon sugar:

Pour a shallow layer of sugar into a saucer. Sprinkle it with cinnamon.
Pour a shallow layer of honey into a second saucer.
Dip just the edge of the rim of the chilled cocktail glass in the honey.
Now dip the honey-drenched rim into the cinnamon sugar.

Have your chilled glass with frosted rim ready to go when the Whiteout cocktail is shaken and ready to pour.

---------------------------------------

Cocktail Party Conversational Trivia:

Patriotism was so strong in England in the early 18th century that English-made gin was consumed in mass quantity as a means of shunning the French brandies that had become popular in the British Isles. By 1736, the average Londoner was thought to consume about 2/3 a bottle of gin a day.

To minimize the rowdy ruckus caused by the gin-swilling populace (or to cash in on the craze?), the British government enacted the 1736 Gin Act, which meant retail sales taxes and a license to sell it.

Only two establishments ever applied for a license to sell gin and to collect and pay taxes on it. Gin became an illegal, black-market commodity drunk in quantity without license or taxation. Since it was being distilled in secret, too, a lot of the bootlegged gin was poisonous.

The Gin Act of 1736 was repealed in 1743. Prohibition just doesn't work. Will we ever learn?

You Should Also Read:
Cocktail Bar Measurements
Well, Call, Premium Classes of Liquor
Bar Terms


Related Articles
Editor's Picks Articles
Top Ten Articles
Previous Features
Site Map



Follow @drinkandbemerry
Tweet



Content copyright © 2019 by Sandy Hemphill. All rights reserved.
This content was written by Sandy Hemphill. If you wish to use this content in any manner, you need written permission. Contact Sandy Hemphill for details.