Breakfast in Mexico - Huevos Rancheros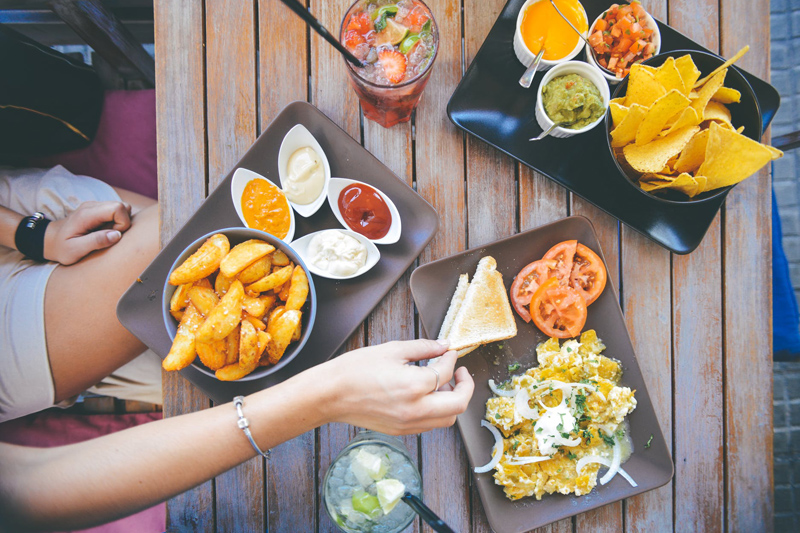 The "eggs from the ranch" are to be found in every nook and cranny of Mexico – every cook, whether home, street, market, lonchería or proper restaurant, churns them out regularly for breakfast (and only for breakfast), and of all the egg dishes in the vast repertoire of traditional Mexican cuisine, they are a classic, perhaps the best known and most widely eaten. They are a simple dish, consisting of a lightly fried tortilla topped with eggs fried sunny-side up and a tomato sauce – that is the blueprint and the only variation tends to be the sauce itself or the accompaniments. Officially, it is known as "salsa ranchera", which is obviously wide open to individual interpretation, and more often than not – but not always! – it is spiked with chilli. In some cases, it is a light, fresh-tasting sauce, where the tomatoes have not been grilled or roasted; in others, it is rich, savoury and deeply flavoured, redolent of chilli and the native herb, epazote, or coriander.

Huevos Rancheros frequently come with a variety of totally unnecessary accompaniments or garnishes: guacamole, slices of avocado, beans, cheese, even sour cream, but to my mind, all or any of these extras spoil the dish by interfering with its beautiful simplicity, and the most I ever add is a dusting of a hard, mature cheese like Parmesan and a sprinkling of chopped, raw chillies; and if I am looking to make the eggs into a substantial dish, I sit them on a bed of cooked rice, which soaks up some of the sauce. Nothing more is needed.

Eggs from the Ranch – Huevos Rancheros

My preference is for a strong, bold salsa ranchera, and I therefore grill the tomatoes until they are soft and luscious.

Serves 2

For the tomato sauce:-
500 g/18 oz tomatoes, halved
8 garlic cloves, unpeeled
45 ml/3 tbsp olive oil
250 g/9 oz onions, peeled and coarsely chopped
Sea salt and freshly ground black pepper

Vegetable oil
2 corn tortillas
2 to 4 eggs
1 green chilli, as mild or as hot as you like, deseeded and finely sliced
25 g/1 oz freshly grated Parmesan cheese
Sea salt and freshly ground black pepper

Start off with the sauce, which can be prepared well ahead of time and refrigerated; it also freezes well. Heat the grill to high. Line the grill pan with foil and arrange the tomatoes, cut side up, and garlic cloves on it. Grill 10 cm/4 in from the heat for about 20 minutes, until lightly charred, turning the garlic cloves over half way through. Cool, then peel the garlic cloves and place them in a food processor with the tomatoes and any juices. Process to a chunky purée.

While the tomatoes are grilling, heat the olive oil in a frying pan and cook the onions until soft and golden. Add the tomato purée and some seasoning, and cook over medium heat for about 15 minutes, stirring often, until nice and thick. Check the seasoning and keep warm or reheat as necessary.

When you are ready to eat, preheat the oven to its lowest setting and warm two plates and a baking tray lined with kitchen paper.

Swirl some vegetable oil around the base of a large non-stick frying pan . Place it over medium heat and when the oil starts to shimmer, lightly fry the tortillas for about one minute on each side until they are pale gold and barely crisp. With a spatula, transfer them to the baking tray in the oven and keep them warm while you cook the eggs.

Add a further spoonful or two of oil to the frying pan and fry as many eggs as you fancy sunny-side up. Season with salt and pepper.

Place a tortilla on each warm plate and top with the fried eggs. Spoon the sauce over the eggs and sprinkle first with cheese and then chilli.

Serve immediately.

Buén provecho!


You Should Also Read:
Breakfast in Mexico
Breakfast in Mexico - Huevos Motuleños Recipe
Breakfast in Mexico - Bricklayers' Eggs


Related Articles
Editor's Picks Articles
Top Ten Articles
Previous Features
Site Map





Content copyright © 2022 by Isabel Hood. All rights reserved.
This content was written by Isabel Hood. If you wish to use this content in any manner, you need written permission. Contact Mickey Marquez for details.