Breakfast in Mexico – Huevos Motuleños Recipe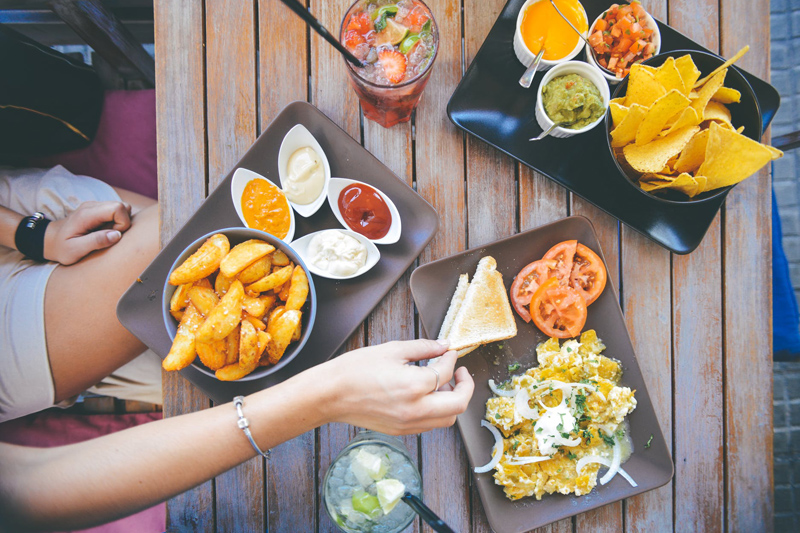 The "Eggs from Motul" always strike me as a strange dish, featuring some very disparate ingredients – but the end result, although it does look rather messy, is rich and savoury, a breakfast to die for. The recipe below is fairly classic but I have to say that I have been served a variety of concoctions by the same name on several occasions. The most notable version was in San Cristóbal de las Casas, Chiapas, at the lovely Casa Na Bolóm, an old colonial house with a bougainvillea-filled central courtyard. It was the home of Swiss anthropologist, Trudi Blom, who made a special study of the Lacandones, the direct descendants of the Mayas. On this occasion, the eggs were served with the traditional Refried Beans but accompanied by crisp bacon, sour cream, cheese and fried plantains – quite wonderful and unlike any other Huevos Motuleños I had come across. I have also had them with chorizo, a tomatillo rather than tomato sauce, and as a stack of tortillas, layered up with the different elements in between. In all cases, they have been utterly delicious, with the various contrasting flavours well balanced.
Motul, east of Mérida, was a pre-Columbian site, founded it is said by a Mayan priest named Zac Mutul. Today it is a small city in the southern Mexican province of Yucatán which boasts some nice colonial architecture dating from the 16th century; it is also a centre for the production of the "henequén" fibre from the agave cactus. Its main claim to fame however is gastronomic, in the form of fried eggs with the distinctive black beans and habanero chilli of the Yucatán. There are a number of stories concerning the eggs, the creation of the dish and its significance, the chef and occasion involved, the governor who loved his food, etc, but they are all very anecdotal and tend to stretch the imagination rather far!
The habanero is a serious chilli, 10/10 on the heat scale, and not to be trifled with, so if you are not a fire eater, feel free to leave it out and cook the beans without it – its fruity fragrance however does contribute to the end result, and so long as you remember to remove it once the beans are cooked, its effect is warm rather than scorching.
Huevos Motuleños is not fast cooking by any means and there are a number of different steps involved: cooking the beans, re-frying them, tomato sauce, baking the tortillas, etc. It is nevertheless an easy dish to break down into separate stages which can be dealt with individually – and the beans and sauce for instance will sit happily in the fridge for several days; in addition, while they take time to cook, there is not much effort involved in their preparation. I therefore tend to keep these huevos for the weekend, preferably Sunday brunch, when I can get them all organised the day before. Then I can spend a lazy morning indulging in one of my favourite Mexican breakfast dishes.
Eggs in the style of Motul – Huevos Motuleños
Serves 4
For the Frijoles Refritos:
150 g/5 oz black beans
50 g/2 oz onions, peeled and coarsely chopped
2 garlic cloves, peeled
1 bay leaf
1 dried habanero chilli
30 ml/2 tbsp olive oil
150 g/5 oz onions, peeled and coarsely chopped
5 ml/1 tsp ground cumin
5 ml/1 tsp dried Mexican oregano
5 ml/1 tsp chipotle chilli powder or paste, or to taste
Sea salt and freshly ground black pepper
For the tomato sauce:
30 ml/2 tbsp olive oil
150 g/5 oz onions, peeled and coarsely chopped
3 garlic cloves, peeled and crushed
2 large red chillies, deseeded and finely sliced
450 g/1 lb tomatoes, coarsely chopped
Sea salt and freshly ground black pepper
4 corn tortillas
Olive oil for brushing
Vegetable oil for frying
50 g/2 oz frozen peas, defrosted
4 eggs
250 g/9 oz plain ham, ideally in one or two thick slices, diced
50 g/2 oz Feta cheese, crumbled
Start off by cooking the beans, which can be done well ahead of time, even several days in advance if it suits you. Place the beans in a colander and rinse them under cold running water. Put them in a large saucepan with the 50 g of onions, whole garlic, bay leaf and habanero chilli, add enough water to cover by 10 cm/4 in, and bring to the boil over medium heat. Turn the heat down to low, cover the saucepan and simmer very gently for at least 2 hours, preferably 3 or 4, until the beans are totally tender. Check them every now and then to make sure that they are not drying out and are covered by at least 1 cm/1/2 in of water. Add some seasoning and cook for another 20 minutes. Remove and discard the habanero chilli – it is easily recognisable by its lantern shape.
For the tomato sauce, heat the oil in a medium frying pan, add the onions, garlic, red chilli and some seasoning, and cook gently, stirring often, until soft and golden. Mix in the tomatoes, turn the heat up to medium, and cook briskly, stirring occasionally, until most of the moisture has evaporated and you have a thick red stew. Check the seasoning.
When the beans are tender, heat the olive oil in a large, preferably non-stick frying pan, add the 150 g of onions and cook, stirring occasionally, until soft and golden. Sprinkle in the cumin, oregano and chipotle chilli, and cook for a further five minutes. With a slotted spoon, add the cooked beans with a bit of their cooking liquid and crush them with a potato masher until you have a relatively homogenous mixture. Stir in enough of the remaining bean broth to achieve a soft but not sloppy texture, turn the heat right down, and leave it all to simmer gently, stirring often, for about ten minutes. If you are making the Frijoles Refritos ahead of time, reserve any remaining bean broth.
Preheat the oven to 200oC/400oF/gas 6/fan oven 180oC. Lay the four tortillas out on a baking tray and brush them on both sides with olive oil. Bake for about 8 minutes, until they just start to turn crisp. Set aside.
All the above steps can be done well ahead of time - perhaps the day before if you are intending to serve the huevos for breakfast or brunch. Refrigerate the beans and sauce overnight and reheat them gently, adding a bit of the reserved broth to the beans if they are very solid.
When you are ready to cook, reheat the beans and tomato sauce if necessary. Place the peas in a bowl and pour some boiling water over them to warm them. Heat some vegetable oil in one or two non-stick frying pan and cook the eggs sunny side up.
Place a crisp tortilla on four warm plates and spread with refried beans. Put the eggs on top of the beans, and spoon over the sauce. Drain the peas, give them a good shake to get rid of any excess water, and sprinkle them over the eggs and sauce, along with the ham and Feta cheese.
Serve immediately.
Buén provecho!
| | |
| --- | --- |
| Chilli and Chocolate Stars of the Mexican Cocina by Isabel Hood is available from Amazon.co.uk | Just The Two of Us Entertaining Each Other by Isabel Hood is available from Amazon.com and Amazon.co.uk |
You Should Also Read:
Breakfast in Mexico
Breakfast in Mexico - Divorced Eggs
Breakfast in Mexico - Huevos Rancheros


Related Articles
Editor's Picks Articles
Top Ten Articles
Previous Features
Site Map





Content copyright © 2023 by Isabel Hood. All rights reserved.
This content was written by Isabel Hood. If you wish to use this content in any manner, you need written permission. Contact Mickey Marquez for details.