Sitting Meditation for Teens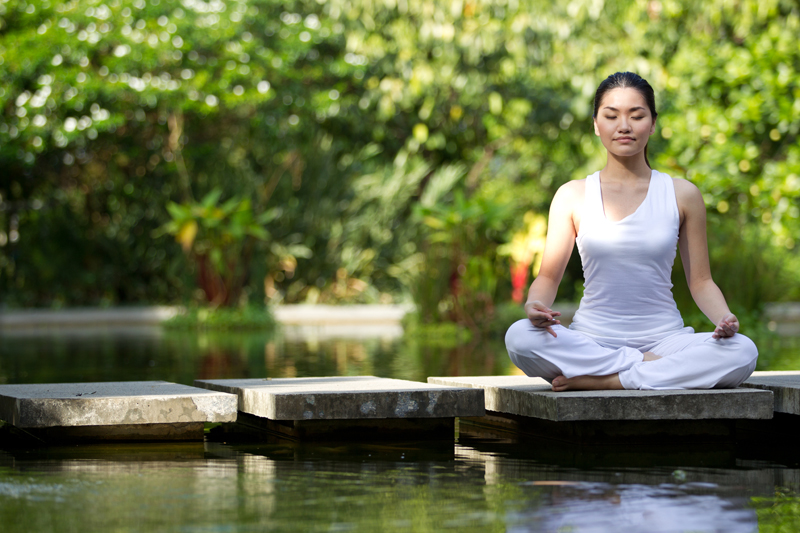 You are finally off on your own, or more so than in high school. You are a young adult. Going from the late teens to the solid twenties doesn't happen overnight. It is one step at a time that begins with the onset of puberty. The college years are a time for getting stronger and settled in yourself, for developing your own set of morals, away from parents telling you what to do.
The college years are both a joy being more emotionally independent, and a trial learning how to take care of yourself. One big help is a daily period of meditation for reflection and quiet listening to your inner voice of insight. First thing in the morning is a good time to sit quietly in meditation pose for a few minutes and gather together strength for the day. Then at night, before sleep, a period of reflection helps set the day in order, especially if it has been hectic.
Meditation for reflection:
Dress comfortably, perhaps in your pajamas. Sit up straight on the floor by your bed on a pillow or cushion. Fold your legs in and clasp your hands in your lap or lay them face up or face down on your thighs.
Close your eyes and take a deep breath in and slowly release it. Begin even and regular breathing in a rhythmic pattern; for example, breathe in one count, breathe out one count, breathe in one count, and continue. Breath is the tie between body, mind, emotions. Even, regulated breathing calms upset, and brings you back to a harmonious state of being. Continue the even pattern throughout your meditation.
Bring to mind, one at a time, events from the day. Consider how you reacted. Is there something you would have done differently, now that you are thinking back on the situation? What would be a better or more useful way to act in the future? Bring up the next event and go through the same process of analyses and contemplation.
After meditation it is useful to write out new insights in a meditation journal or diary to review occasionally. I keep a journal and pen beside me when I meditate. Recording your thoughts and insights in a journal is a handy lifelong habit. You can keep track of how you handled specific events and what showed to be the best course of action. To finish your contemplative meditation, take a deep breath and slowly release it, stretch out, and prepare for bed or study.
Meditation Lessons for Teens and Adults
More than 70 offerings, from guided meditation techniques to on-the-go stress relief and relationship meditations interspersed with verse, and a section of special occasion prayers. 114 pages. Ebook options and paperback.
Meditation for All Kids
Sitting, walking, dance and group circle meditations, along with positive affirmations, verses and benefits of meditation for kids of all ages and abilities in a 100 page book with illustrations. Ebook options and paperback.
NOTE: Sign up below or in the right-hand column for our meditation site newsletter. It only requires your email address and is never given out or sold to anyone. If at any time you wish to stop receiving it, each newsletter contains a link to unsubscribe. Make meditation part of your daily routine.
Article by Susan Helene Kramer


Related Articles
Editor's Picks Articles
Top Ten Articles
Previous Features
Site Map





Content copyright © 2022 by Susan Helene Kramer. All rights reserved.
This content was written by Susan Helene Kramer. If you wish to use this content in any manner, you need written permission. Contact Cat Hamilton for details.