One Minute Bedtime Meditation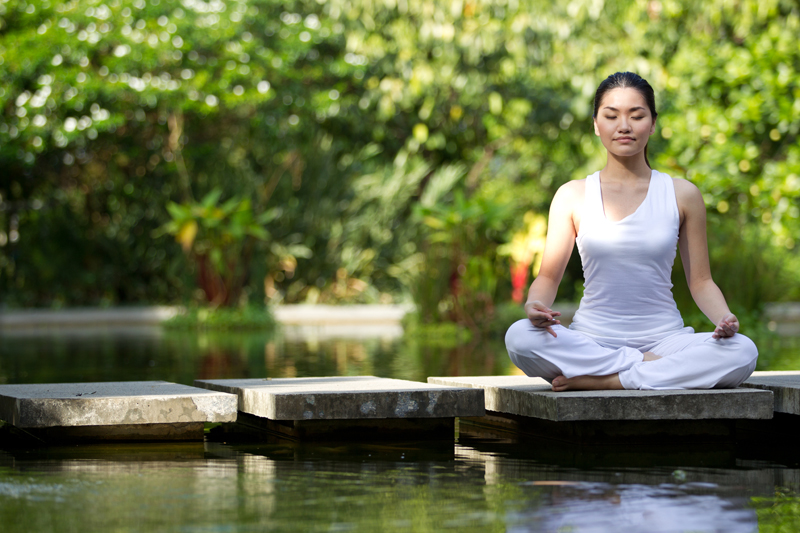 If you are not used to setting a regular time for meditation, start with one minute right before bedtime. It is a time of day for winding down, and meditation can cap off the process.
Begin by doing all your bedtime preparations first, up until the time you slip under the covers. The easiest way to begin is to sit on the edge of your bed if the soles of your feet can be firmly planted on the floor. Alternately, sit on a cushion next to your bed or on a straight chair.
Sit up straight with all the methods and fold your hands in your lap or place them palms up or palms down on your thighs. Close your eyes.
Begin even and regular breathing. For example, breathe in two counts, breathe out two counts, breathe in two counts and keep up this rhythmic pattern for your minute of meditation. Breath is the tie between body, mind, emotions, in that even breathing such as I've described can calm agitation and relax the body. If you have had a very hectic day this may be your only time to unwind, rehash your day and relax before sleep.
Once you've gotten your breathing rhythm established take a few moments to think of someone you love or a favorite pet, and let that smile come to your face. Think with appreciation about the good and the blessings you have in your life.
Your minute may be almost up but before crawling under the covers take time to listen to the stillness surrounding your inner heart, and send this peace out via your own sun rays to your family, friends, this planet, the entire universe, which is truly our communal home. Visualize harmony and love pervading everyone, everywhere.
When we make the conscious effort to radiate love we are energizing ourselves and filling our own lives with that same radiance at the same time. It truly is a win-win fact that when we give our love we are energized with loving energy at the same time.
To finish your one minute meditation take a deep breath in and slowly release it. Open your eyes and enjoy the peace and relaxation this brief meditation affords.
Meditation Lessons for Teens and Adults
More than 70 offerings, from guided meditation techniques to on-the-go stress relief and relationship meditations interspersed with verse, and a section of special occasion prayers. 114 pages. Ebook options and paperback.
Meditation for All Kids
Sitting, walking, dance and group circle meditations, along with positive affirmations, verses and benefits of meditation for kids of all ages and abilities in a 100 page book with illustrations. Ebook options and paperback.
NOTE: Sign up below or in the right-hand column for our meditation site newsletter. It only requires your email address and is never given out or sold to anyone. If at any time you wish to stop receiving it, each newsletter contains a link to unsubscribe. Make meditation part of your daily routine.
Article by Susan Helene Kramer


Related Articles
Editor's Picks Articles
Top Ten Articles
Previous Features
Site Map





Content copyright © 2022 by Susan Helene Kramer. All rights reserved.
This content was written by Susan Helene Kramer. If you wish to use this content in any manner, you need written permission. Contact Cat Hamilton for details.