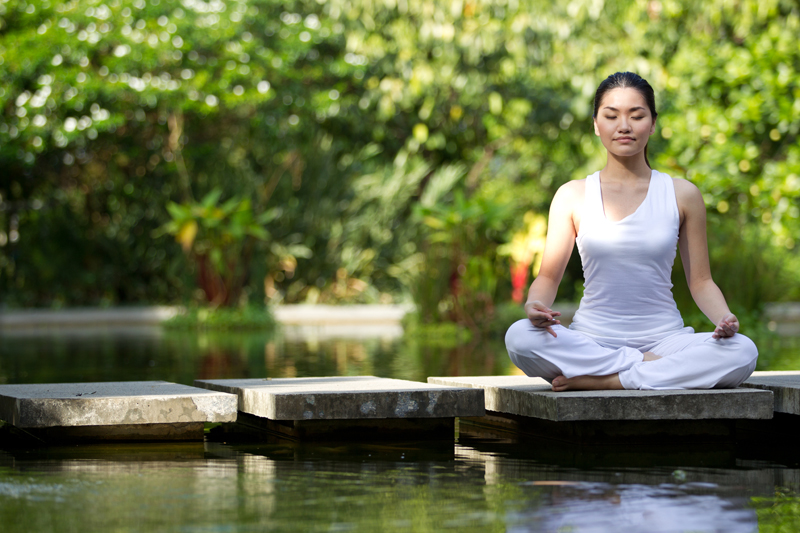 Being alone in a secluded spot outdoors in a park or at the beach or another place in nature is one of the great gentle experiences I enjoy. Nature's sounds and sights are in harmony with each other. I see and feel all quietly going on outdoors as a model of how to best harmonize my inner life.
Gently falling snow especially speaks to me, saying - keep your thoughts pure and crystalline as each snowflake, and all in life will fall into its natural resolve. Gentle experiences in nature help maintain calm in life.
A gentle guided meditation
Find a quiet place to sit as if you are creating your own gentle garden within. Once you close your eyes, take some time to imagine yourself anywhere you choose that makes you feel calm and gentle.
Holding your vision begin even and regular breathing in a pattern such as one count to breathe in and one count to breathe out. Do not hold your breath at any time, rather, smoothly let the ending of your in-breath flow into your exhalation, and without a break begin another in-breath. The flow of our breathing is rhythmic when we are feeling relaxed and this is the pattern to emulate in this meditation.
Continue your rhythmic breathing throughout your meditation without actually saying the counts. Let the gentleness soothe your body and watch it bring your thoughts and feelings into harmony with your stilled body.
Now watch your gentle scene in nature that you created when you closed your eyes. Notice that quiet and gentleness give you a mental break from problems or thoughts needing resolve. When sitting quietly like this you may notice ideas come to mind to resolve dilemmas or difficulties. Visualize these ideas so that after your meditation you can put them into action.
To finish your meditation slowly breathe in and out and open your eyes. Take up your journal and write any new ideas or inspirations for later review and action.
Stretch out and go on with your day in a gentle way with whatever you do.
Reflective, meditative quiet time
Brings gentle thoughts to conscious mind.
Meditation Lessons for Teens and Adults
More than 70 offerings, from guided meditation techniques to on-the-go stress relief and relationship meditations interspersed with verse, and a section of special occasion prayers. 114 pages. Ebook options and paperback.
Meditation for All Kids
Sitting, walking, dance and group circle meditations, along with positive affirmations, verses and benefits of meditation for kids of all ages and abilities in a 100 page book with illustrations. Ebook options and paperback.
NOTE: Sign up below or in the right-hand column for our meditation site newsletter. It only requires your email address and is never given out or sold to anyone. If at any time you wish to stop receiving it, each newsletter contains a link to unsubscribe. Make meditation part of your daily routine.
Article by Susan Helene Kramer


Related Articles
Editor's Picks Articles
Top Ten Articles
Previous Features
Site Map





Content copyright © 2021 by Susan Helene Kramer. All rights reserved.
This content was written by Susan Helene Kramer. If you wish to use this content in any manner, you need written permission. Contact Cat Hamilton for details.