Mexican Antojitos - Yucatecan Codzitos Recipe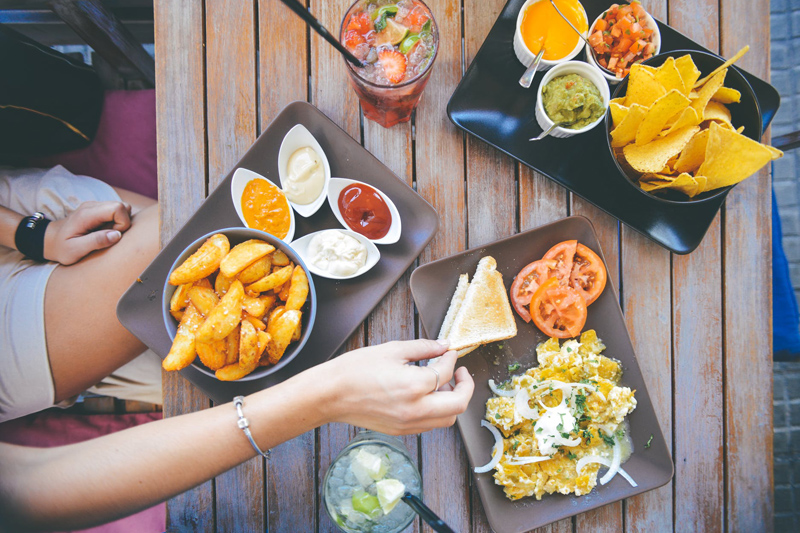 To "codz" is to roll and the Yucatecan codzitos are to all intents and purposes what the rest of Mexico calls a taco, or more specifically a taco dorado, golden taco, one which has been fried until it is deeply coloured and wonderfully crunchy. A taco dorado usually contains a filling – shredded meat or chicken, chilli strips, vegetables – and in the Yucatán, the codzito often follows this same practice. There is however a plainer, equally traditional and just as popular version, which omits the stuffing and literally consists of nothing more than a small corn tortilla which is rolled up very tightly before being fried – an utterly simple antojito and yet quite wonderful: the crisp, crumbly texture, the purity of the corn flavour, the contrast between the crusty exterior and the faintly sweet, soft inside – and the ease of preparation!
El Chacmool © Philip Hood
Salsa para Codzitos, sauce for codzitos, is an inseparable accompaniment and equally straightforward and unfussy, the flavour of the fresh tomatoes highlighted by the fruity warmth of the local – and very hot – habanero chilli; and a generous handful of cheese sprinkled over the top finishes the dish off.
It is essential to use very fresh tortillas for this antojito so that they can be rolled up without cracking and splitting at the edges. Warming them briefly in a dry frying pan also helps the process as it softens the dough and makes it more pliable. The trick then is to stop them from unrolling while they cook – drying them out beforehand and pressing down gently on them in the frying pan with a spatula until they start to harden works a lot of the time, but whenever I am faced with an unruly codzito, I use a wooden cocktail stick to pin it together – and then make sure I do not forget to remove it before serving. If despite your efforts the codzitos loosen up in the pan, it really doesn't matter, they will still be delicious.
Lard is the conventional cooking fat and contributes very substantially to the flavour, so if you want a truly authentic Yucatecan codzito, do include it. I personally prefer to fry them in duck or goose fat which is just as savoury and works equally well; olive oil is best for a vegetarian dish but I have to say the end result is not the same.
Yucatecan Golden Tacos – Codzitos Yucatecos
Serves 2
8 to 10 corn tortillas
Lard, duck or goose fat, or olive oil as needed
75 g/3 oz strong Cheddar-style cheese, coarsely grated
Coriander/cilantro leaves
For the Salsa para Codzitos:-
100 g/4 oz onions, peeled and coarsely chopped
3 garlic cloves, peeled
300 g/11 oz tomatoes, coarsely chopped
15 ml/1 tbsp olive oil
1 dried habanero chilli
Sea salt and freshly ground black pepper
In a blender or food processor, purée the onions, garlic and tomatoes. Heat the olive oil in a frying pan and pour in the tomato mixture. Push the chilli down into the sauce and add some seasoning. Simmer it all very gently for about 20 minutes, until it has thickened. Remove the chilli and check the seasoning. The salsa can be prepared several days in advance and refrigerated. Reheat before serving.
Warm the tortillas briefly in a dry frying pan or over a naked flame and roll them up as tightly as you can. Place them snugly side by side on a plate or a baking tray and leave them to dry out for thirty minutes, longer if it suits you – this will help them to keep rigid and firm.
Preheat the oven to its lowest setting and put a serving dish lined with kitchen paper to warm. Heat a couple of tablespoons of fat or oil in a non-stick frying pan over medium heat. Once it starts to shimmer, add as many rolled tortillas as will fit snugly side by side. Cook for about three minutes, until they start to colour. Carefully turn them over and fry the other side. Then turn them again to brown any pale parts – you are looking for a deep gold all over. With a spatula remove them to the plate in the oven. Add more fat to the pan if necessary and fry any remaining codzitos in the same way.
Remove the kitchen paper from the serving dish and line the tortillas up in a row. Spoon the sauce over them and sprinkle with cheese and coriander.
Serve immediately.
Buén provecho!
| | |
| --- | --- |
| Chilli and Chocolate Stars of the Mexican Cocina by Isabel Hood is available from Amazon.co.uk | Just The Two of Us Entertaining Each Other by Isabel Hood is available from Amazon.com and Amazon.co.uk |
You Should Also Read:
Antojitos, the Street Food of Mexico
Mexican antojitos - Tacos
Mexico's Regional Gastronomies - Yucatán


Related Articles
Editor's Picks Articles
Top Ten Articles
Previous Features
Site Map





Content copyright © 2023 by Isabel Hood. All rights reserved.
This content was written by Isabel Hood. If you wish to use this content in any manner, you need written permission. Contact Mickey Marquez for details.