Antojitos, the Street Food of Mexico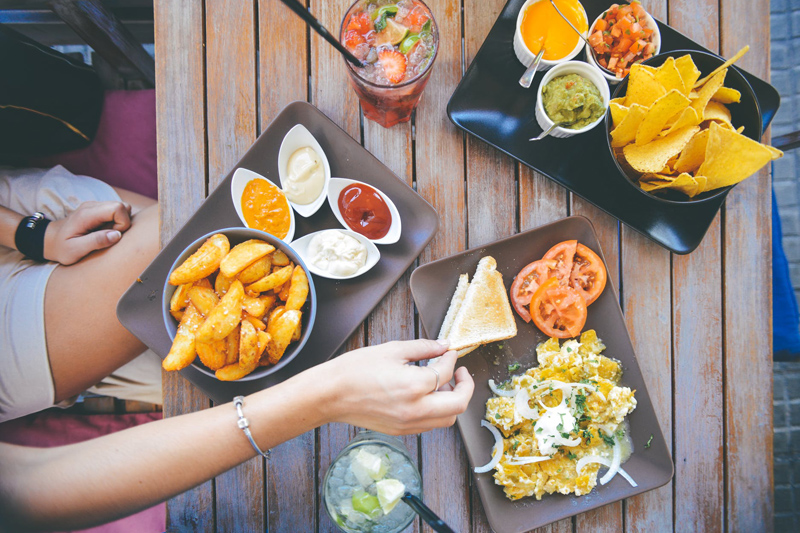 With this article, I am starting a series on the vast range of traditional and typical Mexican dishes which involve the use of tortillas and which can be loosely filed under the heading of "antojitos".
The verb "antojar" can be explained in several ways: it can simply mean to feel like, as in "I feel like eating Mexican food tonight"; or it can be stronger and more forceful, as in "I crave" or "I long for". I prefer this second, more dynamic definition, which somehow seems to encompass the whole concept of Mexican street food more evocatively – and I say street food because it is on the streets and in the pans and hands of the Mexican street and market cooks that "antojitos" come to life.
There is no real, legitimate and literary translation for the word "antojitos". A quick investigation in two separate dictionaries has come up with "typical Mexican snacks, usually bought at street stands" and "Mexican appetizers", both of which are absolutely correct but fail miserably to convey the true essence of antojitos and the role they play in every day Mexican life. A brief trawl through my collection of Mexican cookery books, on the other hand, has come up with considerably more inspired and imaginative suggestions: sudden cravings, hankerings, little whims or fancies - all of which evoke gastronomic pleasure and spontaneity. And for the purposes of this article and the tortilla-related ones which will follow, I am choosing to describe antojitos in this way: delicious spicy Mexican snacks, based on corn tortillas, enjoyed throughout the day, and typical of Mexican street and market food!
Tortilla press © Philip Hood
The markets of any country are always the ideal places to discover its gastronomic history and culture, whether by simply observing and recognising the local and characteristic ingredients, or by actually sampling dishes prepared by the indigenous cooks in the most authentic surroundings. Markets throughout the world often include an eating area, and this is particularly the case in Mexico, where a large section of the market itself, and indeed all the surrounding streets, is the domain of the market and street cooks and their delectable antojitos.
There are cooks everywhere in Mexico: in every market and on every street corner, outside the cinema and at the bus stop, at the door of the churches, the department stores and the schools – wherever people gather together, there is a cook to feed them, and clustered around the little stand at any time of day will be a group of customers tucking into a "taco" or a "tostada" or a "torta" – there will be businessmen with briefcases and mobiles, shop assistants, housewives, builders and office workers – everybody in Mexico eats "comida callejera", street food, and indulging in little whims on the street is part of everyday life.
The cooking facilities in the markets are usually basic but adequate, with a cooker and a sink at least, but the street cooks make do with much less: a charcoal brazier or gas ring, a bucket of water and a rickety table are often all they have at their disposal and yet they manage to produce their antojitos with enviable dexterity and a minimum of fuss and equipment. Tacos, enchiladas, quesadillas, gorditas, chilaquiles, tostadas, picadas, fajitas and papadzules all roll off the pan and onto the plate at the most amazing speed and one hungry customer after another is fed in no time at all.
Perhaps the simplest antojito of all is a handful of "totopos" or tortilla chips with a spoonful of "salsa", sauce. Street cooks typically set out an assortment of salsas, to which customers are urged to help themselves "a gusto", to taste. The ingredients depend on the region, but a simple raw tomato and chilli mixture, guacamole, or an avocado salsa like the one below are almost always on offer.
Avocado salsa - Salsa de Aguacate
Serves 2
125 g/4 1/2 oz red cherry tomatoes, quartered
50 g/2 oz red onions, finely chopped
1 garlic clove, peeled and crushed
1 red chilli, deseeded and finely sliced
30 ml/2 tbsp olive oil
2 small ripe avocadoes
15 g/1/2 oz fresh coriander/cilantro, coarsely chopped
30 ml/2 tbsp fresh lime juice, about 1 large lime
100 g/4 oz Mexican queso fresco, Feta cheese or ricotta salata cheese
Sea salt and freshly ground black pepper
Tortilla chips, to serve
Place the tomatoes, onions, garlic, chilli and olive oil in a bowl, season and mix gently.
Peel and stone the avocadoes and dice into 1cm/1/2 in pieces. Add to the bowl with the coriander and lime juice. Crumble over the cheese and stir it all together very lightly.
Serve immediately with tortilla chips.
Buén provecho!
You Should Also Read:
Tortillas, The Bread of Mexico
The People of Corn
Mexican antojitos - Tacos


Related Articles
Editor's Picks Articles
Top Ten Articles
Previous Features
Site Map





Content copyright © 2022 by Isabel Hood. All rights reserved.
This content was written by Isabel Hood. If you wish to use this content in any manner, you need written permission. Contact Mickey Marquez for details.