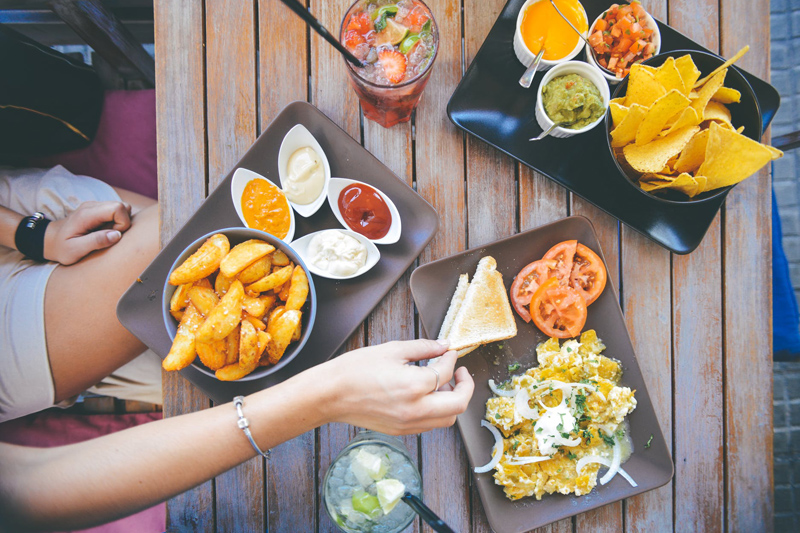 The tamal vendor would blow his steam whistle as he pushed his small barrel-shaped trolley along the street. It must have had hot coals in the bottom, because his tamales were always piping hot – light, fragrant and incredibly delicious, well worth spending my pocket money on. They came in just three flavours: red chilli, green chilli and sweet. The green ones took the roof off my mouth, the red ones were deeply savoury with a bearable amount of heat; but the sweet ones were my favourites: studded with raisins and nuts, heady with cinnamon and cloves, perfect for breakfast.
Tamales are among the oldest and most authentic of Mexican dishes, dating back millennia and served to the conquering Spaniards in Moctezuma's splendid banqueting hall. The name itself is said to be derived from the Aztec Náhuatl word tamalli, meaning wrapped food, which is an excellent description of this very historical and traditional creation: a simple cornmeal dough, often enclosing a filling, is wrapped in corn husks or leaves – banana, avocado, even oak, depending on the region - and then steamed (sometimes baked or poached), allowing the flavour and aroma of the envelope and the filling to permeate the dough. The packaging made them into a version of modern-day "takeaway" food, which could be used to sustain armies on the march, as well as hunters and travellers.
Tamales © Philip Hood
The first step in the formation of tamales, wherever they come from, was the preparation of the pre-Columbian basic dough or nixtamal. Corn was soaked and boiled with the addition of lime (or some cases with wood ash), a process which loosened the hard, indigestible skin and facilitated its removal. It also softened the kernels and increased the nutritional value of the corn, which could then be crushed while still damp into a pliable dough - this was originally done by hand on a slab of lava rock called a metate, a fundamental piece of equipment in the pre-Hispanic kitchen. The resulting masa for tamales was ground slightly more coarsely than for tortillas, which require a finer milling to ensure light, fluffy tamales. Nowadays of course tamales are made from masa harina para tamales, coarse-ground corn flour for tamales, reconstituted with water.
There are countless types and variations of tamales throughout the country, certainly hundreds if not thousands, both sweet and savoury. Often they are cooked plain and unadorned, to be served almost like bread, predominantly as a simple breakfast or supper dish with a cup of hot chocolate or atole, or as an accompaniment to Mole Poblano in particular. More often than not, they are stuffed and the filling itself is totally flexible, depending on the area, the cook, the local practices, the leftovers, the contents of the refrigerator or whatever is to hand. In Oaxaca for instance, the famous black, yellow and red moles find their way into the tamales; in Chiapas, iguana flesh and eggs are popular; in the Yucatán, they strain the masa to give it an incredible velvety smoothness and then flavour, colour and spice it with achiote; the Baja California and Campeche versions are decidedly post-Hispanic, featuring gastronomic immigrants like raisins, olives, almonds and olive oil, while in Tuxtla Gutiérrez, shredded pork is combined with prunes; and in Sinaloa, the barbón or bearded tamal contains whole unpeeled shrimps and prawns, with their long whiskers sticking out of the dough.... As for the size and shape, yet again pretty much anything goes: round, square, cylinder, torpedo, pyramid, cone, as small as a plump thumb or as overwhelming as the notorious zacahuil of the Huasteca region in the east of the country.
This monster tamal can be several metres long and weigh up to 50 or even 100 kilos, and because of its bulk, is usually made in a huge tin tub and baked in toasted banana leaves in a clay pit heated with live coals. It is generally reserved for special occasions and a great favourite at wedding celebrations where it will be large enough to feed the whole bridal party. Dusted with red chilli powder and customarily stuffed with turkey, chicken or pork as well as ancho chillies and spices, it is sliced up and served in deep soup plates, garnished with pickled chillies and vegetables and eaten with a spoon.
As fiesta food, tamales make their appearance on specific dates in the religious calendar, such as Epiphany in January, and then again in November, during the Días de los Muertos or Days of the Dead, when tamales are specially prepared for the ancestors and the deceased and taken to the graveyard for the customary all night vigil. Family gatherings and festivities are another opportunity not to be missed, where they are often turned into a party called a tamalada which is a joint effort and where everybody, including guests, play their part in the production belt, spreading the dough, adding the filling, wrapping and tying the envelope before depositing it in the traditional steamer, la tamalera. And if there are any leftover, which is highly unlikely, they can be buried in the milpa, the traditional corn field, to feed the earth according to an ancient Huasteca religious custom.
You Should Also Read:
Recado Rojo Marinade Recipe
The Day of the Dead in Mexico
Safeguarding Mexico's Historical Cuisine


Related Articles
Editor's Picks Articles
Top Ten Articles
Previous Features
Site Map





Content copyright © 2023 by Isabel Hood. All rights reserved.
This content was written by Isabel Hood. If you wish to use this content in any manner, you need written permission. Contact Mickey Marquez for details.