Recado Rojo Marinade Recipe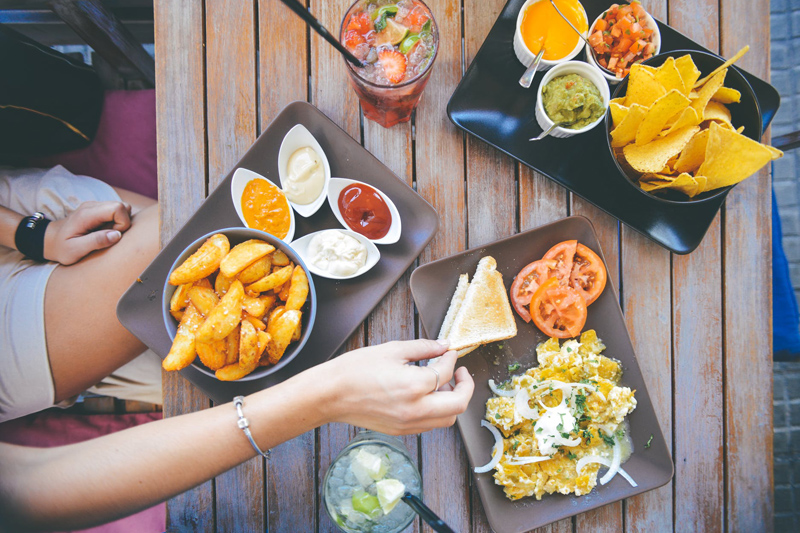 Annatto seeds, bright red, peppery and spicy with a hint of smoke, are known as the poor man's saffron and play a starring role in achiote seasoning and in the cooking pots and pits of the Yucatán Peninsula - Cochinita Pibil is perhaps its greatest ambassador: a whole suckling pig is slathered in a fragrant annatto-based paste known as Recado Rojo before being wrapped in banana leaves and baked in a pib or pit.
Annatto © Philip Hood
Twenty-first Century Mexican cooks tend to use commercially produced achiote seasonings which come in various forms: powders, pastes, pastilles, liquids, even oils as annatto seeds are fat as well as water soluble. The Yucatecan Recado Rojo however is actually easy to make at home, and its flavour is predictably superior to any mass produced product. The main challenge is the hardness of the seeds which makes them very difficult to grind. A sturdy electric spice grinder is essential as a mortar and pestle will have no effect whatsoever and result in nothing but huge frustration – I know, I have tried it. Some cooks boil the seeds first and then let them steep overnight in order to soften them, and this does help, but for the home cook, making Recado Rojo requires a certain amount of muscle powder!
Adding some salt to the annatto seeds creates extra friction and thereby helps the whole process and so long as you are patient and prepared to scrape down the inside of the grinder repeatedly and just keep going until you have a paste, you will succeed. I personally think it is worth the effort to make my own and I go through the process below as often as I can, but I have to admit that when time and energy are lacking, I am happy to use a good quality achiote seasoning powder.
Recado Rojo mixed with lime and orange juice or vinegar, some chilli flakes or paste (the smoky chipotle matches achiote very successfully although it is not regionally authentic), crushed garlic cloves and olive oil, it becomes a delicious marinade to be used with fish and prawns, lamb and pork chops, steaks, butterflied quail or poussins and feta cheese for instance. And if you fancy some fabulously succulent pork carnitas with a flavour of the Yucatán, there are links to a recipe at the end of this article.
Achiote Marinade – Recado Rojo
30 ml/2 tsp anatto seeds
5 ml/1 tsp fine sea salt
5 ml/1 tsp black peppercorns
10 ml/2 tsp cumin seeds
5 ml/1 tsp coriander seeds
5 ml/1 tsp allspice berries
5 ml/1 tsp dried Mexican oregano
5 ml/1 tsp ground cinnamon
10 whole cloves
6 garlic cloves, peeled and crushed
60 ml/4 tbsp fresh orange juice, about 1 orange
30 ml/2 tbsp fresh lime juice, about 1 lime
60 ml/4 tbsp olive oil
Place the annatto seeds and salt in an electric spice grinder and grind finely, stopping every so often to scrape down the sides of the grinder. Add the remaining spices and grind finely again. Transfer the spice powder to a small bowl and add the garlic, orange and lime juices, and olive oil. Mix well.
The recado will keep well in a screw top jar in the refrigerator for a week, although it does tend to lose its sparkle if it sits around for too long.
This quantity is ample for four chicken breasts, pork chops or steaks and thick fish fillets. If you are cooking prawns or large shrimp, allow about 500 g/18 oz.
To use the recado as a marinade, slather it generously over the food before grilling or roasting. Baste often with the juices during the cooking.
Buén provecho!
| | |
| --- | --- |
| Chilli and Chocolate Stars of the Mexican Cocina by Isabel Hood is available from Amazon.co.uk | Just The Two of Us Entertaining Each Other by Isabel Hood is available from Amazon.com and Amazon.co.uk |
You Should Also Read:
The Spices of Mexico - Achiote
The Sauces of Mexico - Recado
Tacos of Oven-roasted Achiote Carnitas Recipe


Related Articles
Editor's Picks Articles
Top Ten Articles
Previous Features
Site Map





Content copyright © 2022 by Isabel Hood. All rights reserved.
This content was written by Isabel Hood. If you wish to use this content in any manner, you need written permission. Contact Mickey Marquez for details.