Guest Author - Isabel Hood
The recados of the Yucatán Peninsula are one of the area's gastronomic building blocks and signatures, the main contenders being Recado Rojo based on the local spice achiote; Recado Negro, whose rich black colour comes from literally burning chillies; and Recado de Bistec, whose name associates it automatically with beefsteak, ie bistec, but which in fact has nothing to do with beef – other than the fact that it can be served with it! This recado is spicy, very peppery, barely sweet and deliciously herby, almost grassy, and it is an essential component of the famous Yucatecan Pollo Alcaparrado, Chicken with Capers.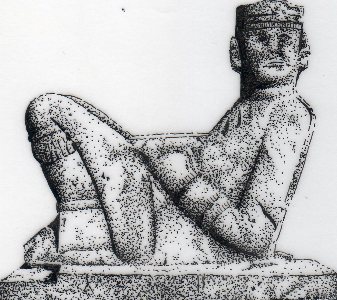 El Chacmool © Philip Hood
This dish, which is a speciality of the state of Campeche, is very post-Hispanic in that it features ingredients like raisins, capers and olives let alone chicken, all of which arrived after the Spanish Conquest. The Recado de Bistec, however, places it unequivocally in southern Mexico and the land of the Mayas, as do the chillies, peppers, tomatoes and the kick of sour orange juice – traditionally the naranja agria which is native to the area. Roasted local yellow xcatic chillies are customarily included whole, but in their absence, I go for far more easily available plump green chillies like jalapeños.
Chicken with Capers – Pollo Alcaparrado
Serves 4
250 ml/8 fl oz/1 cup fresh orange juice, about 2 large oranges
15 ml/1 tbsp fresh lime juice, about 1 large lime
30 ml/2 tbsp Recado de Bistec (follow Recado link below)
1 medium chicken, about 1.5 kg/3 lb, jointed into 8 portions
25 g/1 oz fat green chillies, about 2
10 garlic cloves, unpeeled
30 ml/2 tbsp lard, duck or goose fat or oil
175 g/6 oz onions, peeled and finely sliced
175 g/6 oz red bell pepper, about 1 large, deseeded and cut into 1 cm/1/2 in dice
2.5 ml/1/2 tsp cumin seeds
250 g/9 oz tomatoes, coarsely chopped
25 g/1 oz raisins or sultanas
30 ml/2 tbsp capers, rinsed and squeezed dry
12 pitted black olives, quartered
15 ml/1 tbsp bouillon powder
Sea salt
Cooked rice, to serve (optional)
Mix the orange and lime juices and combine two tablespoons with the recado. Rub generously all over the chicken and set aside for at least one hour, preferably three or four or even overnight in the refrigerator.
Preheat the grill to its highest setting. Line a baking tray with kitchen foil, arrange the chillies and garlic cloves on it and grill about 5 cm/2 in from the heat, turning over as necessary, until they are blistered and golden. Cool then peel and coarsely chop the garlic. Slip the skin off the chillies, scrape out the seeds and dice the flesh.
Heat the fat in a casserole or large frying pan or and brown the chicken well on all sides. Remove to a plate. Add the onions and peppers to the pan and cook gently, stirring occasionally, until soft and starting to turn golden. Sprinkle in the cumin seeds and some salt and cook for a further three minutes. Stir in the tomatoes and leave to simmer for about 10 minutes, until they have broken down. Pour in the citrus juices and bring to the boil. Add the chopped garlic, chillies and raisins.
Arrange the chicken portions on top of the sauce, cover the casserole and cook over low heat for 30 minutes. Check for doneness by inserting the tip of a small knife into a thigh portion – the juices should run clear. Stir in the capers and olives and simmer for a further five minutes. Adjust the seasoning.
Serve immediately with rice.
Buén provecho!
| | |
| --- | --- |
| Chilli and Chocolate Stars of the Mexican Cocina by Isabel Hood is available from Amazon.co.uk | Just The Two of Us Entertaining Each Other by Isabel Hood is available from Amazon.com and Amazon.co.uk |