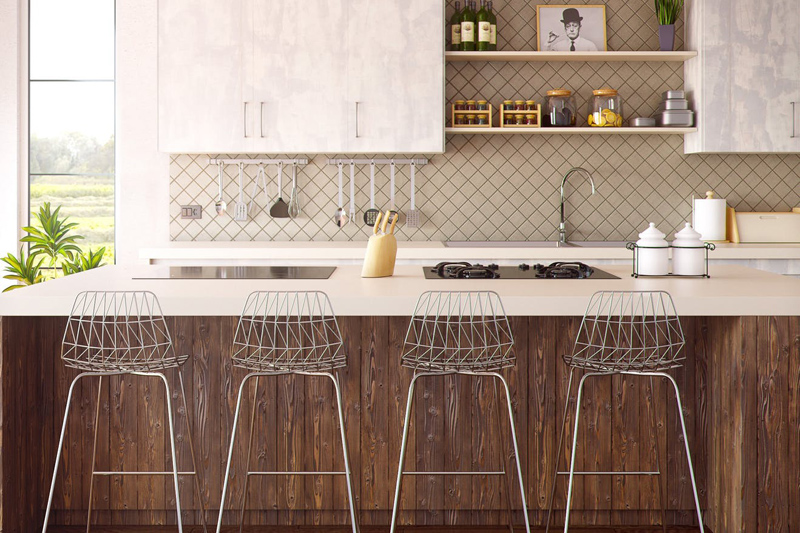 Hams come in many types. They're fully cooked or uncooked, wet-cured or dry cured, bone-in, semi-boneless or boneless. Should you buy a whole ham, a shank half, a butt half, or a canned ham? How do you choose a ham?

Bone-in or Boneless?.... Half or whole?... Which Half?
Hams are sold with bones and without bones. Hams labeled "bone-in" have at least the leg or hip bone still intact. Bone-in hams have the natural ham shape. Many ham lovers say bone-in hams have a better texture and a superior taste.
Bone-in hams are available whole, as a shank half or as a butt half. Whole hams sometimes weigh 20 pounds or more. Hams labeled "Semi-Boneless" have had some of the bones removed. Only the center bone remains, making them easier to carve. They have less fat and more lean meat. "Skinless Shankless Hams" also have only the center bone but they've had the skin removed as well.
The average ham half ranges in size from about 7 to 10 pounds. A half ham is either the shank half or the butt half. The butt portion is meatier and has a round, blunt end. The shank portion has a tapered end and is generally easier to carve than the butt end.
Hams with excessive marbling usually taste greasy. When buying a half ham you can easily see the meat. Select a ham with a minimal amount of marbling for the lowest fat and best taste.
Boneless hams have had all the bones and most of the fat removed before they are fully cooked. They are processed to reform the shape and bound to hold the meat together. Boneless hams make carving extremely simple.
Wet-Cured or Dry-Cured.....
Commercial brands of ham, the kind of hams sold in super markets, often referred to as "City Hams", are "wet-cured". They are soaked in or injected with a brine - a salt solution that may also contain varying amounts of water, sugar and spices. After curing, some brands of ham are smoked by hanging in a smokehouse to absorb smoke from a smoldering fire. Others are injected with liquid smoke flavoring to get a smoked taste.
| | |
| --- | --- |
| | Country Hams have been "dry-cured". They're rubbed with salt and spices, then naturally smoked and aged. Country Hams are usually only available at butcher shops or gourmet food stores. They are most popular in the south. Country Hams have a darker color and a higher cost than super market hams. They are full of flavor but also quite salty. They must usually be soaked for a period of time to purge the salt, then simmered before baking. |
Fully cooked?
Nearly all hams sold in supermarkets today are fully cooked. They really only need to be heated through before serving. Heating to an internal temperature of 140° is recommended. Follow the heating directions on the label, or bake at 325º to 350º for about 15 minutes per pound.
In the unlikely chance that you do find an uncooked ham in a grocery store, it would be labeled "cook before eating". Uncooked hams must be cooked to an internal temperature of 160º before eating. If you don't have a meat thermometer, you can generally plan on cooking an uncooked ham for 30 minutes per pound.
Added Water
Supermarket hams vary in the amount of water added during the curing process. According to the USDA, if, after curing, smoking, and cooking, the weight of a ham exceeds it's original weight, it must be labeled with the amount of water that was added. Country Hams have no water added. Supermarket hams with no water added, labeled just plain "ham", are rare.
Hams that are labeled - "Ham with natural juices" - contain 7% to 8% percent added water. The texture and appearance make it a good choice when baking a ham for a holiday dinner.
Hams labeled - "Ham - water added" - contain 12% to 15% added water. This ham is versatile. Ham with more water added, is normally less expensive per pound, but you're also paying for the water as well as the ham. Some people like the extra juiciness from the additional water. It's great for ham steaks.
Hams labeled - "ham and water product" - contain more than 15% percent added water. This is the kind of ham commonly sold in a deli, as boiled ham or cooked ham. It's served cold and is usually used for sandwiches.
How much ham per person?
For a boneless ham, figure about 4 to 5 servings per pound.
For a semi-boneless ham, figure 3 to 4 servings per pound.
With a bone-in ham, figure about 2 to 3 servings per pound.
| | |
| --- | --- |
| | Spiral-sliced hams, which are conveniently pre-sliced, have become extremely popular. Most are good quality bone-in hams "with natural juices". The slicing is done on a special cutting machine that spins the ham around while cutting thin slices through to the bone in a continuous spiral. Many Spiral-Sliced hams include a glaze packet. You can also make your own glaze and use them in traditional baked ham recipes. |
Pork Shoulder Picnics have been cured the same as a ham but they are from the front leg or shoulder whereas hams are from the back leg. Picnics have more internal fat. They're often used in ham dishes that are cooked, like soups and stews and in casseroles.
Fresh Ham has not been cured or smoked. Fresh ham is really just plain pork, and should be used and cooked like any fresh pork roast. It has been labeled "ham" only because it was also cut from the hind quarter of the pig.
Canned Hams are boneless, fully cooked, and packed in vacuum-sealed cans. They can be served right from the can or heated. Many canned hams require refrigeration. They can be kept in the refrigerator for 6 to 9 months. Shelf stable canned hams can be stored at room temperature for up to 2 years.
Storage -
Unopened, in the original packaging, both bone-in and boneless hams, can be kept in the refrigerator for about 7 to 10 days. For longer storage, ham can frozen, in the original packaging, for up to 3 months.
Leftover ham, like all leftover perishable food, should be refrigerated within two hours of serving. You can safely keep leftover ham, refrigerated, for up to about 7 days.
To add extra flavor....
Hams can be baked and served with a sauce on the side. You can also add extra flavor to a ham by glazing it. A glaze should be added near the end of the baking time, usually during about the last 30 to 40 minutes.
To glaze a baked ham, the drippings should first be removed from the pan and discarded. (Pan juices from a baked ham are salty and unappetizing.) The Glaze can be applied with a pastry brush, or spooned over the ham and spread with a spatula. The ham is then returned to the oven to complete the baking time. Sometimes additional glaze is applied at 10 to 15 minute intervals.
To Score a Ham....
Scoring looks nice, allows fat to render from the ham, and lets the glaze seep well into the ham for more flavor. When a recipe tells you to score a ham....

First, remove the rind and trim away fat, leaving about a 1/4" layer of fat. Using a sharp knife, slice 1" to 2" squares in the remaining surface fat, about 1/4" to 1/2" deep, creating a diamond pattern. Then, using a metal skewer or the tip of a thin knife poke a hole in the center of each diamond and insert a clove in each hole.
To bake a fully cooked 6 to 7 lb. ham half....
Allow the ham to sit at room temperature for about an 1-1/2 hours before baking. Place the ham on a rack in a shallow roasting pan and bake at 325º degrees, uncovered, for 1-1/2 to 2 hours or until a meat thermometer reads 140º, or about 15 minutes per pound.
Carving
When carving a ham, use a sharp carving knife with a thin blade. Only cut enough ham for the dinner. The leftover ham will stay moister if it's uncut, and it's also easier to cut super thin slices for sandwiches when the ham is chilled.
To carve a bone-in ham – Place the ham on its side and cut off a few long slices to create a flat surface. Turn the ham onto the cut surface; make perpendicular slices down to the bone; cut along the bone to release the slices, then remove the slices with the fork.
To carve a boneless ham – Simply cut a few long slices off the side to create a flat surface, turn the ham onto the cut surface and slice to the desired thickness.
For illustrated directions, see Simple Techniques for Carving a Bone-in Ham or Carving a Perfect Ham
Lean ham has only about 112 calories per 3 oz. serving. It's a good source of protein... great for carb-counting dieters.
You Should Also Read:
The Home Cooking Recipe Index and Site Map
The Home Cooking Cookbook Corner
Easter Recipes


Related Articles
Editor's Picks Articles
Top Ten Articles
Previous Features
Site Map





Content copyright © 2023 by Sandy Moyer. All rights reserved.
This content was written by Sandy Moyer. If you wish to use this content in any manner, you need written permission. Contact Allyson Elizabeth D´Angelo for details.