Afternoon Tea Dried Blueberry Scones Recipe
I have very fond scone memories growing up as a kid. Our parents would often take my younger sisters and me to the countryside whenever they had the chance and could never pass up a stone cottage roadside café serving fresh scones, topped with seasonal fruit and freshly whipped cream...and not forgetting the cup of tea of course!
Scones are traditionally British fare and recipe books brim over with new variations of textures and flavors in the last few decades – but one thing is for sure, they are always a delight with your tea or coffee. In addition, the use of dried fruit in this recipe ensures that you can still enjoy the sweetness of fresh blueberries when off-season.
You may also vary the type of dried fruit you add to the batter too. Dried cherries, apricots, dates, figs would all be great – just remember to chop the fruit into smaller pieces before adding them in. The texture of this recipe is delicious, light, has just the right amount of sweetness and just enough fruit for a delightful afternoon tea.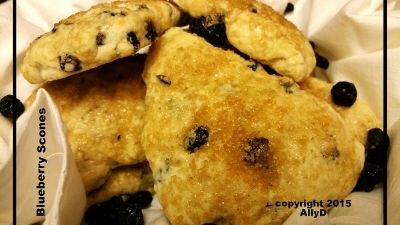 Ingredients
2 heaping cups of all-purpose flour
plus extra for kneading
1/4 tsp. table salt
1/3 cup granulated sugar
2 tsp. baking powder
5 tbsp. very cold butter, cut into pieces
1/4 cup heavy whipping cream
1/3 cup whole milk
1 tsp. almond extract
1 tsp. vanilla extract
1 cup dried sweet blueberries
Egg wash (1 egg + 1 tsp. water - beaten)
Turbinado (raw brown) sugar for sprinkling
Method
Preheat the oven to 325 degrees F.
1. In a bowl, thoroughly mix the flour, salt, sugar and baking powder. In another bowl, mix the egg, cream, milk, almond and vanilla essences until somewhat frothy. In a food processor, add the dry ingredients and the cold butter. Pulse 3 times then add the wet ingredients through the spout with the motor running until the mixture comes together. The dough will be very sticky.
2. Turn the batter out onto a floured board using a spatula and, with floured hands knead it a little to bring it all together. Add more flour to the board and your hands pressing down on the dough to form it into a 1/2 inch round. You can either cut the dough with a floured knife into wedges as I did, pizza style (this will make 8 pieces) or use whatever size cookie cutter you like ( 3 inch recommended for traditional sized scones.) TIP: flour the cookie cutters before each cut.
3. Brush the scones all over with the egg wash and pat down the raw brown sugar on top. Bake on a greased cookie sheet or silicon mat (no greasing needed) for 15 - 18 minutes. If you want your scones larger in order to split them, cut them a little thicker.
You Should Also Read:
Visit my American Regional Site for updated regional comfort recipes


Related Articles
Editor's Picks Articles
Top Ten Articles
Previous Features
Site Map





Content copyright © 2022 by Allyson Elizabeth D´Angelo. All rights reserved.
This content was written by Allyson Elizabeth D´Angelo. If you wish to use this content in any manner, you need written permission. Contact Allyson Elizabeth D´Angelo for details.