There are two fish I love to use for this recipe - Tilapia and Red Snapper - and I know one thing is for sure - you are going to
love
the bold and bright flavor of this marinade that lends a helping hand to these mild tasting fish.
Today, I chose Tilapia for this recipe over my other favorite. Both fish are very affordable throughout the year which is always something I'm looking for when I shop! I love to use bold flavors on these fish as they are mild on the palate.
The texture of Tilapia and Red Snapper, I would describe as, somewhere in-between catfish and cod or haddock. Both are firmer than catfish and softer than cod. As my family are not "soft" fish lovers, these choices fall right into my shopping cart as something that I know they will enjoy.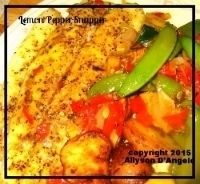 Ingredients
1/4 cup olive oil
2 tsp. Dijon or grainy mustard (I used Dijon)
2 large garlic cloves, crushed
1 tsp. ground turmeric
1 tsp. course ground black pepper
1 tsp. kosher salt
Juice of a large lemon + the zest
4 tilapia or red snapper fish filets, skinned and deboned
Method
Preheat the oven to 375 degrees F.
1. First, wash the fish under cold running water, pat them dry and set aside. Next, in a small bowl, combine the olive oil, mustard, garlic, turmeric, pepper, salt, lemon juice and zest mixing thoroughly.
2. In a large bowl the rub the filets all over with the marinade. Marinate in the refrigerator for 30 minutes then place the filets on a shallow sheet/cookie pan that has been sprayed and bake for 20 minutes. To test for doneness, the fish is cooked when it looks light and flaky when twisted with a fork.
Cooking time note :
Depending on which type of fish you use in this recipe, some meatier pieces of fish like cod and haddock, will take a few more minutes to cook. A good rule of thumb is to check for doneness after 20 minutes.
Serve 4.