My philosophy as a home cook is, to shop wisely and take advantage of what the seasons have to offer. This recipe for a Roasted Winter Vegetable Gratin combines a selection of seasonal produce which are available from October through March - leeks, celery, potatoes, cauliflower, fennel and of course cheese (why? Because it's a gratin!) :
Seasonal produce is always less expensive, only because the farmers have an abundance of crops, who sell it to the grocery stores for a great price - therefore we get to benefit, because in return the markets price the products to sell. That's when I'm there on Ad day! 
This is a very easy recipe to prepare - only a little work involved, just because you and are I are too busy! I turned these wonderful winter veggies into a gratin (which is kind of like a casserole with either some kind of bread and butter topping – or cheese) by adding a little cheese which I had on hand. However, if you want to keep this on the healthier side, omit the cheese and serve this recipe as a winter veggie medley – it's delicious either way!
I would recommend putting this recipe into your holiday repertoire (not only because I made it,) but because it shouts seasonal and would pair well as a side dish with roasted turkey on Thanksgiving, or a spiral ham at Christmas and even pork or chicken any day of the week.
This is one of my, toss-it-all-together recipes and roast it in the oven deals - how easy is that!? You can make this a day ahead of time and then gently reheat at 350 degrees F. for approximately 10-15 minutes. The flavors of veggies combined in this recipe work extremely well together - giving a different flavor and texture to every bite. I give options for cheeses in the recipe - here, I mixed 2 tbsp. parmesan into the veggies in the dish and then combined fontina and cheddar on top. Experiment and enjoy!
Ingredients
2 cups Brussels sprouts, halved
1 large fennel (anise) bulb, cut into pieces
2 cups celery, cut in 1" pieces
3 medium potatoes with skin on, cut into bite sized pieces
1 medium onion, halved and sliced into large pieces
1/2 medium sized cauliflower, cut into small florets
10 sprigs of fresh thyme
1 tsp. crushed oregano
Olive oil to coat
2 tbsp. kosher salt
1 tbsp. ground black pepper
1 1/2 (total) cups of grated fontina, cheddar, parmesan or Romano cheese (or a combo - they all work well)
Method
Preheat the oven to 400 degrees F. for 15 minutes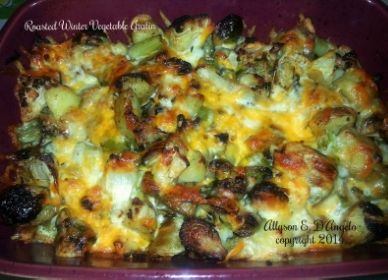 1. Place the sprouts, fennel, celery, potatoes, onion, cauliflower and thyme sprigs into a large bowl. Drizzle with olive oil and toss well to coat (the veggies should look shiny with oil.) Sprinkle in the salt, pepper and oregano and toss again until well combined.
2. Place the vegetables into a large, shallow pan and roast for approximately 40 - 50 minutes, turning at least once through cooking to ensure even browning. Set aside to cool a little. This can be made the day before - however, bring the veggies to room temperature for 1 hour before proceeding with the next step. Keep the heat at 400 degrees F. Remember the veggies are cooked and we don't want to overcook them. So, next we are just going to melt the cheese.
3. Spray a casserole dish or other vessel of your choosing with non-stick spray. Add the roasted veggies into the dish, removing the thyme stalks and then top it off with the cheese. Bake until the cheese is bubbly and turning golden brown and at that point the veggies will be warmed through, approximately 15 minutes.
Please contact me with any whims or fancies you may have for seasonal recipes at any time. I would so be grateful to accommodate you. :)