The Sauces of Mexico - Manchamanteles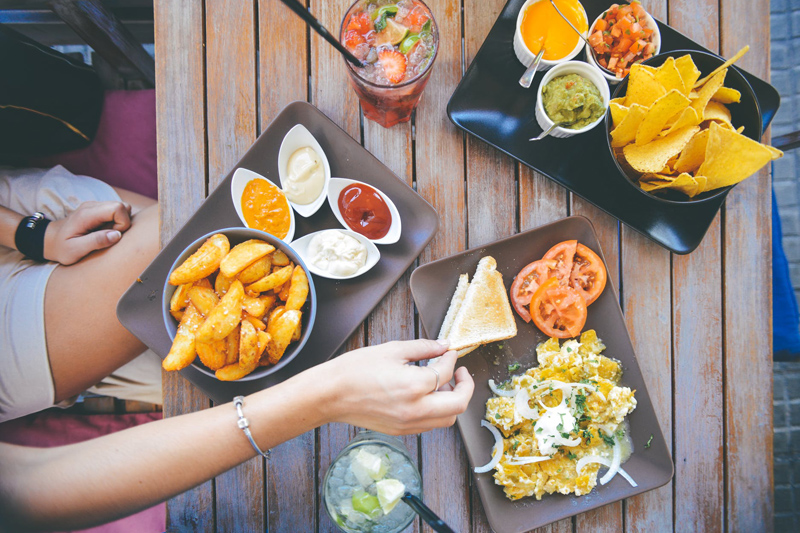 The name speaks for itself – mancha manteles is Spanish for table cloth stainer, and this brick red sauce, when spilled on a white table cloth or down the front of a white shirt, can cause very serious damage indeed. Although there seems to be no pre-Columbian name for mancha manteles, it belongs to the extensive family of the famous Mexican "moles" and while the great gastronomic states of Puebla and Oaxaca both lay claim to it (it is one of the "Seven Moles of Oaxaca"), with Guadalajara putting in its two bits, versions of mancha manteles turn up all over the country.

This particular Mexican sauce has always struck me as a tropical mole, since it invariably contains fruit, and tends to be relatively mild and mellow, but as with all Mexican cooking, every region, state, household and cook has its own recipe featuring the local chillies and the fruit in season, and the mancha mantel of each and every area varies both in spiciness and sweetness. Plantain, pineapple and sweet potato turn up regularly, and chicken or turkey and pork seem to be used together, but I have also come across the dish made with just one of these. Chorizo can give the sauce deep savouriness, while cinnamon, cloves, black peppercorns, bay, thyme and oregano all add to the layers of flavour. The most widely used chilli appears to be the "ancho", a dried "poblano", 3/10 on the heat scale, with a rich, pruney aroma and suggestion of heather or wild herb honey; the Oaxacan mancha manteles, however, usually involve the much hotter guajillos and local chilcostles. The last ever-present ingredient which came up time and again throughout my research was seeds or nuts, particularly almonds, which enrich, thicken and season the dish.

In my own version of mancha mantel below, the main roles are played by chicken, pork belly and chorizo, which are all cooked from scratch, but one of the joys of this kind of stew is that it is very amenable to the inclusion of left-over meat, particularly in the form of cooked chicken and turkey. I therefore like to make up a batch of the sauce on its own towards late in the year, freeze it and serve it up with the remains of the turkey at the end of the festive season; I reheat it, stir in the fruit and shredded cooked turkey, and simmer for 15 minutes.

And just before I go on to the recipe, I wanted to share a piece of wonderful news with you all: the cuisine of Mexico has been awarded the status of "intangible cultural heritage" by UNESCO! Viva Mexico! I shall be writing about this in greater detail in a few weeks' time.

Mancha manteles

Serves 6

75 g/3 oz ancho chillies
500 g/18 oz tomatoes, halved
8 garlic cloves, unpeeled
75 ml/5 tbsp olive oil
5 cloves
1 cinnamon stick, broken up
5 black peppercorns
5 ml/1 tsp dried Mexican oregano
30 ml/2 tbsp fresh thyme leaves
50 g/2 oz blanched almonds
250 g/9 oz onions, peeled and sliced
250 g/9 oz chorizo, skinned and diced
1 chicken, jointed
500 g/18 oz pork belly, boned, skinned and cut into slices about the size of your thumb
250 g/9 oz sweet potato, peeled and cut into 2 cm/3/4 in pieces
2 fresh bay leaves
1 ripe plantain, about 200 g/7 oz, or same weight firm bananas, peeled and sliced 5 mm/1/4 in thick
150 g/5 oz peeled fresh pineapple, net weight, cut into 1 cm/1/2 in pieces
Warm corn tortillas or cooked rice, to serve (optional)
Sea salt and freshly ground black pepper

Heat a heavy frying over medium heat and toast the chillies, pressing down on them with a spatula, until they start to smell aromatic, about 3 minutes. Flip them over and do the same on the other side. Place them in a bowl, cover with boiling water, put a small saucepan lid or plate on top to keep them submerged, and set them aside to soak for 30 minutes. Drain and discard the stem, ribs and seeds. Place in a food processor, add 150 ml/1/4 pint of water and process until you have a thick, brick-red sauce. Strain through a medium mesh sieve to remove the bits of skin.

While the chillies are soaking, heat the grill to high. Line the grill pan with foil and arrange the tomatoes, cut side up, and garlic cloves on it. Grill 10 cm/4 in from the heat for about 20 minutes, until lightly charred, turning the garlic cloves over half way through. Cool, then peel the garlic cloves and place them in a food processor with the tomatoes and any juices.

In a small frying pan, heat 2 tbsp of olive oil, add the spices, oregano, thyme and almonds, and stir-fry over medium heat until the almonds start to brown and the mixture is aromatic. Scrape it all into the food processor with the tomatoes and process to a chunky purée.

Heat the remaining olive oil in a large, oven-proof casserole and brown the chicken and pork pieces all over until well coloured. Remove to a plate and set aside. Add the onions to the pan and cook until soft and golden. Stir in the chorizo and cook for 5 minutes. Add the chilli and tomato purées, the sweet potato, bay leaves and some seasoning, place the chicken and pork on top and cover the pan.

Preheat the oven to 150oC/300oF/gas 2/fan oven 135oC and cook the casserole for 90 minutes. Stir in the plantain and pineapple and cook for a further 15 minutes. Check the seasoning.

Serve immediately with tortillas or rice.

Buén provecho!


You Should Also Read:
Salsas, the sauces of Mexico
The Sauces of Mexico - Oaxacan Coloradito
The Sauces of Mexico - Mole


Related Articles
Editor's Picks Articles
Top Ten Articles
Previous Features
Site Map





Content copyright © 2022 by Isabel Hood. All rights reserved.
This content was written by Isabel Hood. If you wish to use this content in any manner, you need written permission. Contact Mickey Marquez for details.