Salsas, the Sauces of Mexico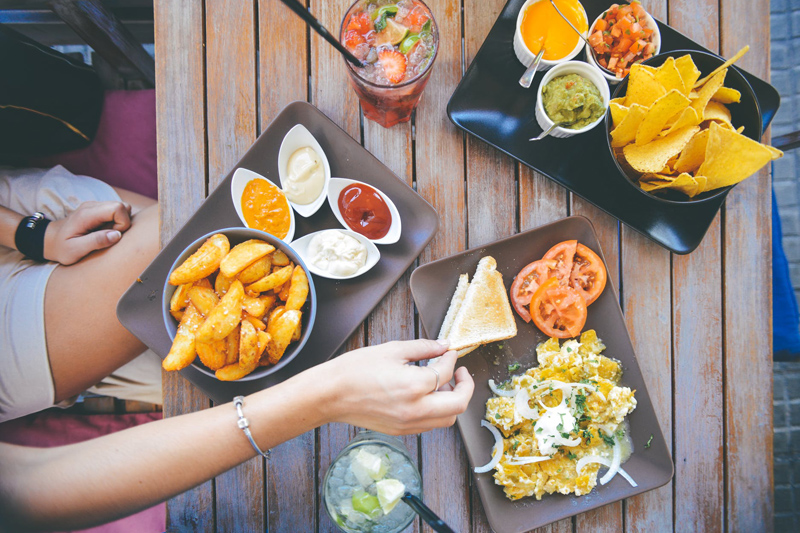 The word "salsa" simply means sauce in Spanish, and Latin dancing connotations aside, it has somehow become synonymous with a particular element of Tex-Mex style fast food: it is blood red and sour, comes in a jar, tastes of nothing but processed tomatoes and chilli powder, and is light years away from a real Mexican salsa. Over the next few weeks, I will be talking in detail about salsa and specific Mexican sauces, and in this introductory article, I am covering the most typical categories of the sauces of Mexico.
In Mexican cuisine, the word "salsa" tends to apply to an uncooked concoction which is almost more a mini salad than an actual sauce. This kind of salsa is a boisterous, exuberant combination of diced raw vegetables and/or fruit which invariably includes chillies and herbs, and is used as a condiment, a relish, an accompaniment to enhance and expand a main dish. If you wander past a food stall on any Mexican street corner, you will notice an assortment of salsas, to which customers will help themselves a gusto, to taste. There is bound to be salsa cruda, raw sauce, a straightforward and very traditional mixture of tomato, onion, chilli and fresh coriander, as well as guacamole, made from unctuous, ripe avocadoes. Each region will use its typical chillies, and toasted seeds and nuts crop up everywhere. In the southern states, a variety of tropical fruits will often find its way into the local salsas, partnered perhaps with the inky black beans of the Yucatán peninsula, and the juice of limes and bitter oranges features in much of the salsa repertoire: Xni-Pec is the Yucatán's version of salsa cruda, sharpened with "naranja agria", sour orange, and afire with the local habañero chilli which notches up 10 out of 10 on the heat scale. But ask a street cook for her recipe, and she will smile and shake her head – she has no recipes. Every cook makes salsas her own way, or perhaps the way her mother and grandmother made them, with regional and seasonal ingredients, and whatever takes her fancy that day – and her customers will spoon them into soups and stews, over tacos and quesadillas, or just roll them up in a warm, fragrant tortilla.
A cooked sauce is still technically a "salsa", particularly when it is tomato-based, but if it is flavoured with chillies, let alone thickened with seeds or nuts, it is more likely to be known as a "mole", from "molli" or "mulli", which means sauce in Náhuatl, the language of the Aztecs. In contrast to the fresh, lively, uncooked salsas, moles are sauces of serious character, rich and sultry, deeply flavoured and very pre-hispanic, centred on dried smoky chillies and perhaps roasted tomatoes, thickened with anything from sesame seeds to hazelnuts or pecans, and frequently seasoned with chocolate. Moles require more equipment and lengthier preparation than salsas and are a speciality of the market cook rather than the street cook. Dried chillies have to be toasted and soaked, sesame and pumpkin seeds stir-fried until golden, tomatoes griddled or roasted until they are shrivelled and dark; and the final sauce may need to be pounded and ground – in a mortar with a pestle if you want to be truly authentic! - until it has reached the right consistency. Moles are decidedly "slow food" and cannot be hurried, but as anybody who has ever made even a simple mole soon realises, the end result, whether combined with turkey as in the traditional Mole Poblano, or simply ladled over an enchilada, layered with stale tortillas and grilled sweet chillies, or even stirred into boiled rice or pasta, is worth every minute.
Molcajete © Philip Hood
A "pipián", like a mole, is so pre-hispanic that it is almost difficult to associate it with 21st century Mexican cuisine. Pumpkin seeds, pepitas, are a traditional Mexican ingredient which has been used for millennia not only to thicken sauces but also to provide body, protein, a glorious aroma and an extra layer of nutty savouriness. The seeds need to be lightly cooked in a dry frying pan before being ground and their toasty richness lends an indefinable, deeply satisfying flavour to the sauces known as pipianes, which are a speciality of the central states of Mexico. They are deceptively simple in that the toasting gives the seeds a wonderfully rich, mellow flavour which is quite unexpected: the outcome is not just a chilli sauce, not just a tomato or tomatillo sauce, not just a nut sauce, but a sauce with a hint of exoticism and mystery which is difficult to pin down – and yet, at its simplest, a pipián is just a paste of seeds thinned down with stock or merely water. The "encacahuatado", a sauce thickened with the native peanuts, is a close relative of the pipián, as is the post-Columbian "almendrado", an almond sauce from Veracruz which is often served with chicken, and the walnut sauce spooned over the famous "Chiles en Nogada".
The final category which I am including in my Sauces of Mexico is "adobos" and "recados" which, like the "salsas", are not really sauces at all but pastes which come into their own as marinades. However, any left-over adobo or recado can be mixed with stock, puréed tomatoes, fruit juice, beer, any liquid in fact to transform it into the perfect sauce to accompany the final dish and I therefore feel that they deserve their place among the "salsas". Adobos are essentially chilli pastes, while recados, a speciality of the Yucatán peninsula, are more of a spice blend. Both are slathered and rubbed into meat and poultry, fish and vegetables, to season them and imbue them with flavour, heat, aroma and zest, to give them interest and excitement, and to make them into the gloriously rewarding experience which is Mexican food.
So buén provecho, and enjoy the salsas of Mexico.
You Should Also Read:
The Sauces of Mexico – Pipián Recipe
The Sauces of Mexico - Salsa Verde Cruda
The Sauces of Mexico - Guacamole Recipe


Related Articles
Editor's Picks Articles
Top Ten Articles
Previous Features
Site Map





Content copyright © 2023 by Isabel Hood. All rights reserved.
This content was written by Isabel Hood. If you wish to use this content in any manner, you need written permission. Contact Mickey Marquez for details.