Cool Cucumber Facts and Recipe Ideas
If you haven't been educated on how "cool" a cucumber is, then you are in for a rude awakening! Did you know, that the cucumber is one of the world's four most cultivated foods? What we take for granted as being one of the simple ingredients in a common garden salad along with tomatoes, carrots and lettuce - cucumbers are definitively a
Superfood.
No wonder the little guy on the right is proud of himself!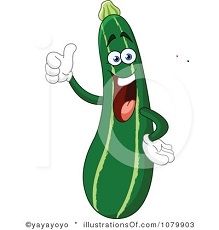 I really don't think our elders realized how much they were benefitting us by adding cucumbers to our diet. As well as being a cool and crunchy veggie in our salads, cucumbers also act as a preventative, natural medicine for so many maladies and can also help our beauty. Not only that, they can help us with our household chores, too!
Throughout this article, there will be some easy and fun recipe ideas to incorporate cucumbers into your diet. It would be great if you could make this a daily thing in some form or another (or at least 3 times per week,) to benefit from the enormous amount of nutrition that cucumbers can bring into to the lives of your family!
The Cool Facts
1. Cucumbers contain 95% water, therefore when consumed it will detoxify your body and help replenish daily vitamins. Because of the high water content, they are also great for rehydration during hot weather or when you are sick.
2. The skin of the cucumber has the most nutrition, supplying up to 10% of the recommended daily value in your diet. So, to avoid peeling - choose the hot house (English) cucumbers or the tiny Kirby cucumbers (the ones used in pickling.) The skin is thinner on these two types and they have minimal or no seeds, which will aid in avoiding the burps and indigestion later on.
3. Cucumbers help cure diabetes and gout, fight cancer and can control high blood pressure and cholesterol, as well as helping squeaky joints and arthritis for those of us who are middle-aged or senior citizens dealing with these issues.
Try cucumbers in your diet over a period of time and see if they make a difference in your lifestyle and health, especially if you're trying to lose weight or have arthritic pain. Try keeping a log of when and how much you consume and see if you feel the difference over a month or so. Hey! It may be worth the while.
As cucumbers have a significant high water content and are high in fiber (yes! there are foods other than whole grain wheat bread that contain a high fiber content,) you will see a remarkable difference if you incorporate them into a healthy balanced diet.
4. Cucumbers have the following significant health benefits. They include: - Vitamins A, B1 and B6, C, D, folate, calcium, magnesium and potassium.
Easy Cucumber Recipe Ideas
1. Slice cucumbers on a mandolin or hand held grader very thin and marinate them in a white balsamic salad dressing or any other of your choosing, for at least 1 hour. Add these to sandwiches or salads - or just as a healthy snack by themselves.
2. For a fancy appetizer, cut cucumbers into 1/2" - 1" rounds. Carefully scoop out the seeds, making a hollow but not going all the way to the bottom. Sprinkle them with salt and turn upside down on a paper towel for 30 minutes. This extracts some of the water so that they won't be soggy if you don't eat them all at once.
Rinse and pat dry then stuff them with practically anything you can conjure up. Cream cheese mixed with shrimp, finely chopped chicken salad, crab or salmon salad, finishing them off with a little garnish such as chives or parsley. Serve on a platter for a party or as a light, refreshing appetizer with a meal.
3. Add cucumbers to a stir fry at the last minute like you would with bean sprouts for texture and crunch - or you can batter and fry them.
4. To relieve gout and arthritis pain, combine cucumbers and carrot juice in a blender or juicing machine. This potion actually lowers the uric acid levels in the joints, making you a happy camper! Have a glass or two per day!
5. As a detoxifier - combine a couple of cucumbers with 12 cups of water, 2 sliced lemons and approximately 15 fresh mint leaves. Drink 16 oz. four times a day.
Other Fun Cool Cucumber Facts
1. If you have a severe case of bad breathe, whether it be from tooth decay or from eating onions or garlic...just place a 1/4 inch slice of (washed) cucumber onto the roof of your mouth for half a minute. It will kill the bacteria and leave you readily available to communicate with anybody! :)
2. Two thick, cold slices of cucumber placed over your eyes is a very old remedy for ridding puffiness - and it works just the same today.
3. Household Tip 1:- Do you hate getting out of the shower and your mirror is all fogged up? If the answer is yes, take a slice of cucumber and rub it all over your mirror - before you take a shower!
4. Household Tip 2:- Don't you just hate when summer or even winter comes around and you have that annoying squeaky door that drives you crazy? Well, a simple slice of cucumber will take care of that. Rub it on the annoying hinge all around. WD40 can take care of that easily too - but a little piece of cucumber will be less inexpensive and healthier for the atmosphere than a can of chemicals!
If there are any other Fun Facts you would love to learn about any ingredient, please email me with your suggestions.
You Should Also Read:
Visit my other site American Regional Cuisine for more great recipes
Shrimp Avocado Salad recipe with Cucumber
Shrimp and Crab Louie Salad with Cucumber


Related Articles
Editor's Picks Articles
Top Ten Articles
Previous Features
Site Map





Content copyright © 2022 by Allyson Elizabeth D´Angelo. All rights reserved.
This content was written by Allyson Elizabeth D´Angelo. If you wish to use this content in any manner, you need written permission. Contact Allyson Elizabeth D´Angelo for details.