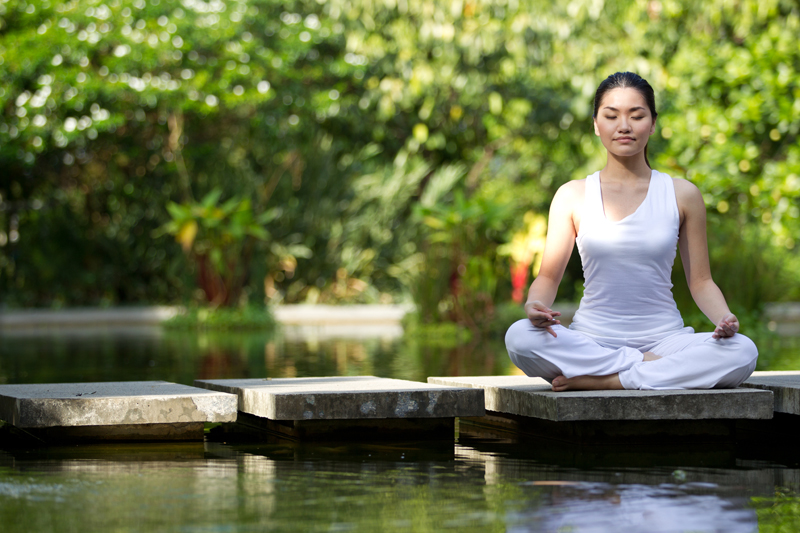 If your children show an interest, let them set up a quiet place in their room for meditation. If you go to a holy place regularly with your children, they will soon start to feel the special peace that comes from being quiet and reverent. Show by your actions that you feel respectful in holy places and they will follow your lead.
If your children are old enough to stay still in a meditation pose, let them sit with you for a minute. Read them a short uplifting story at the beginning of your co-meditation and ask them to close their eyes and think about the story, while you are both quiet.
That is enough technique for your children under 3 or 4.
Be sure their clothing is not restrictive so they can easily sit cross-legged.
When they reach kindergarten you can demonstrate how to breathe in and out evenly, so they can use this breathing during their quiet period. Mention that this even breathing can help them settle down when they feel stressed or upset. And no one can see them using this way to calm down so they need not feel embarrassed.
Getting into meditation takes time and practice and childhood is a good time to begin under your direction.
Article by Susan Helene Kramer
Meditation Lessons for Teens and Adults
More than 70 offerings, from guided meditation techniques to on-the-go stress relief and relationship meditations interspersed with verse, and a section of special occasion prayers. 114 pages. Ebook options and paperback.
Meditation for All Kids
Sitting, walking, dance and group circle meditations, along with positive affirmations, verses and benefits of meditation for kids of all ages and abilities in a 100 page book with illustrations. Ebook options and paperback.
NOTE: Sign up below or in the right-hand column for our meditation site newsletter. It only requires your email address and is never given out or sold to anyone. If at any time you wish to stop receiving it, each newsletter contains a link to unsubscribe. Make meditation part of your daily routine.


Related Articles
Editor's Picks Articles
Top Ten Articles
Previous Features
Site Map





Content copyright © 2023 by Susan Helene Kramer. All rights reserved.
This content was written by Susan Helene Kramer. If you wish to use this content in any manner, you need written permission. Contact Cat Hamilton for details.