Spaghetti alla Cabonara is a Roman recipe which was created in the 20th century consisting of eggs, cheese, bacon and pasta. Outside of Italy however, many variations of this delicious pasta dish have come about by adding ingredients such as mushrooms, peas or different veggies and cream.
My version of Spaghetti alla Cabonara stays pretty much true to the original with the addition of fresh basil and parsley. Many people shy away from making this recipe as it uses fresh, raw eggs towards the final stages of cooking. If the technique is followed correctly, you will come out with a delicious dish that you can be proud of - without scrambled eggs!
Guanciale, which is an Italian cured meat made from pork cheeks, is commonly used in Italy for this recipe. However, pancetta is a great substitute as is regular bacon which I used here as it is more affordable.
I hope you try to make Spaghetti alla Cabonara with Herbs at least once. It is very easy to make and is ready on the table in less than 30 minutes. The key to this recipe is to have the rest of the ingredients ready before you drain the pasta. The hot pasta is going to cook the eggs when you toss it all together.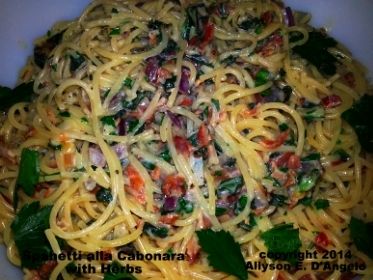 Ingredients
1 1/2 lb. dry spaghetti
4 tbsp. extra-virgin olive oil
8 oz. thinly sliced bacon cut into 1/2" pieces
4 cloves fresh garlic, chopped
2 large eggs plus 1 yolk
1 3/4 cups finely grated parmesan cheese
1 packed cup fresh basil leaves, washed and chopped
1/4 cup fresh Italian parsley (flat leaf) washed and chopped
Kosher salt, to taste
2 tsp. freshly cracked black pepper, divided
Method
1. Over medium heat in a skillet, cook the bacon pieces in the olive oil for 3 minutes and then add the garlic and 1 teaspoon of black pepper. Continue to cook for another 3 - 5 minutes or until the bacon is golden. Set aside in a bowl large enough to hold the pasta when it's cooked. In a small bowl, whisk the eggs together and add to the cooled bacon along with the cheese and herbs.
2. Bring an 8-qt. pot of salted water to a boil and then add the pasta. Stir the pasta a couple of times while it is coming back to a boil so that it doesn't stick to itself. Cook until al dente, approximately 8–10 minutes. Reserve up to 1 quart of the starchy pasta water before you drain it. When you have drained the pasta, immediately add it to the bacon mixture in the large bowl and toss constantly with tongs, adding some of the pasta water in small amounts to make a creamy sauce. It is totally up to you how saucy you want the pasta. I used approximately 2 cups of the water in this recipe. Add extra black pepper and salt as you desire.
Garnish with a few basil or parsley leaves and more cheese. Now
that
was easy. Enjoy!