Pantry Organizing and Cleaning Article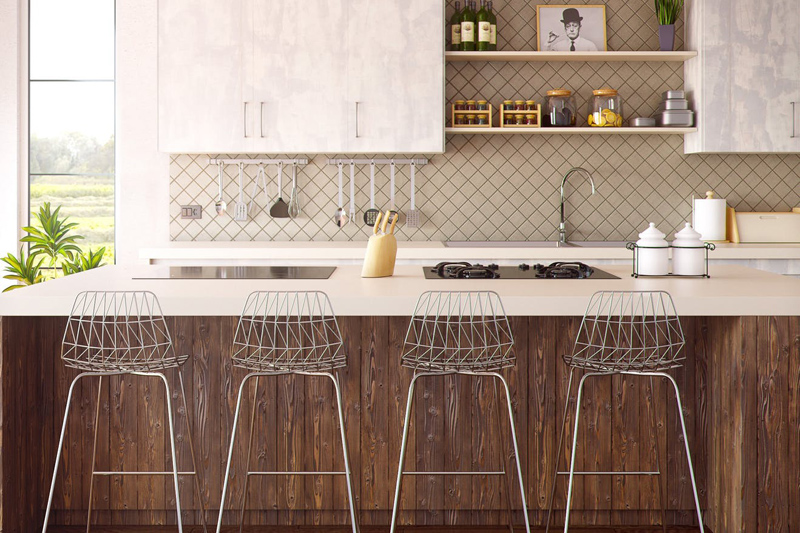 Is your life hectic? If so, you may find yourself stopping at the grocery store on a whim for something for dinner - only to return home and find that you already had the ingredients in your pantry all along!

Periodically (every few months or so,) I went through my pantry shelves only to find that all the great deals I found at grocery store I had to throw away, only because they had expired and were lost in the back of my shelves - causing me so much wasted money. No more, I said! I made a pledge with myself to go through my pantry and keep it organized at least once month.

Cleaning out the Pantry

Where do I start?

First, clean off your kitchen table and pull everything out having a garbage (rubbish) bag at your side. As you remove everything from the pantry, look at the expiration and use by dates. Is the product expired? If so, into the garbage bag it goes and don't even think about using it.

Open bags of potato chips, crackers etc. - when did you buy these? Last week, they may still be okay - last month (taste one - is it fresh?) – If not, into the garbage bag it goes. Place everything into different areas of the table, for example - canned soups, veggies, beans, dried pastas, sauces, Chinese sauce packets, gravy mixes and so on.

Organizing the Pantry

I organize the canned goods in rows (if abundant,) - soups, veggies, chili, condiment goods like pickled jalapeños and roasted red peppers. If you have adjustable shelves, move these to fit cereal boxes versus small canned items. As I cook Italian food a lot, I have a separate shelf for dried pasta and tomato sauces, purees - that way if I want to cook spaghetti and a sauce, I know exactly where to look and immediately know if I really need to go shopping. For loose items such as seasoning packets, gravy mixes, I use a plastic container to keep them altogether.

What about all of those open packages?

If you have a bunch of open cereal boxes, as in my household, once a week I condense every type into one sealable container - otherwise 1 or 2 cups of leftover cereal in any given box will get thrown out - and you will be surprised how much cereal you have. By recycling the goods and condensing - you just saved yourself a trip to the grocery store for cereal this morning.

The Pantry friendly family

If you have a family and you're not there most of the time like myself, you will find that they will rifle through the cupboards and not put things back where they belong. This is where shelf labelling comes in handy! You will be surprised that if you have a label on the shelves, for instance, snacks - canned goods - pasta etc. they actually read these and I found it works out great.

As far as spices go, I have a separate cupboard over my kitchen sink for these, as this is where they are handy for me. However, donate a little section in your pantry for dried herbs and spices. Spices lose their flavor and pungency after 6 months. So use your nose here and sniff out the ones that have no aroma and condense those multiple purchases into one jar or a separate container with a label and date of purchase if possible.

Infestations in your pantry

I lived in California for 23 years before moving to New York and I loved to roast and grind my own dried chilies. I found that a certain type of tiny bug loved the spices. I kept them in sealed containers in my spice cupboard and until I opened them one day I found the chilies spices were moving around. I couldn't figure out why I kept finding these creatures crawling around my cupboard and kitchen.

Then, moving to New York I had a different experience in my kitchen. Suddenly, we were inundated with tiny moths - tons of them - my cats were having a blast! It took me forever to figure out where they were coming from. As I said earlier, I cleaned my pantry every few months or so and when that time came, I found them in opened cereal boxes (just a few,) but a large can of Quaker's Oatmeal cereal was out of place on a different shelf with my appliances that was forgotten about and when I opened it, it was like bats flying from a cave - full of moths!

So, as far as the dried chilies go, I would freeze or refrigerate them. The cereal? We now consume it until it's finished before stocking up and open them one at a time. I am still perplexed as to how these little creatures can get into a tightly sealed container. Or were they there all along?

Having said that, I have never had the hot pepper chili bug problem in New York and never had the moth problem in California. So, I'm thinking maybe the locations could be a factor here for certain types of infestation.

Now! How do you Feel?

Once you've re-vamped your pantry shelves - and maybe decorated them with pretty little shelf liners and labels - stand back and take a look - how does it make you feel? I know it was a big weight from my shoulders knowing every day that I probably had expired goods in my pantry. Now, when I open my pantry cupboard, I can see exactly what I have which will ultimately save me money because I won't duplicate anything - and it sure did remove a little stress from my life by staying on top of it.

Now, my friends – go and look in your pantry! Happy sorting and get your kids to help – it's a good lesson. I did!
You Should Also Read:
Visit my other site American Regional Cuisine for more great recipes


Related Articles
Editor's Picks Articles
Top Ten Articles
Previous Features
Site Map





Content copyright © 2022 by Allyson Elizabeth D´Angelo. All rights reserved.
This content was written by Allyson Elizabeth D´Angelo. If you wish to use this content in any manner, you need written permission. Contact Allyson Elizabeth D´Angelo for details.