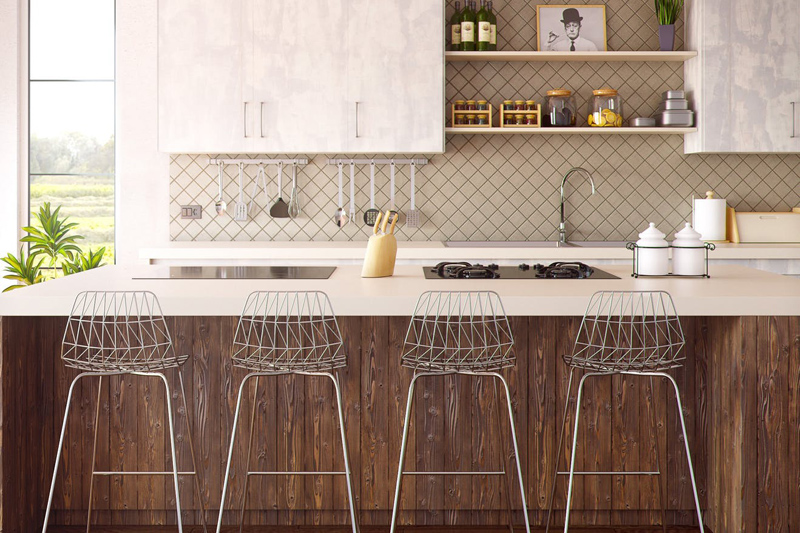 Commonly known as winter squash because they're available throughout the winter months, Butternut Squash and Acorn Squash are harvested in late summer and early fall. A bountiful harvest of squash is now available at roadside stands, in farmer's markets, and in super markets. Cooked and mashed, pureed in soups, or stuffed and baked, squash adds warm, rich color and flavor to autumn meals.
Squash adds great nutrition too. It's low in calories, high in fiber, and high in vitamin A, vitamin C, and some B vitamins. Squash is also a good source of potassium, magnesium, iron and calcium.
Butternut squash have an elongated bell shape, a smooth tan colored skin, a moist deep-orange flesh and a sweet, nutty taste. The narrow body of a butternut squash is solid, edible flesh. The base has a thick layer of flesh surrounding a hollow center with a few seeds. Small butternut squash weigh about 1-1/2 to 2 pounds. Large butternut squash weigh as much 4 or 5 pounds.
When shopping, look for butternut squash with blemish free skin, an even-color, and a thick body. Choose firm squash that are comparatively heavy for their size.
As the name implies, acorn squash have an acorn shape. They have a sweet taste and a dryer texture than butternut squash. The most common type of acorn squash is dark green, sometimes with a splash of orange. Less common acorn squash varieties are either cream colored or a pumpkin-orange color. All 3 varieties have pale yellow-orange flesh. The average acorn squash weighs about 1 to 2 pounds and is about 6 inches in diameter.
Choose acorn squash with smooth, dull skin and no cracks, blemishes, or soft areas. (Only unripe squash, that were picked too soon, have shiny skin.) Green acorn squash should be a deep, dark shade of green, with any orange areas covering less than half the surface. An acorn squash should feel fairly heavy for its size.

For a delicious fall side dish, add cinnamon plus maple syrup or brown sugar to cooked, mashed butternut squash. To cook a butternut squash, cut it in half lengthwise, from stem to end and scrape out the seeds and stringy membrane with a spoon. Peel the skin with a vegetable peeler, cut it in pieces, then steam it or cook it in a small amount of water.
Or, you can simply cut the squash in half and bake it. Scoop out the seeds and surrounding membrane with a spoon. No peeling is necessary. Place the halves, cut side up, in a shallow baking pan. Add about 1/4 inch of water to the pan, cover with aluminum foil, and bake in a preheated oven at 350° for about 45 minutes to one hour or until the pulp is tender.
Since a tough skin and deep ridges make peeling impractical, baking is the best way to prepare acorn squash. Prepare as directed above and bake for 30 to 40 minutes or until tender.
To serve baked squash as a side dish...
About half way through the baking time, spread the squash halves with butter and add a small amount of brown sugar, maple syrup, or honey to the cavities. Continue baking until tender. For extra flavor, season lightly with spices that are usually associated with fall, like cinnamon, nutmeg, ginger, cloves or allspice.
Squash can also be cooked in a microwave oven. To microwave, arrange 2 squash halves in a shallow microwave safe dish, cut-side up. Cover, and cook on full power for about 8 to 10 minutes or until tender. If your microwave oven does not have a turntable, rotate the dish after about 5 minutes of cooking time.
When preparing raw squash for a recipe that calls for cooked, pureed squash...
One pound of raw butternut squash will yield about 2 cups cooked puree. One pound of raw acorn squash will yield about 1 cup cooked puree.
Both acorn squash and butternut squash will keep for several months when stored in a cool, dry place. These squash will spoil quickly if refrigerated.

Here's the squash recipes.....
Butternut Squash & Apple Soup Recipe
Cheddar Cheese Stuffed Acorn Squash
Apple Raisin or Apple Cranberry Filled Squash
Links to more squash recipes.....
Roasted Acorn Squash Bowls with Apple Cider Soup
What's Cooking America has a variety of squash recipes plus information about other varieties of winter squash.
Zucchini and other squash that peak in summer are highly perishable. Summer squash have thinner edible skins, soft seeds that run throughout the vegetable, and a higher water content than winter squash. See Got Zucchini?" for recipes and information.
Fall kitchen essentials.....

Plymouth Soup Tureen
Add a touch of fall color to your table with this large, versatile, 2-1/2 qt. serving piece. Use it for soups and stews, as well as spiced cider or other hot beverages. A matching ladle is included.
Covered Soup Crocks
These glazed brown ceramic crocks are perfect for soups and stews.
They're available in a set of 4, each with a 12-ounce capacity.
You Should Also Read:
The Home Cooking Cookbook Corner
The Home Cooking Recipe Index and Site Map
Fall is for Pumpkins


Related Articles
Editor's Picks Articles
Top Ten Articles
Previous Features
Site Map





Content copyright © 2022 by Sandy Moyer. All rights reserved.
This content was written by Sandy Moyer. If you wish to use this content in any manner, you need written permission. Contact Allyson Elizabeth D´Angelo for details.