Keeping Kids Safe in the Water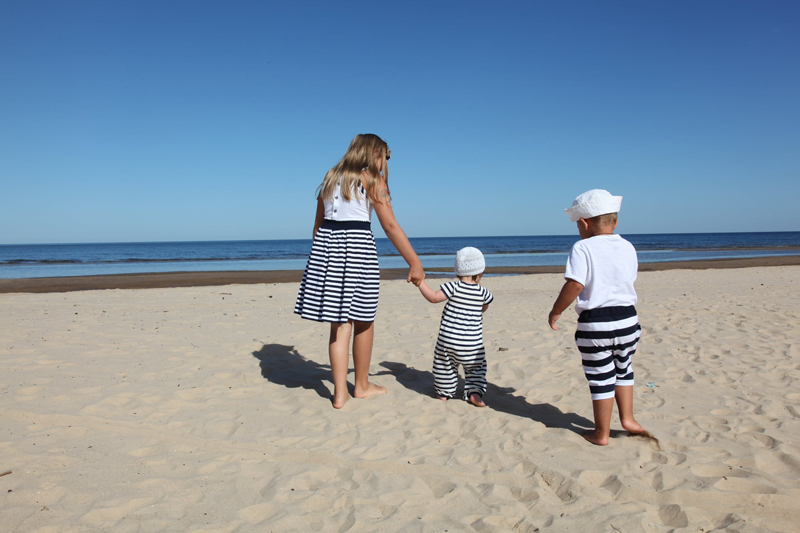 Summer travel means lots of time spent by beaches and pools, so brush up on your water safety knowledge with these ten tips.

1. Supervise constantly. Never let your guard down when your kids are around water, that's the time accidents are most likely to occur. To ease guard duty, switch off with a partner; one adult can read or relax while the other keeps watch.

2. Don't depend on flotation devices. Many pools and public beaches don't even allow them, citing parents' false sense of security when children are wearing them. Don't depend on a life jacket or swim ring to keep your child safe. Do consider using a life jacket on toddlers though since they're so prone to falling over (the loop on the back also makes it easier for you to hold them upright).

3. Bring goggles for sensitive eyes. Chlorine in the pool can irritate kids' eyes; a fun pair of goggles can solve the problem quickly. Be sure to buy a quality brand, the cheap ones are prone to leaking.

4. Teach your kids to swim. This is a great way to pass the time on a beach vacation and will give your kids an additional safety edge in the water (you'll still need to supervise them, of course).

5. Use water shoes in rocky areas. Look for a pair with decent tread, they'll help prevent falls and protect kids' feet against sharp stones.

6. Cover-up. Put a hat and sunglasses on wading toddlers. Encourage all kids to take frequent breaks from the water to sit in the shade or dig in the sand (wearing a cover-up and hat of course).

7. Teach kids to stay together. Even teenagers should know that it's dangerous to swim alone, no matter how good a swimmer they are. Teach your kids to look out for each other (this obviously doesn't replace a parent watching).

8. Talk about riptides. Your kids should know how to deal with one should they ever get caught. Tell them to swim parallel to the shore instead of fighting the current. Be sure they know how to tread water and float on their back until help arrives.

9. Watch out for swimmer's ear. If your child is prone to it, try over-the-counter swimmer's ears drops after they swim. Be sure to dry kids' ears thoroughly after swimming.

10. Use the right diapers. Don't use regular diapers at the beach or pool, even if you think your toddler won't go in the water. They expand like nobody's business and eventually explode all over the place. Specially designed swim diapers are the way to go; you can even find non-disposable versions now.


You Should Also Read:
Sun Safety on Vacation
Stocking a Travel First Aid Kit
Staying Healthy While Traveling


Related Articles
Editor's Picks Articles
Top Ten Articles
Previous Features
Site Map





Content copyright © 2021 by Kimberly Misra. All rights reserved.
This content was written by Kimberly Misra. If you wish to use this content in any manner, you need written permission. Contact Tiffiny Spire for details.