Veracruz - Mole de Xico Recipe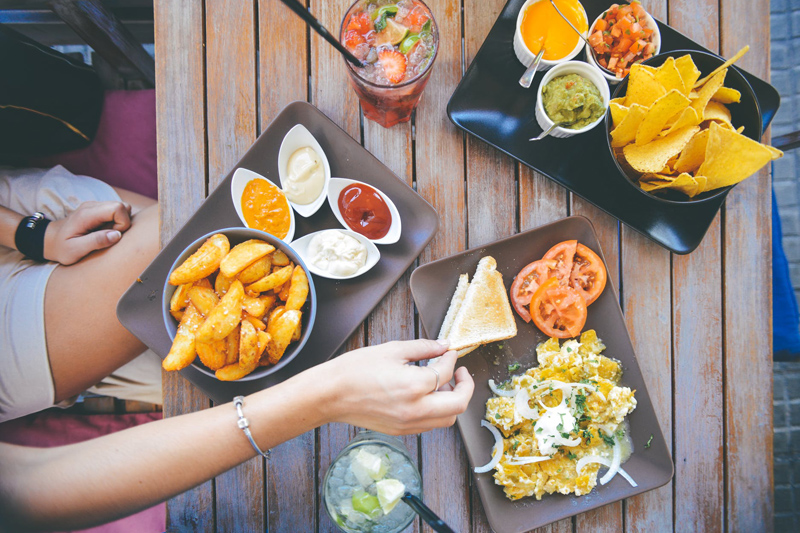 Mole de Xico is not fast food. There are many ingredients and steps involved, so it is not a dish to be attempted midway through a week day evening – it is best left for a leisurely Saturday or Sunday. However, please do not feel overwhelmed just by looking at the recipe below! I promise you it is much easier than it looks. The mole actually improves with keeping so if it suits you, refrigerate it for up to four days.
Santa María Magdalena, Xico © Philip Hood
In the absence of Mexican piloncillo, molasses sugar works well. And although lard is the traditional frying medium and certainly gives the mole a very distinctive flavour, I use vegetable oil – but feel free to substitute lard if you wish. And if you are looking for a vegetarian dish, the sauce is wonderful stirred into warm black beans.
Mole de Xico
Serves 6
50 g/2 oz pasilla chillies
65 g/2 1/2 oz mulato chillies
200 g/7 oz tomatoes, halved
150 ml/1/4 pint/2/3 cup vegetable oil
200 g/7 oz onions, peeled and coarsely chopped
4 garlic cloves, peeled and sliced
25 g/1 oz hazelnuts/filberts
25 g/1 oz unblanched almonds
25 g/1 oz pecans
10 g/1/3 oz sesame seeds
15 g/1/2 oz pinenuts
25 g/1 oz raisins
25 g/1 oz ready to eat pitted prunes
1 large ripe plantain, about 250 g/9 oz, peeled and sliced 1 cm/1/2 in thick
1 corn tortilla, torn into pieces
1 slice bread, about 100 g/4 oz
1 cinnamon stick, about 5 cm/2 in long
5 ml/1 tsp black peppercorns
5 cloves
15 ml/1 tbsp bouillon powder
15 g/1/2 oz dark chocolate (70% minimum cocoa solids) or to taste
10 g/1/3 oz piloncillo or molasses sugar, or to taste
700 g/1 1/2 lb boneless skinless chicken breasts, thickly sliced, or chicken breast mini fillets
Sea salt
Cooked warm rice or tortillas, to serve (optional)
Heat a heavy frying pan over medium heat and toast the chillies, pressing down on them with a spatula, until they start to smell aromatic, about 3 minutes. Flip them over and do the same on the other side. Place in a bowl, cover with boiling water, put a small saucepan lid or plate on top to keep them submerged, and set aside to soak for 30 minutes. Drain and discard the stem, ribs and seeds. Place in a food processor, add 100 ml/3 1/2 fl oz of water and process until fairly smooth.
Cook the tomatoes while the chillies are soaking. Heat the grill to high. Line the grill pan with foil and arrange the tomatoes cut side up on it. Grill 10 cm/4 in from the heat for about 20 minutes, until soft and lightly charred. Add with any juices to the chillies in the food processor.
Heat the heavy frying pan again and pour in 1 tbsp of oil. Stir in the onions and garlic and cook gently, stirring occasionally, until they are soft and golden. Scrape into the food processor with the puréed chillies and process until the sauce is smooth.
When the chillies, tomatoes and onions are under way, heat a frying pan and pour in 1 tbsp of oil. Add the hazelnuts, almonds and pecans and stir-fry over medium heat until they turn a deep gold. With a slotted spoon, remove them to a baking tray or large plate and wipe out the pan with a piece of kitchen paper.
Return the pan to the heat and pour in another tablespoon of oil. Add the sesame seeds and pinenuts and stir-fry over medium heat until golden. Remove them to the baking tray with the nuts.
Wipe out the pan and pour in 1 tbsp of oil. Add the raisins and prunes and stir-fry until they puff up and the colour lightens. Remove them to the baking tray.
Repeat this whole frying process first with the sliced plantain, then the tortilla and finally the bread. Wipe out the pan one last time, add 1 tbsp of oil and stir-fry the spices until they smell aromatic, about 3 minutes. Cool slightly before transferring to a spice grinder and grind finely.
Now for the final blending of the sauce. Add the spices, some salt and the bouillon powder to the food processor and process briefly. Add the tortilla and process again. Tear up the fried bread, add to the sauce and process. Add the fruit and nut mixture to the processor a couple of spoonfuls at a time, processing between additions until quite smooth.
Scrape the sauce into the frying pan and bring to the boil. Stir-fry over medium heat for about five minutes, until it starts to thicken. Stir in 250 ml/1 cup of water, the piloncillo and chocolate, turn the heat right down and leave to simmer, stirring regularly, for 30 minutes. Taste the sauce and add a bit more piloncillo and chocolate if you like – I find the quantities stated above more than enough. If the sauce is very thick, add a bit of water.
Heat the last bit of oil in a frying pan and stir-fry the chicken until firm and lightly browned. When the sauce is ready, add the chicken and simmer for a further five minutes.
Serve immediately with rice or tortillas.
Buén provecho!
| | |
| --- | --- |
| Chilli and Chocolate Stars of the Mexican Cocina by Isabel Hood is available from Amazon.co.uk | Just The Two of Us Entertaining Each Other by Isabel Hood is available from Amazon.com and Amazon.co.uk |
You Should Also Read:
Veracruz - Mole de Xico
Mexico's Regional Gastronomies - Veracruz
The Sauces of Mexico - Mole


Related Articles
Editor's Picks Articles
Top Ten Articles
Previous Features
Site Map





Content copyright © 2023 by Isabel Hood. All rights reserved.
This content was written by Isabel Hood. If you wish to use this content in any manner, you need written permission. Contact Mickey Marquez for details.