Mexico's Regional Gastronomies - Veracruz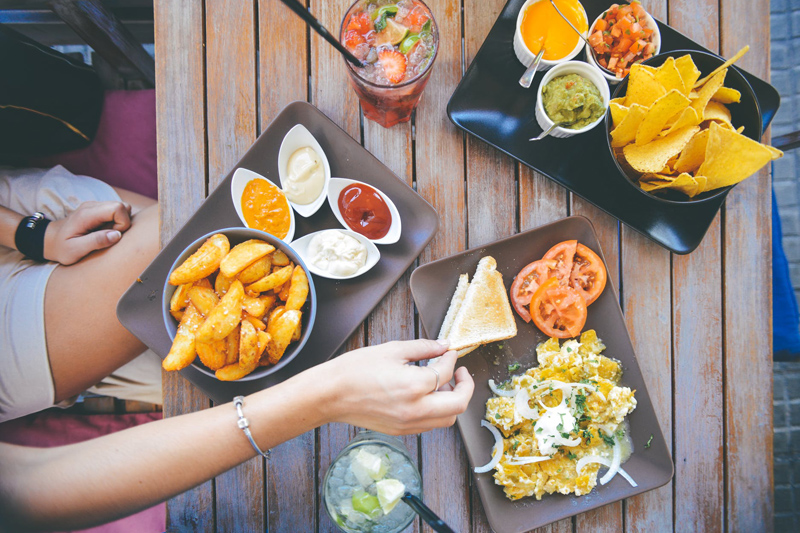 The "Jarochos" as the inhabitants of Veracruz are known are as colourful as their cuisine and their turbulent history. Their territory is long, thin and faintly curved, rather like a green chilli; there are tall mountain ranges, including Mexico's highest volcano, Citlaltépetl or Star Mountain according to the Aztecs, or simply El Pico de Orizaba today; rainforests and steamy coastal plains; temperate climates and tropical climates; "brujos" and "curanderos", witches and healers; oil and gas fields, tropical fruit plantations, smoke-dried chillies. Salsa and the fiery "danzón", which originated in Cuba, are danced in the "zócalos" and plazas, the sound of marimba and "són jarocho" drifts through the streets, poetry is recited in the cafés and the scent of vanilla and coffee hangs heavily in the air.
The great Olmec civilisation originated in the area, and the Totonacas, Otomís and Huastecas all called it home. Villa Rica de la Vera Cruz as the port was first christened was founded by the Spanish Conquistador, Hernán Cortés, when he set foot on Mexican soil in 1519. Its name signified "The Rich Town of the True Cross" and it was the first Spanish city in Mexico, complete with council and coat of arms. The local population greeted the Spaniards warmly and made them welcome – they thought perhaps that the bearded, white-skinned strangers could help them in their struggle against the Aztec empire but the friendly reception they extended to them had fatal consequences and was effectively the beginning of the end of the original native Mexicans.
Fuerte de Sán Juán de Ulua, Veracruz © Philip Hood
In post-Hispanic Mexico, the port of Veracruz in particular came into its own as a strategic crossroads and the gateway from the "Old World" into "New Spain" - all trade between Spain and Mexico, as well as the Far East via Acapulco on the Pacific coast, passed through the port, linking Europe to the Americas and beyond to Asia. The great Spanish galleons sailed from Cadiz to Veracruz and back, carrying Mexican silver and gold as well as indigenous food stuffs, and bringing European immigrants and settlers along with their native victuals and cooking methods: wheat and rice, citrus fruit, pigs, cattle and chickens, almonds, grapes, spices, herbs and vegetables all disembarked on Veracruzan shores and from there spread throughout Mexico – and as pre-Hispanic cuisine absorbed all the new influences, "mestizo" Mexican cooking began to evolve. The whole Veracruz region became a cultural melting pot which was further enriched by the arrival of African slaves to work in the sugar and coffee plantations established by the Spaniards - and there are dishes cooked today in African countries which are virtual twins of those prepared in Veracruz – the liberal use of plantains and sweet potatoes for instance, and the very Veracruzano "encacahuatado" or peanut sauce are excellent examples (see "Related Articles" link below).
The state of Veracruz comprises six distinct regions as well as the port of Veracruz itself, all of which boast some unique, very local dishes. The extensive coastline supplies a huge variety of seafood and a complementary fish cuisine, and two of Veracruz's best known gastronomic "children" are perhaps Huachinango a la Veracruzana and Arroz a la Tumbada – both textbook illustrations of the fusion of native and foreign ingredients. The local chilli is the world famous "jalapeño", which turns up in every nook and cranny of the cuisine and is used fresh, pickled and smoked (when it becomes the "chipotle"), while spices like saffron, cloves, cinnamon, cumin and black pepper add their magic and exoticism to countless dishes. The balance of differing climates ensures a cornucopia of produce, and from the tropical fruits like papaya, guava, mamey, pineapple and the sinister-looking zapote come delicious and exotic smoothies, "licuados", icecreams and wonderfully fresh-tasting sorbets, let alone "dulces" like mashed sweet potatoes with pineapple and the powerful "torito", a rather sickly cocktail of Caribbean rum, fruit, milk and nuts. And how can I write about the gastronomy of Veracruz without at least mentioning coffee and vanilla?!
My research and exploration of the food of Veracruz has truly surprised me, as the only Mexican cookery book in my collection which deals specifically with the cooking of this state describes it as "Mexico's simplest cuisine". I disagree! I have discovered that "la cocina Veracruzana" is rich in history and culinary thrills, full of surprises and exciting discoveries – and over the next few months, I shall be sharing the rewards of my Veracruzan adventures with you and describing this centuries-old pot-pourri of Old World, New World, African world and Asian world food and cooking – it is a heady brew!
| | |
| --- | --- |
| Chilli and Chocolate Stars of the Mexican Cocina by Isabel Hood is available from Amazon.co.uk | Just The Two of Us Entertaining Each Other by Isabel Hood is available from Amazon.com and Amazon.co.uk |
You Should Also Read:
The Sauces of Mexico - Encacahuatado
Mexico's Regional Gastronomy
Mackerel Veracruz Style


Related Articles
Editor's Picks Articles
Top Ten Articles
Previous Features
Site Map





Content copyright © 2022 by Isabel Hood. All rights reserved.
This content was written by Isabel Hood. If you wish to use this content in any manner, you need written permission. Contact Mickey Marquez for details.