Running Meditation for Teens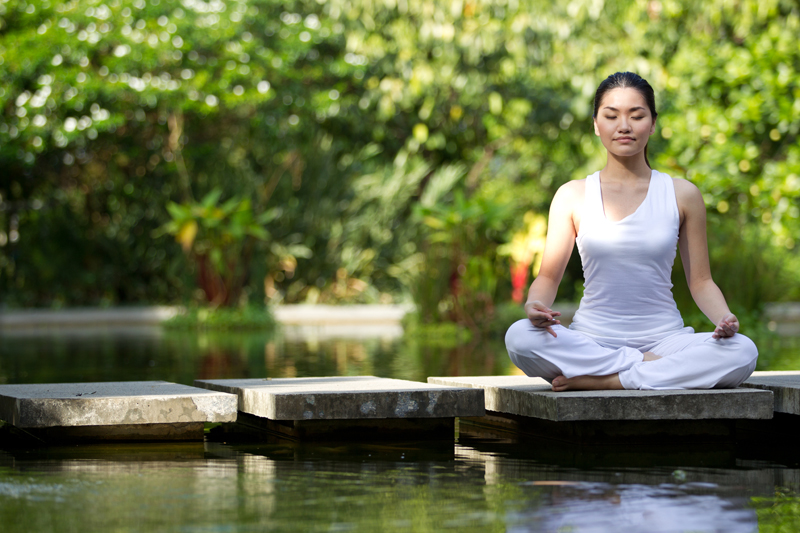 Going for a long run has benefits on different levels. If your health is good enough to go running, here are some of the benefits, and then we'll talk about meditation while running. These are all generally known, but I'll list them for review:
1. Change of scene;
2. Aerobic activity;
3. Increased blood and hormonal circulation;
4. Draws in more oxygen and discharges more carbon dioxide;
5. Tones muscles, and because it is weight bearing maintains bone density;
6. Burns calories.
Running meditation background
My experience has been that after the first three-quarters of a mile or so, I go into the mental and physical stage where I hardly feel my body - the 'runner's high' - and begin to enjoy mental peace and feeling uplifted.
In this 'runner's high' I feel in a more positive state of mind, reflected in being able to work out positive resolves to issues. This is a great example of cause and effect - positive thoughts leading to positive results.
How to do a running meditation
1. Be sure your doctor okays running for you before beginning;
2. Choose a path you're familiar with;
3. Carry a cell phone or run in a neighborhood so help can be contacted if needed;
4. I recommend carrying a water bottle and small towel;
5. Stretch out before beginning and jog in place for a minute before setting out;
6. Begin at a slow pace and gradually hit your stride;
7. Wind down slowly and stretch out again at the end of your run, and re-hydrate.
During the part of the run where you've hit your stride and are enjoying the uplifting feelings is the time to do the reflective running meditation. Your breathing should be even and your arms, bent at the elbow, moving back and forth in a balanced opposition to your legs. (Right arm and left leg move forward at the same time and vice versa.)
Use this time to first think with appreciation for all that is good in your life. Then choose a situation to pick a part and look for a resolution that works for you, and all concerned, in the most productive manner.
Returning from your run, after slowly cooling down, take time to record your plans in your journal, and resolve to work on them in a steady way.
Making time for running meditation may be just the kind of meditation that suits your busy lifestyle, with health benefits for body, mind and spirit!
Author's note:
I ran with the men's running team in college, because there was not a separate women's team. So, I got the benefits without participating in competition.
Meditation Lessons for Teens and Adults
More than 70 offerings, from guided meditation techniques to on-the-go stress relief and relationship meditations interspersed with verse, and a section of special occasion prayers. 114 pages. Ebook options and paperback.
Meditation for All Kids
Sitting, walking, dance and group circle meditations, along with positive affirmations, verses and benefits of meditation for kids of all ages and abilities in a 100 page book with illustrations. Ebook options and paperback.
NOTE: Sign up below or in the right-hand column for our meditation site newsletter. It only requires your email address and is never given out or sold to anyone. If at any time you wish to stop receiving it, each newsletter contains a link to unsubscribe. Make meditation part of your daily routine.
Article by Susan Helene Kramer


Related Articles
Editor's Picks Articles
Top Ten Articles
Previous Features
Site Map





Content copyright © 2023 by Susan Helene Kramer. All rights reserved.
This content was written by Susan Helene Kramer. If you wish to use this content in any manner, you need written permission. Contact Cat Hamilton for details.