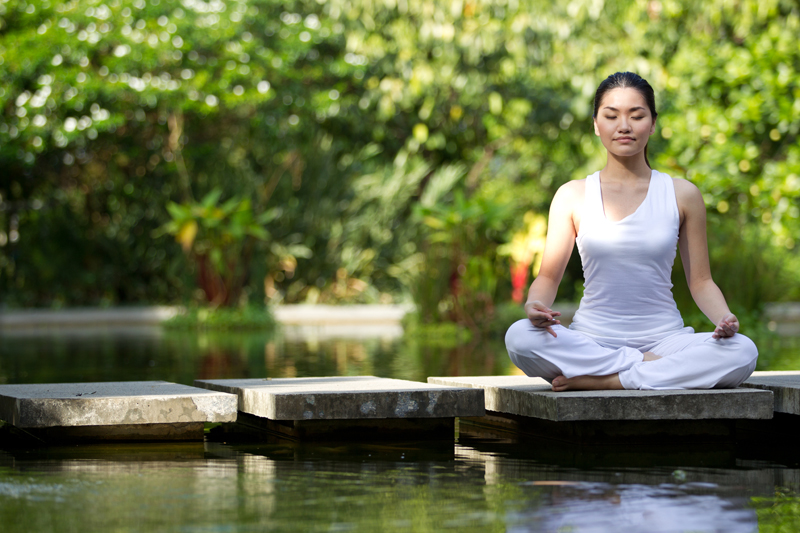 When we have inner peace everything else in our life lines up in harmony, so it is worthwhile working toward that goal.
To begin to nurture inner peace spend some thought on getting all aspects of your life in order. Inner and outer order have an effect on each other.
When we feel peaceful and good about life we act in kind and caring ways. And just the reverse is true, too. When we are busy doing charitable acts we forget about our selfish desires, rather we feel mentally relaxed and good about ourselves.
It is helpful to keep a journal listing ways we would like our life to be. Then we can make a list under each item with practical steps to toward the goal.
Why meditate for inner peace?
Meditation is the time that refreshes our mind and inspires us to be our best. The minutes of meditation are a time to dip into the inner pool of calm and quiet - just as we find refreshment in a long cool drink after running around on a hot dusty day.
It is our mental refreshment and balance after being scattered here and there. And, meditation is a chance to commune with our inner voice, which we may call God or Spirit, or another uplifting word.
To find inner peace it is not necessary to speak the name of God in a specific language or religion. Many paths lead to the view at the top of the mountain. What is important is to keep a positive attitude and know that inner peace is a work in progress.
As we do more and more kind acts our inner mind becomes a reflection of peace, abides in inner peace.
Inner peace is a jewel that is worth preserving in your mind and heart at all costs. It is not worth it to use time and energy in pursuits that disturb your thoughts or life. Even if we have worldly pursuits we can meditate regularly and deeply to maintain an even keel.
Then, if an event threatens to rock our ship of life, we have the inner strength, the inner peace to bounce back fully, maybe even strengthened by the experience.
To develop inner peace make time for regular meditation. It is a way to maintain and regain balance and harmony, fortified to face what life brings.
Meditation Lessons for Teens and Adults
More than 70 offerings, from guided meditation techniques to on-the-go stress relief and relationship meditations interspersed with verse, and a section of special occasion prayers. 114 pages. Click the link for paperback or ebook options.
Meditation for All Kids
Sitting, walking, dance and group circle meditations, along with positive affirmations, verses and benefits of meditation for kids of all ages and abilities in a 100 page book with illustrations. Click the link for paperback or ebook options.
NOTE: Sign up below or in the right-hand column for our meditation site newsletter. It only requires your email address and is never given out or sold to anyone.
Article by Susan Helene Kramer


Related Articles
Editor's Picks Articles
Top Ten Articles
Previous Features
Site Map





Content copyright © 2019 by Susan Helene Kramer. All rights reserved.
This content was written by Susan Helene Kramer. If you wish to use this content in any manner, you need written permission. Contact Cat Hamilton for details.