How to Freeze Green Beans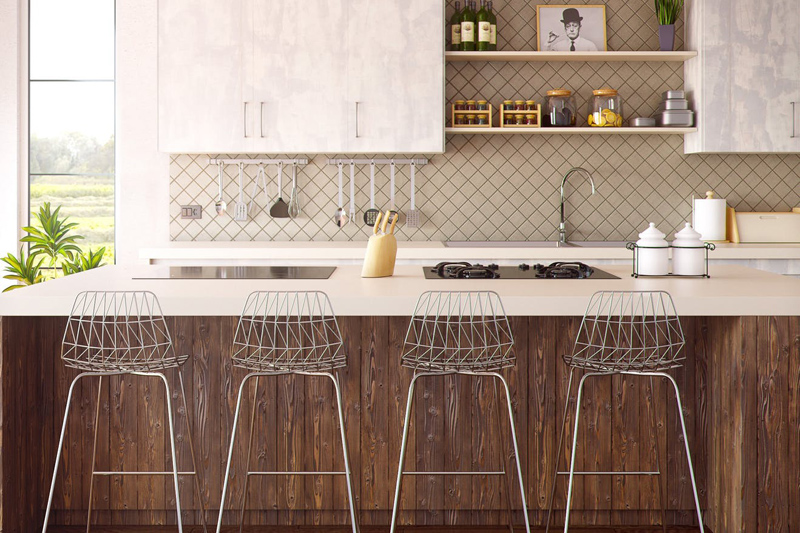 Freezing is the easiest way to preserve fresh summer green beans to enjoy all year long. For the highest quality and nutrition, green beans should be frozen at the peak of freshness.... as soon after harvesting as possible.
If you have a garden and grow your own green beans, pick the beans when they are crisp, smooth and fully grown, but the inner beans are still small and tender. Green beans should not be tough, stringy, or lumpy. Lumps and bulges are a sign that the beans are over-ripe.

When buying from a market or farm stand, select beans that are bright and smooth. They should snap crisply when broken. Avoid green beans that are pale and yellowed, limp and wilted, wrinkled or blemished.
To preserve quality, green beans, as well as most fresh vegetables, must be blanched before freezing. Fresh vegetables contain enzymes and bacteria that will destroy nutrients and change the color, flavor and texture... even after freezing . Blanching destroys the enzymes that cause such changes and removes dirt and bacteria.
Blanching is a simple two-step process. First the vegetables are immersed in boiling water, then in cold water to cool and stop the cooking process. Correct timing is essential when blanching. It must be long enough to stop the action of the enzymes and kill any bacteria. The vegetables must be then be sufficiently cooled or they will continue to cook, resulting in soft and mushy vegetables. For green beans the correct boiling time is 3 to 3-1/2 minutes and the correct cooling time is 3 to 3-1/2 minutes. Blanch about one pound of beans at a time. Use about one gallon of water for a pound of beans.

Freezing fresh green beans... step-by-step...
Snap off the stem ends of the beans. Remove strings, if any are present. Break or cut the beans into pieces, from bite size to about 2" long or to whatever length you prefer.
Place the green beans in a large colander or strainer and rinse thoroughly in cool or lukewarm tap water.
Fill a large stockpot with water and bring the water to a full rolling boil.
Place the green beans in the boiling water. They should be completely immersed. (If you have a large amount of beans to freeze, place the beans in a colander or large strainer that will fit inside your stockpot.... or use a large pasta-type pot with a fitted basket. Then you can use the same pot of boiling water for multiple batches. You may need to add hot tap water between batches to keep the right level of boiling water. )
Cover the pot and begin timing as soon as the beans are immersed in the boiling water. Keep the water at a continuous boil for 3 to 3-1/2 minutes.
Remove the beans from the boiling water and immediately place the beans in a large pot or bowl of ice water. Cooling time should also be about 3 to 3-1/2 minutes.
When completely cool, drain the beans in a colander or large strainer.
Spoon the drained, cool beans into freezer bags.
Press out the air, and seal the bags.
Use a permanent marker to label & date the bags.
Store the filled bags in the freezer.
Freezing Tips -
Use only heavy-duty plastic bags made especially for freezer storage.
Frozen green beans, stored in the freezer at 0° F, should be used within 12 months.
For frozen green beans that remain loose and can be poured out of the bag individually, instead of beans that are frozen together, spread the cooled and drained beans on cookie sheets. Place the filled cookie sheets in the freezer for about an hour before packing the green beans in plastic bags and storing in the freezer.
To cook frozen green beans .....
Stove-Top Cooking -
To cook about 8 to 12 ounces of frozen, cut green beans...
In a medium size saucepan, bring about 1/2 cup lightly salted water to a boil. Add the frozen green beans. Cover, reduce heat to medium and cook for about 12 to 15 minutes or to desired tenderness.
Microwave Cooking -
Place about 8 to 12 ounces of frozen, cut green beans in a microwave-safe casserole dish or bowl. Add about 2 tablespoons water. Cover and microwave on 100% power for 6 to 12 minutes or to desired tenderness. Stop to stir about half way through the cooking time.
---
Recommended.....



OXO 5-qt. Good Grips Convertible Stainless Steel Colander
Drain fruits and vegetables, drain pasta and more even with this Convertible Colander. Non-slip legs spring out and rest securely over the sink for easy rinsing and draining. The legs can also be folded down for use as a traditional Colander and for convenient storage. This 5 quart Colander is large enough to drain large batches of produce. Soft non-slip handles make shaking and pouring easier and the non-slip surfaces protect sinks and countertops during use. Measuring 23" when fully extended, it fits both single and double sinks either horizontally or vertically. It's easy to clean and dishwasher safe.
---
You Should Also Read:
The Home Cooking Recipe Index and Site Map
Vegetable Freezing Chart
Successful Home Canning


Related Articles
Editor's Picks Articles
Top Ten Articles
Previous Features
Site Map





Content copyright © 2022 by Sandy Moyer. All rights reserved.
This content was written by Sandy Moyer. If you wish to use this content in any manner, you need written permission. Contact Allyson Elizabeth D´Angelo for details.