Mexican Antojitos - Enchiladas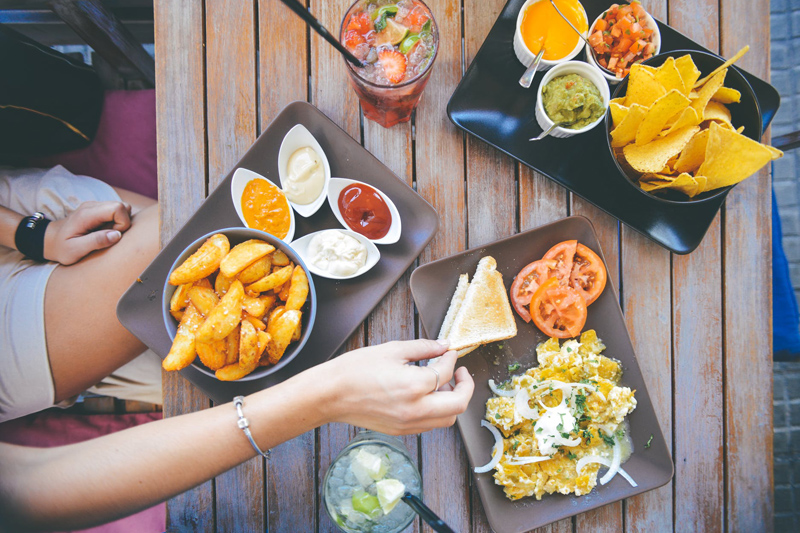 As the name suggests, enchiladas pack a punch! The verb "enchilar" means to add chilli to something, to spice up, or much more colloquially, to annoy, enrage or get cross.

In its very simplest form, the enchilada is nothing more than a tortilla with a sauce, topped perhaps with a sprinkling of cheese and chopped onion. In most cases, however, the dish is based on the same principle as a taco in that it is a tortilla rolled or folded around a filling, but while the taco is eaten as is or fried until crisp, the enchilada is embellished by a fiery sauce.

As with most antojitos, each region has its own speciality, and there are countless variations, in the tortillas themselves (fresh or half way to stale), the cooking method, the chillies, the filling and the sauce. The first step according to many cooks is to fry the tortillas very briefly in lard or oil; this not only softens stale tortillas enough to roll or fold them, but also strengthens them and prevents them from tearing. They are then dipped in the sauce, removed to a plate and filled. Other cooks prefer to sauce the tortillas first and then fry them, thereby cooking the flavour of the chillies right into the tortilla itself. Sometimes the frying is left out altogether and the tortilla, which must be very fresh, goes straight into the sauce. Whichever comes first, the frying or the saucing, the tortillas are then ready to become enchiladas: rolled around the filling, folded and topped with the filling, or layered up with the filling rather like lasagne or a club sandwich.

Enchiladas are traditionally served as soon as they are made, and it can be quite a messy and stressful process if you are not a dab hand at frying, dipping, filling and rolling or folding! However, although baking enchiladas is not authentic Mexican and the tortillas do go a bit mushy, the following method works well with filled enchiladas and I never hesitate to use it if it suits me: make the enchiladas and line them up in a baking dish; cover with sauce, sprinkle with grated cheese and bake at 200oC/400oF/gas 6/fan oven 180oC for about 20 minutes, until the sauce is bubbling and the cheese is crusty.

Like tacos, enchiladas can be filled with pretty much anything – vegetables, refried beans, courgette flowers, meat or fish - but the following recipe is for enchiladas at their plainest: lightly fried, dipped in sauce, folded and topped with cheese, just the way the street cooks make them every day of the week. Since I am not a great fan of fried food, I simply brush the tortillas with olive oil and then cook them briefly in a non-stick frying pan. And if you have some grilled tomato and chipotle sauce in the freezer, they can be rustled up in minutes.

Street cooks' enchiladas - Enchiladas callejeras

Makes 8 enchiladas, serving 2 as a light lunch or 4 as a first course

For the grilled tomato and chipotle sauce:-
500 g/18 oz tomatoes, halved
8 garlic cloves, unpeeled
45 ml/3 tbsp olive oil
250 g/9 oz onions, peeled and coarsely chopped
15 ml/1 tbsp chipotle chilli sauce or powder, or to taste
Sea salt and freshly ground black pepper

For the enchiladas:-
8 corn tortillas
30 ml/2 tbsp olive oil
225 g/8 oz queso fresco, Feta cheese or ricotta salata cheese, crumbled
50 g/2 oz red onions, thinly sliced
30 ml/2 tbsp coarsely chopped fresh coriander/cilantro

The sauce can be made ahead of time and refrigerated or frozen. It is well worth doubling or trebling the recipe as it is a very useful freezer stand-by.

Heat the grill to high. Line the grill pan with kitchen foil and place the tomato halves, cut side up, and garlic cloves on it. Grill 10 cm/4 in from the heat for about 20 minutes, until soft and slightly blackened, turning the garlic cloves over half way through. Cool, then peel the garlic and place it in a food processor with the tomatoes and any juices. Process to a smooth purée.

While the tomatoes are grilling, heat the olive oil in a frying pan and cook the onions until soft and golden. Add the tomato purée, the chipotle chilli sauce or powder and some seasoning, and cook over low heat for 10 minutes, stirring often.

When you are ready to make the enchiladas, preheat the oven to its lowest setting and put a baking tray and a serving dish to warm. Lay the tortillas out on a work surface and brush them on both sides with olive oil. Heat a non-stick frying pan over medium heat and cook each tortilla for no more than 10 seconds on each side. As soon as each one is cooked, place it on the baking tray in the oven to keep warm.

When all the tortillas are ready, add enough water to the sauce to make it the consistency of soup – not thick enough to stand a spoon in, just enough to coat the tortillas nicely. Reheat it to simmering point. Place the tortillas one by one in the sauce, pushing them gently down into it and spooning it over them. Using a pair of kitchen tongs or two forks, fold the tortilla in half and then into four, making a fan shape, rather like Crêpes Suzette. Remove it with a spatula to the dish in the oven and repeat the process with all eight tortillas.

Pour any remaining sauce over the enchiladas, sprinkle with cheese, onions and coriander and serve immediately.

Buén provecho!
You Should Also Read:
Antojitos, the Street Food of Mexico
Mexican antojitos - Tacos
Mexican antojitos - Papadzules


Related Articles
Editor's Picks Articles
Top Ten Articles
Previous Features
Site Map





Content copyright © 2022 by Isabel Hood. All rights reserved.
This content was written by Isabel Hood. If you wish to use this content in any manner, you need written permission. Contact Mickey Marquez for details.