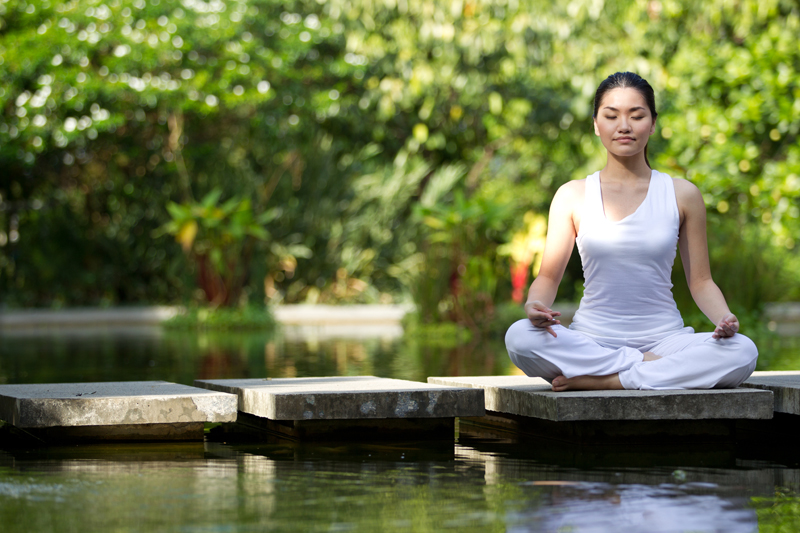 Some of the most traditional meditations around the globe are with the help of malas or prayer beads.
To use a standard 108 bead mala I move forward on the beads with one full mantra per bead.
For example, if I say a repetition of "Om Namah Shivaya" on each bead, that would be 108 times to go around the entire length of the mala once. Wrist malas have 27 beads.
To move the beads along I proceed like this:
I begin at the bead with a tassel and hold the mala in my hand as in the photo - over my wrist to take the weight, then from the enclosed portion of the mala in my hand I hold it between my middle and ring finger.
Next, I move forward one bead using my thumb to draw the bead toward the palm of my hand, and as a reflex my middle and ring finger move forward to the underside of the next bead.
This method is very easy and natural feeling and does not require thought that would distract from mentally repeating the mantra. Yet, it is enough of an effort that it keeps you aware of what you are either verbally or mentally repeating.
What mantra to use?
First, if you have a prayer in your own religion use it for mala and mantra meditation.
Second, if you wish to use Sanskrit I would recommend from among the mantras used in universal peace chants, such as:
Hari Om
Om Shanti
Om Namah Shivaya
Third, if you receive a mantra in a dream or vision by all means use it.
Where to rest your hands during mala meditation
I rest my hands in my lap. This still gives me room to move the mala along without it being constricted.
After you have been doing mantra repetition for some minutes you may begin to hear the inner vibration of the sounds, like a whooshing wind under the crown of your skull.
Then it is time to cease using the mala, cease repeating the mantra, and instead, listen to that special vibratory sound of creation.
After all, mala and mantra are tools to bring you to the inner voice of your soul
with a taste of the subtle peace of the Divine.
Article by Susan Helene Kramer
Meditation Lessons for Teens and Adults
More than 70 offerings, from guided meditation techniques to on-the-go stress relief and relationship meditations interspersed with verse, and a section of special occasion prayers. 114 pages. Ebook options and paperback.
Meditation for All Kids
Sitting, walking, dance and group circle meditations, along with positive affirmations, verses and benefits of meditation for kids of all ages and abilities in a 100 page book with illustrations. Ebook options and paperback.
NOTE: Sign up below or in the right-hand column for our meditation site newsletter. It only requires your email address and is never given out or sold to anyone. If at any time you wish to stop receiving it, each newsletter contains a link to unsubscribe. Make meditation part of your daily routine.


Related Articles
Editor's Picks Articles
Top Ten Articles
Previous Features
Site Map





Content copyright © 2022 by Susan Helene Kramer. All rights reserved.
This content was written by Susan Helene Kramer. If you wish to use this content in any manner, you need written permission. Contact Cat Hamilton for details.