Veracruz - Pellizcadas Recipe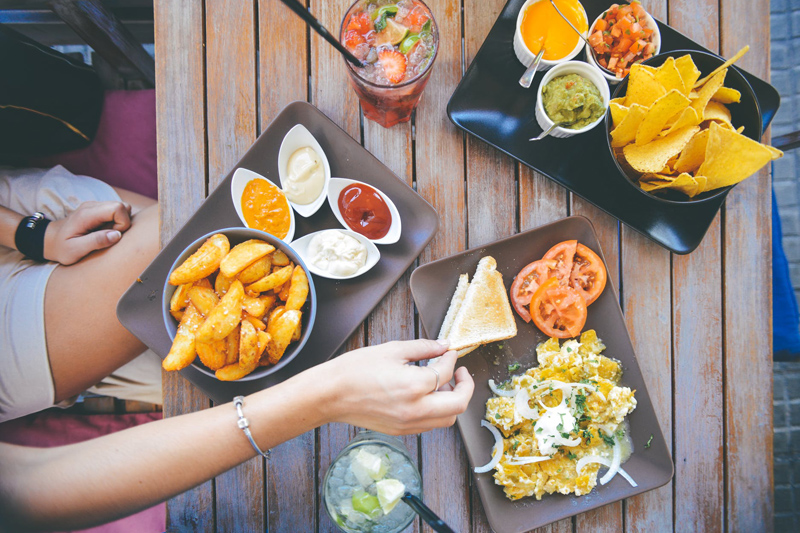 The unattractively named Pellizcadas – pinched ones – of Veracruz are bumpy and dimpled, their surface a landscape of miniature hills and valleys to trap a topping and hold it firmly in place. This particular Veracruzano antojito comes from a vast family and has countless relatives across the whole country – gorditas, garnachas, sopes, chalupas - each and every one of them a masa tartlet or boat of one sort or another, a corn foundation ready to act as a carrier for anything from a sprinkling of chillies to a salsa, from refried beans and golden plantains to wonderfully savoury pork carnitas, shredded chicken or seafood. The Pellizcada's form, however, is fairly unique in that it is pinched between thumb and forefinger all over one side while still hot from the griddle to create the topography described above – and any kind of sauce spooned over it congregates in little pools in the hollows, enriching the dough with its moisture and sparkle. The edges of a Pellizcada can be pinched up to create a border and contain the salsa – I always do so – but more often than not, it is just left flat.
The simplest and most traditional topping for a Pellizcada is nothing more than lard or manteca, invariably home rendered and ideally mixed with rich, crisp little bits of pork cracklings or chicharrón – and I must say that this kind of Pellizcada is incredibly and surprisingly delectable. However, rendering lard is a messy and smelly business in which I very seldom indulge, and I find that the pure lard available from butchers and supermarkets has an unpleasant taste. Nevertheless I have found an excellent alternative after much experimentation: streaky bacon, cooked until it is crisp and has rendered all its fat, and/or duck or goose fat, all of which have a good full flavour; in fact, I invariably make Pellizcadas when I have prepared a French style duck confit for another purpose and there is all that lovely duck fat left over as well as some duck skin perhaps to crisp up into cracklings! Wild duck was abundant in pre-Hispanic Mexico and the domesticated varieties, fed on the indigenous corn, would have been nice and plump so I do not feel that the use of duck fat in a Mexican recipe is too alien an improvisation. In the absence of duck or goose fat, even unsalted butter is an acceptable substitute.
La Pellizcada is not to be confused with its Veracruzana sister, la Picada, which is a far more elaborate affair and more of a masa tart as its sides are always pinched up to carry heavier, more complex toppings.
Pellizcadas
Makes 4
For the pellizcadas:-
450 ml/3/4 pint/2 cups warm water or as necessary
250 g/9 oz masa harina
2.5 ml/1/2 tsp sea salt
150 g/5 oz smoked streaky bacon, diced
30 ml/2 tbsp duck or goose fat, or unsalted butter, or as necessary
Vegetable oil for frying
For the salsa:-
40 g/1 1/2 oz red onions, peeled and chopped
40 g/1 1/2 oz jalapeño chillies, deseeded and thinly sliced – use a hotter chilli if you want more heat
40 g/1 1/2 oz fresh coriander/cilantro, coarsely chopped
2 large limes, juiced
Sea salt
Make the dough in a large bowl by whisking the water into the masa harina along with the salt. Add a bit more water if it is all a bit dry – it needs to be soft and pliable. Knead lightly until smooth. Cover with clingfilm/plastic wrap and set aside.
Cook the bacon in a dry frying pan over medium heat until it is crisp, then swirl in the duck or goose fat. You should have about four tablespoons of fat in all but if the bacon was a bit lean, use a bit more duck fat to make up the quantity - the liquid fat element is essential to a good, savoury pellizcada. Keep the bacon mixture warm or reheat it before serving.
To make the pellizcadas, divide the dough into four roughly equal balls. With a rolling pin, flatten the balls one by one between two sheets of cling film/kitchen wrap, keeping them as round as possible, to a thickness of about 3 mm/1/8 in.
For the salsa, stir the onions, chillies and coriander together in a bowl with a dash of salt. Add the lime juice just before serving so that it does not spoil the bright green of the coriander.
Preheat the oven to its lowest setting and warm a large serving plate. Brush a non-stick frying pan with a little vegetable oil and heat it on medium until it just starts to shimmer. Place one pellizcada in the pan and cook for three or four minutes, until the edges start to turn golden. With a large spatula, flip the pellizcada over and cook for a further two minutes. While the second side is cooking, use your forefinger and thumb to quickly pinch up the hot cooked side, creating little mounds and hollows all over the surface. Pinch up the edges to form a border – and they don't need to be tidy or even!
Transfer the pellizcada to the plate in the oven to keep warm while you cook the remaining three. When they are all done, spoon the bacon and fat over the pinched side and top with the salsa.
Serve immediately.
Buén provecho!
| | |
| --- | --- |
| Chilli and Chocolate Stars of the Mexican Cocina by Isabel Hood is available from Amazon.co.uk | Just The Two of Us Entertaining Each Other by Isabel Hood is available from Amazon.com and Amazon.co.uk |
You Should Also Read:
Veracruz - Molotes a la Veracruzana
Veracruz - Mole de Xico
Mexico's Regional Gastronomies - Veracruz


Related Articles
Editor's Picks Articles
Top Ten Articles
Previous Features
Site Map





Content copyright © 2023 by Isabel Hood. All rights reserved.
This content was written by Isabel Hood. If you wish to use this content in any manner, you need written permission. Contact Mickey Marquez for details.