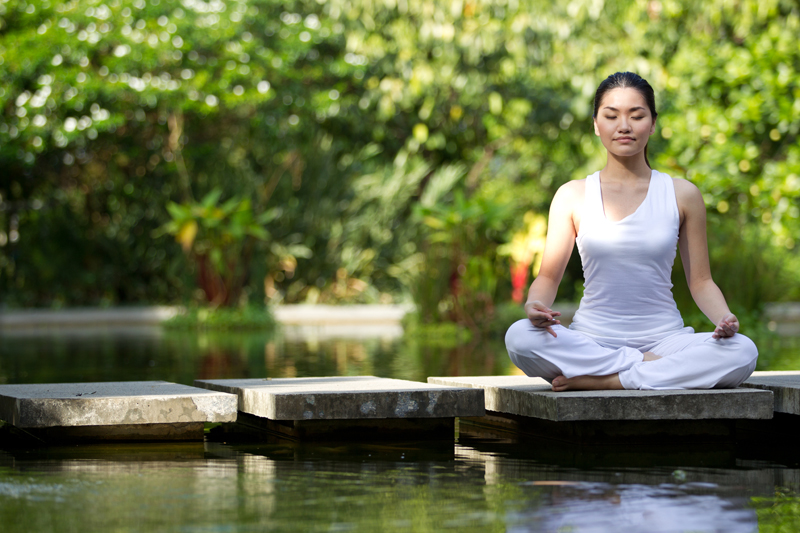 Centering one's life means finding balance. It is an internal state of being that leads to harmonious thoughts and actions. And, when we live harmoniously with people and the environment, we maintain peace of mind; happiness.
But how do we get centered? How do we find our strong place, that guides us appropriately through life's drama?
Anchoring in meditation creates that place of inner harmony that keeps us steady through tough decisions and events.
Meditation has a cumulative effect. As with any skill, we become more proficient by practice; we spontaneously sink into the reservoir of our balanced center when needed.
I recommend beginning with 5 minute sessions 3 times a day, such as upon waking, before lunch, before bed. These are when our daily routine is in change, and may be the easiest times to make space for sitting in silence to contemplate, regroup and recap.
Centering meditation
Sit up straight in your favorite quiet spot, either on a floor cushion with your legs folded in, or on a chair with the soles of your feet planted firmly on the floor. Fold your hands in your lap, or place palms down or palms up on your thighs. Close your eyes.
Start breathing evenly, such as 2 counts to breathe in, and 2 counts to breathe out; 2 counts to breathe in, and continue this rhythmic pattern throughout your meditation, without actually saying the numbers. Do not hold your breath as part of this practice.
Breath ties the state of mind and body together. When breathing is calm and regular the body slows down and allows energy to go to the mind to think through situations and plan for the future.
Now, let go of consciously counting in your meditation but keep up the rhythm.
Turn your thoughts to how you can act to bring peace into your life. Think about how you can stay in your strong center of peace while still getting your work done.
Take a few moments to think of an appreciation for at least one example of a positive centered person from your life.
Continue to sit enjoying some moments of silence, feeling your own center of peace.
Take a deep breath in and slowly release it, stretch out and go on with your day in a centered, peaceful way.
Calm body, calm mind;
Relaxed body, centered mind.
Meditation Lessons for Teens and Adults
More than 70 offerings, from guided meditation techniques to on-the-go stress relief and relationship meditations interspersed with verse, and a section of special occasion prayers. 114 pages. Paperback or ebook.
Meditation for All Kids
Sitting, walking, dance and group circle meditations, along with positive affirmations, verses and benefits of meditation for kids of all ages and abilities in a 100 page book with illustrations. Paperback or ebook.
Article by Susan Helene Kramer


Related Articles
Editor's Picks Articles
Top Ten Articles
Previous Features
Site Map





Content copyright © 2022 by Susan Helene Kramer. All rights reserved.
This content was written by Susan Helene Kramer. If you wish to use this content in any manner, you need written permission. Contact Cat Hamilton for details.