School Age Kids and Sitting Meditation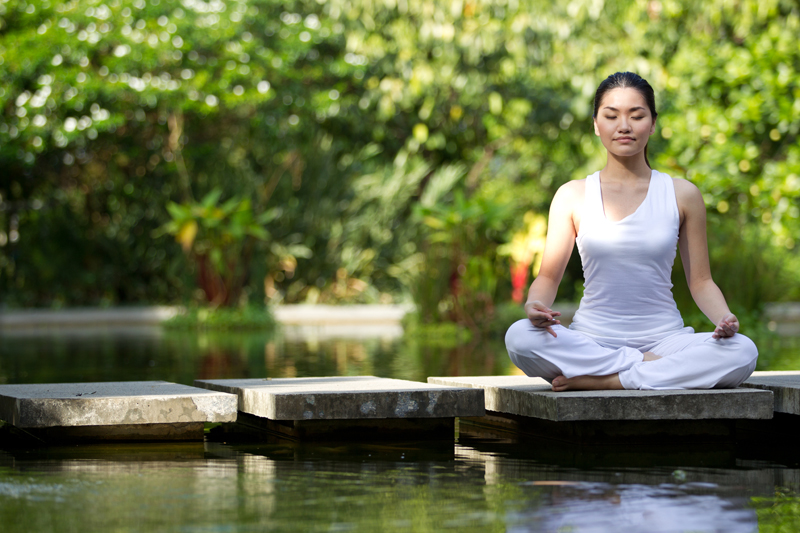 This age group is used to sitting still at their desks for a determined period of time, which is a head start in teaching sitting meditation. For learning meditation the teacher and students sit in a circle on the carpet facing in, or the students can sit at their desks with their hands clasped in their laps. Encourage students to sit upright rather than slouch to keep their attention on the lesson.
How to breathe
If your students are at least school age explain that even breathing calms them down when they are stressed or angry. And, that it is a good practice to use that no one else will even know they are doing: it is like their own first aid kit for regaining calm and control of themselves.
Demonstrate the meditation practice of evenly spaced regular breathing. Have them first count from one to four. Then demonstrate that on count 1 they breathe in, and on count 2 they release the breath; then breathe in on count 3, and breathe out on count 4. And, that this even pattern at their own regular breathing rate continues through the meditation.
Using imagery
Now, moving on to the sitting still portion of the meditation practice, ask the kids to close their eyes, and sitting very still imagine the sun rising in the sky. It is brightening all the world so plants and trees can grow, and people can see where to go.
By now, the children are probably quiet and relaxed. When the group begins to stir, (no time limit), ask everyone to follow you by taking a deep breath in, letting it out, standing up and stretching.
Remind the kids they can do this meditation anytime they need to calm down, or need some quiet time to work out problems they may be having at home, school or with others.
In this meditation I have not mentioned any particular religious imagery, which you can add in if you are teaching from a particular religious perspective. Rather, this meditation can be called quiet time and used in the schools for stress reduction or to recover order in the classroom.
Quiet time with even breathing
Helps to banish stress from living.
Meditation Lessons for Teens and Adults
More than 70 offerings, from guided meditation techniques to on-the-go stress relief and relationship meditations interspersed with verse, and a section of special occasion prayers. 114 pages. Ebook options and paperback.
Meditation for All Kids
Sitting, walking, dance and group circle meditations, along with positive affirmations, verses and benefits of meditation for kids of all ages and abilities in a 100 page book with illustrations. Ebook options and paperback.
NOTE: Sign up below or in the right-hand column for our meditation site newsletter. It only requires your email address and is never given out or sold to anyone. If at any time you wish to stop receiving it, each newsletter contains a link to unsubscribe. Make meditation part of your daily routine.
Article by Susan Helene Kramer


Related Articles
Editor's Picks Articles
Top Ten Articles
Previous Features
Site Map





Content copyright © 2022 by Susan Helene Kramer. All rights reserved.
This content was written by Susan Helene Kramer. If you wish to use this content in any manner, you need written permission. Contact Cat Hamilton for details.