Child Safety - Pills, Purses, and Suitcases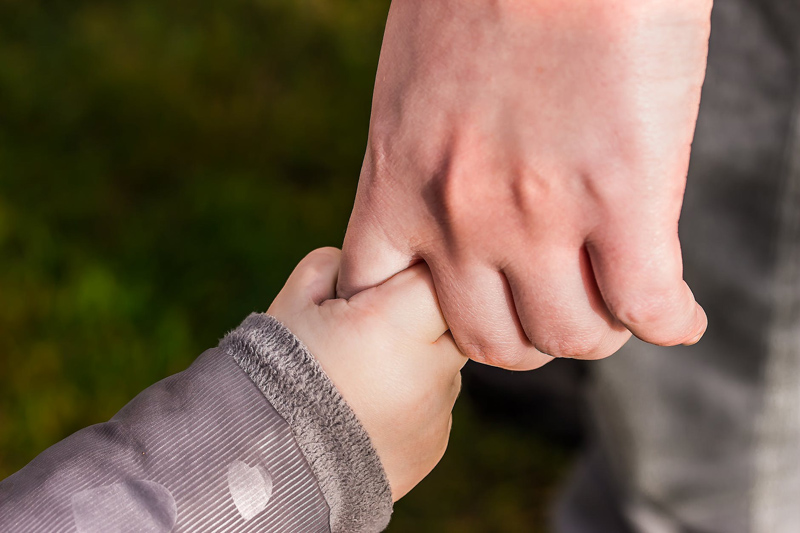 Many women carry over-the-counter pain relievers in their purses, diaper bags or suitcases. Sometimes we carry prescription medications for our children and other members of the family in a purse just because we keep them with us wherever we go. Even those who are careful to carry items in original childproof containers may have some spilled loose pills lost in the bottom of a purse.
While travelling, women often carry medication in purses in case luggage is lost or delayed. Due to airline rules about carrying small amounts of liquids and other items, these may be packed in containers that are not childproof. There are rarely locked cabinets in hotel or guest rooms while we are travelling or visiting friends and family. Even very young children with limited fine motor skills can sometimes find a way to open child-resistant containers. There is no substitute for continuous supervision of our children.
We may pack stand-by medication in suitcases or diaper bags without considering accidental access when we leave them unlocked or open for convenience, or send an older child to retrieve something needed at the spur of the moment.
It's very easy to forget to pick up and carry medication with us when we are interrupted by a telephone call or a knock on the door while giving a child medication. They may think they are being grown up and have an impulse to show us they can do it themselves. It's never a good idea to tell children that liquid or chewable medicine is good, or like candy, to persuade them to take it without fussing. Babysitters who have had safety training and relatives who have raised their own children may not be aware of the dangers of accidental poisoning or overdose for our children.
Grandmothers and aunts who pull candy or toys out of their purses or suitcases at each visit may cause children to view the bags as treasure chests meant just for their pleasure. Any child can mistake a pill for a piece of candy, and even vitamins can be dangerous or deadly. Liquid medicines, cleaning supplies, sunscreen and insect repellent may look very much like common products our children encounter every day. Call your local Poison Control Center immediately at 1-800-222-1222 if your child has had access to or swallowed medication or any other product that you suspect could be harmful or poisonous.
Grocery sacks, refrigerators, counters, bedside tables, trash containers, and coat pockets are other sources of danger for young children. Visitors and overnight guests may not realize that children have access to their belongings, guest room or bathroom. Children enjoy climbing into cabinets, exploring and hiding in closets, counter and floor surfing. Unless you have laid down on the floor and crawled through every room of your home, hotel or guest room, you do not know what a child can find.
Sometimes medications may spill onto the floor and disappear under beds or tables, or in kick spaces under cabinets. Visitors may assume that they will turn up and be disposed of in a daily sweep later on, or toss those that are easy to reach onto the top of the kitchen trash. Many of us purchase vitamins and over the counter medications in large containers and may not consider how large a dose we spill or throw away.
Most people keep unused prescription medications long after their expiration date, when they are no longer helpful for treatment but still present danger to children who find them. Because we are only now becoming aware of the problems caused in landfills and waterways when drugs are not disposed of properly, some pharmacies accept out-dated medications for disposal.
When a child swallows unknown medication, it is much more difficult for experts at the Poison Control Center or emergency room to decide what course of action to follow.
Storing dangerous items on high shelves is a good idea but children who love to climb and explore easily discover how to enlist the aid of a chair or pull themselves up to counters to gain access. A high shelf in a locked closet is the best place to keep medications and other dangerous items.
When my son was a toddler he discovered he could pull drawers out on a high dresser to make steps up to retrieve a toy placed out of his reach. The dresser started to tip over onto him in the time it took me to notice and cross the room. Children suffer terrible injuries and also lose their lives to accidents when unsecured furniture falls over onto them.
The Poison Control Center reports that the most commonly ingested products that are dangerous for children are items like perfume, nail polish and remover, deodorant, soap and cleaning products, OTC pain medicines; foreign bodies and toys including silica gel packages to remove moisture in packaging and glow products; and topical preparations like diaper rash products, hydrogen peroxide, acne preparations, or calamine lotion. Other items are as diverse as cigarette butts, batteries, iron pills, mouthwash and houseplants.
As children with developmental disabilities grow, their size, self confidence, impulsivity or experience may cause them to believe that they can make the same decisions as their mainstream peers and parents. Some may have compulsive behavior or have developed dangerous habits that they cannot control, or are not able to recognize dangerous situations. Those who are quite able to understand directions, manage self help skills and engage in appropriate social interactions also need to be protected from mistakes that their mainstream peers and parents are as likely to make.
Poison prevention tips for adults include information on being aware of drug interactions, including herbal supplements; reading directions; never taking medication in the dark; storage, proper storage, use and disposal of household and chemical products; aiming spray products away from us; using ventilation, protective clothing, and not sniffing containers to find out what is inside.
Most families become aware and committed to safety measures only after a dangerous or heart-breaking event has happened. All of us wish we had spent more time on prevention and taken more care when these things happen, and go on to do better after we learn better; sometimes awful accidents happen even though we have done the best we could with what we knew at the time.
Browse at your local bookstore, public library or online retailer for books like
The Consumer Reports Guide to Childproofing & Safety - Tips to Protect your Baby and Child from Injury at Home and on the Go, and
The Safe Baby, Expanded and Revised: A Do-It-Yourself Guide to Home Safety and Healthy Living
.
Recently, the use of a weekly pillbox as a visual scheduler was shared as a clever tip from an inclusive church and an excellent AAC (Augmentive/Alternative Communication) resource. It was suggested that small candies could be used under each tab icon. Please NEVER teach any child that they can find candy in any type of pillbox. Every toddler and young child is at risk for opening and ingesting pills out of a similar pillbox because pills already look like candy to them. Ask any EMT, ER nurse or physician.
American Association of Poison Control Centers
https://www.aapcc.org/dnn/FirstAid/tabid/115/Default.aspx
Tips for Children - What is a poison?
https://www.aapcc.org/dnn/PoisoningPrevention/ChildTips/tabid/120/Default.aspx
Preschool Education Program - Quills Up! Stay Away!
https://www.aapcc.org/dnn/PoisoningPrevention/PreschoolEducationProgram/tabid/413/Default.aspx
Tips for Teens - Babysitting
https://www.aapcc.org/dnn/PoisoningPrevention/TeenTips/tabid/121/Default.aspx
Tips for Adults
https://www.aapcc.org/dnn/PoisoningPrevention/AdultTips/tabid/119/Default.aspx
American Association of Poison Control Centers FAQ
https://www.aapcc.org/dnn/PoisoningPrevention/FAQ/tabid/117/Default.aspx
The Doctors TV Show - Childproofing Your Home
https://www.thedoctorstv.com/main/show_page/260
You Should Also Read:
Car Safety Issues
Preparing for Emergencies
Avoiding Heat Illnesses and Other Hazards


Related Articles
Editor's Picks Articles
Top Ten Articles
Previous Features
Site Map



Follow @DownSynAdvocacy
Tweet





Content copyright © 2022 by Pamela Wilson. All rights reserved.
This content was written by Pamela Wilson. If you wish to use this content in any manner, you need written permission. Contact Pamela Wilson for details.