Tacos of Oven-roasted Achiote Carnitas Recipe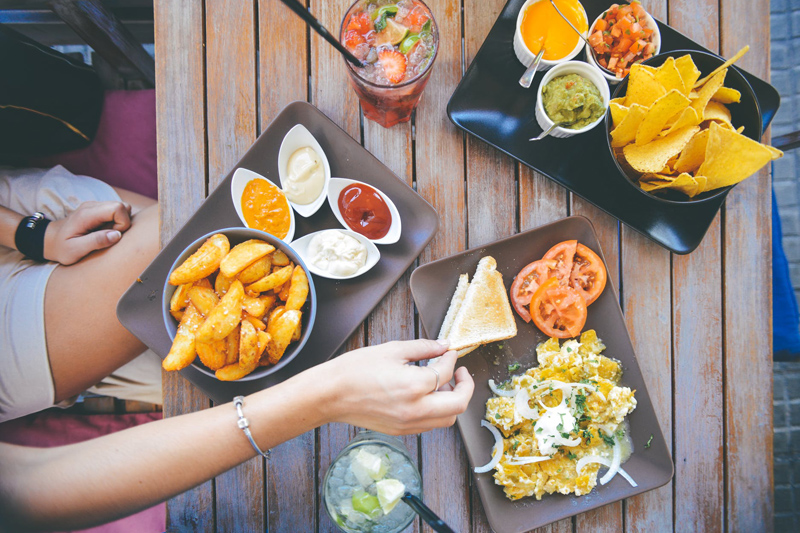 Achiote, a spice blend based on annatto seeds, is one of the most recognizable flavours of southern Mexican cuisine and finds its way into countless regional dishes including Yucatecan pork carnitas – rich and succulent, hot, sweet and sharp, they are wrapped in a warm corn tortilla and topped with a sparkling salsa. The achiote seasoning is available in many forms, from pastes to liquids, and the easiest to use in my experience is the powder.
Pork lard is a traditional and authentic ingredient in pork carnitas but it can be difficult to source and duck or goose fat, widely available in large supermarkets and delicatessens, is an excellent substitute – and I actually prefer the taste.
There are many ways to prepare pork carnitas, and I have developed two different methods after much experimentation – one stove-top and one oven-roasted. The boiled version which can be found by following the link at the end of this article has a more intense flavour, while the slow-cooked belly of pork below is wonderfully luscious and tender. The choice is yours!
Tacos of Oven-roasted Achiote Pork Carnitas – Tacos de Carnitas al Achiote Asadas
Serves 4
For the carnitas:-
Approximately1.3 kg/2 1/2 lb pork belly, with skin, bones removed
120 ml/4 fl oz/1/2 cup fresh orange juice, about 2 oranges
15 ml/1 tbsp fresh lime juice, about 1 lime
5 ml/1 tsp achiote spice powder
5 ml/1 tsp ground cumin
5 ml/1 tsp Mexican dried oregano
5 ml/1 tsp sea salt
2 garlic cloves, peeled and crushed
2.5 ml/1/2 tsp habanero chilli powder or to taste, or chipotle chilli powder
5 ml/1 tsp bouillon powder
Warm corn tortillas, to serve
For the cucumber and pomegranate salsa:-
150 g/6 oz cucumber, peeled, seeded and diced
40 g/1 1/2 oz red onions, peeled and finely chopped
1 garlic clove, peeled and crushed
25 g/1 oz red chillies, as mild or hot as you like, deseeded and finely chopped
15 ml/1 tbsp fresh lime juice, about 1 lime
2.5 ml/1/2 tsp dried Mexican oregano
10 g/1/3 oz fresh mint, leaves only, coarsely chopped
1 medium pomegranate, seeds only
30 ml/2 tbsp olive oil
Sea salt and freshly ground black pepper
Preheat the oven to 200oC/400oF/gas 6/fan oven 180oC. Place the pork belly in a roasting tin skin side up and cook for 30 minutes. Turn the heat down to 120oC/250oF/gas 1/2/fan oven 110oC and continue to cook for 4 hours.
Remove from the oven and set aside until cool enough to handle. Peel off the skin – it should come away quite easily – leaving a good layer of fat.
Whisk together the orange and lime juices, achiote powder, cumin, oregano, salt, crushed garlic and chilli powder.
Preheat the oven again to 200oC/400oF/gas 6/fan oven 180oC. Place the pork back in the roasting tin, fat side up, and pour the achiote mixture over it. Roast in the oven, basting every ten minutes, until the fat caramelizes and turns golden and most of the liquid has sizzled away leaving the aromatic fat – this will take about 30 minutes.
Remove the pork from the oven and shred it with a knife and fork. If it does not come apart easily, transfer it to a chopping board and carve it into thin slices with a sharp knife before shredding. Mix it back into the juices in the roasting tin so that the meat absorbs the moisture and fragrance.
To serve, place a good spoonful of carnitas in a warm tortilla, top with some salsa, roll up and enjoy.
Buén provecho!
| | |
| --- | --- |
| Chilli and Chocolate Stars of the Mexican Cocina by Isabel Hood is available from Amazon.co.uk | Just The Two of Us Entertaining Each Other by Isabel Hood is available from Amazon.com and Amazon.co.uk |
You Should Also Read:
Tacos of Achiote-marinated Pork Carnitas Recipe
Mexican antojitos - Tacos
The Spices of Mexico - Achiote


Related Articles
Editor's Picks Articles
Top Ten Articles
Previous Features
Site Map





Content copyright © 2023 by Isabel Hood. All rights reserved.
This content was written by Isabel Hood. If you wish to use this content in any manner, you need written permission. Contact Mickey Marquez for details.