Stinger, Grasshopper Recipes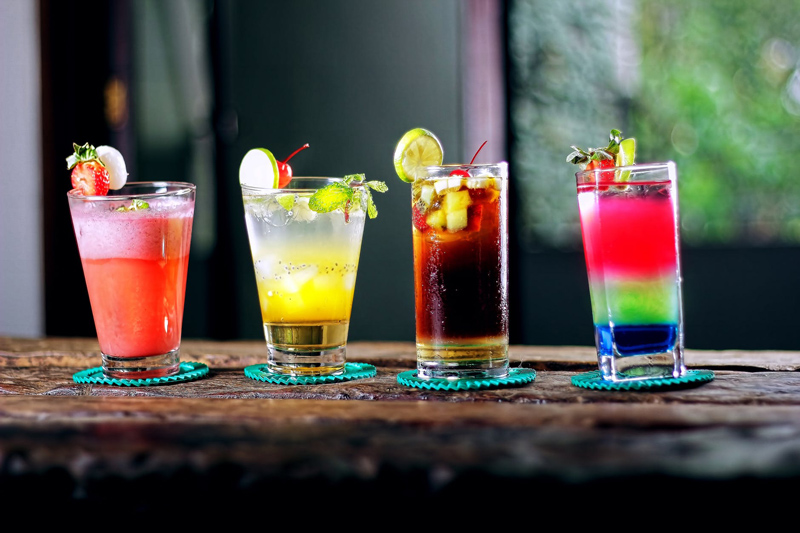 Back in the 1970s, it was a bit trendy to host a dinner party and cap the evening off with a bright green elixir served, preferably, in a small, artsy cordial glass. I remember creme de menthe back them was often served at room temperature, without ice or other flavors, to offset the vibrant mint flavor of the liqueur and that's a fine way to serve it now, too. The recipes here, however, might taste a little less mouthwashy and a lot more fun.

Stinger Recipe

What you'll need to get started:

A cocktail shaker and strainer, ice, a cocktail glass at the ready, and the following ingredients:

3 Tablespoons (2 jiggers) your favorite cognac or brandy
1.5 Tablespoons (1 jigger) white creme de menthe

Simply pour the spirits over ice in the cocktail shaker, close the lid, and shake till the outside of the shaker becomes quite cold to the touch. Replace the lid with the strainer and pour your Stinger into the waiting cocktail glass.

You could garnish this one with a sprig of fresh mint but most people who enjoy cognac would probably rather not bother with such a highly aromatic, leafy garnish or any garnish at all.

Grasshopper Recipe

What you'll need to get started:

A cocktail shaker and strainer, ice, a cocktail glass at the ready, and the following ingredients:

1.5 Tablespoons (1 jigger) green creme de menthe
1.5 Tablespoons white creme de cacao
1.5 Tablespoons heavy, or double, cream

Follow the Stinger instructions on how to assemble your cocktail. People who enjoy Grasshoppers may enjoy a fresh mint garnish but they'd probably like some chocolate shavings or curls sprinkled on top even more.

You can substitute ice cream (vanilla's fine; chocolate mint is awesome) for the cream when making the Grasshoppers but you'll probably want to make bigger batches in the blender instead of a cocktail shaker. Instead of one jigger of each of the ingredients (to make a single drink), use a measuring cup instead.

Put one cup each of green creme de menthe, white creme de cacao, and ice cream in a blender. Top it off with ice and blend till smooth.

Another perfectly delicious way to serve creme de menthe, especially after a pleasing meal, is to serve a jigger of creme de menthe over ice in a rocks glass. Either color works fine. Top this off with just a splash of club soda for a bubbly finish. This after-dinner cocktail can be served instead of desserts, especially when calorie concerns are an issue.

Creme de menthe, which is celebrated each year on September 15, comes in a green version and a clear one. They taste the same so it's only the finished cocktail's color that determines which to use. Use the green creme de menthe when all the other ingredients are colorless (vodka, club soda, etc.) so the green color stands out attractively. Use the clear creme de menthe when the green color will muddy other colors in the drink, such as with the Stinger recipe here.

The same coloration principle applies to the creme de cacao. Use the dark version (it isn't any chocolatier) for dark drinks and the clear, or white, version when other ingredients in the drink color it, too. In the case of the Grasshoppers here, you'll want that critter a bit green, rather than charcoal gray.

You Should Also Read:
September 15 - Creme de Menthe Day
Bar Terms
Party Every Month


Related Articles
Editor's Picks Articles
Top Ten Articles
Previous Features
Site Map



Follow @drinkandbemerry
Tweet



Content copyright © 2019 by Sandy Hemphill. All rights reserved.
This content was written by Sandy Hemphill. If you wish to use this content in any manner, you need written permission. Contact Sandy Hemphill for details.