Escape Route, Coming & Going, SOS Cocktail Recipes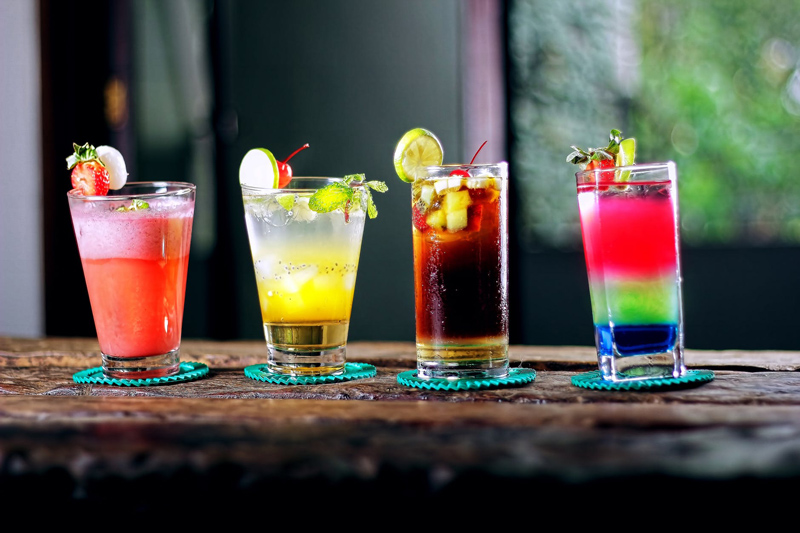 Oops! Got caught up in the election returns (I'm a junkie for politics) and didn't get more politically connected cocktail recipes posted yesterday. Here's some for today, though, to enjoy while discussing the results.

------------------------------------------------

Escape Route

You'll need: A highball glass half filled with ice, and

1 jigger light rum
1 jigger light (dry) vermouth
2/3 jigger creme de fraise or other strawberry liqueurs
2 jiggers lemonade
2 jiggers club soda
Garnishes: Strawberry* and lemon slices

Into the ice-filled highball glass, pour the rum, vermouth, strawberry liqueur, and lemonade; stir to blend well. Top with club soda and garnish before serving.

*Use a sharp knife to make a slit from the point of the strawberry upward toward the stem end, stopping about halfway to the stem end. Use this slit to position the strawberry astride the rim of the glass.

------------------------------------------------

Coming & Going

You'll need: A small paper or disposable cup or glass and

1 jigger Greek brandy
2 jiggers chilled prune juice

Pour brandy and juice into cup. Gulp and go.

------------------------------------------------

SOS

You'll need: A cocktail shaker / strainer, ice, a large cocktail glass, and

1 jigger lemon vodka
1 jigger peach schnapps
2 jiggers unsweetened mandarin orange juice**
1 teaspoon grenadine
Garnishes: lemon slice or wedge and mandarin orange segment(s)

Pour all ingredients except garnish ingredients into a blender half filled with ice. Process until beverage is smooth and slushy, then strain into ice-filled cocktail glass. Garnish with lemon and orange.

**Use the liquid from canned mandarin orange slices if mandarin juice is unavailable. Regular orange juice (not mandarin) will work, too.

------------------------------------------------

Did you vote? Many people don't, saying their vote doesn't matter anyway. It does to me. If you don't vote, don't complain when you're unhappy with the state of affairs. That's reason enough for me to vote at every opportunity - I let my elected officials know when I do or do NOT care for their hijinks.








You Should Also Read:
Drinking About the Election
Bigger Bottle, Better Buy
Cocktail Bar Measurements


Related Articles
Editor's Picks Articles
Top Ten Articles
Previous Features
Site Map



Follow @drinkandbemerry
Tweet



Content copyright © 2022 by Sandy Hemphill. All rights reserved.
This content was written by Sandy Hemphill. If you wish to use this content in any manner, you need written permission. Contact Sandy Hemphill for details.