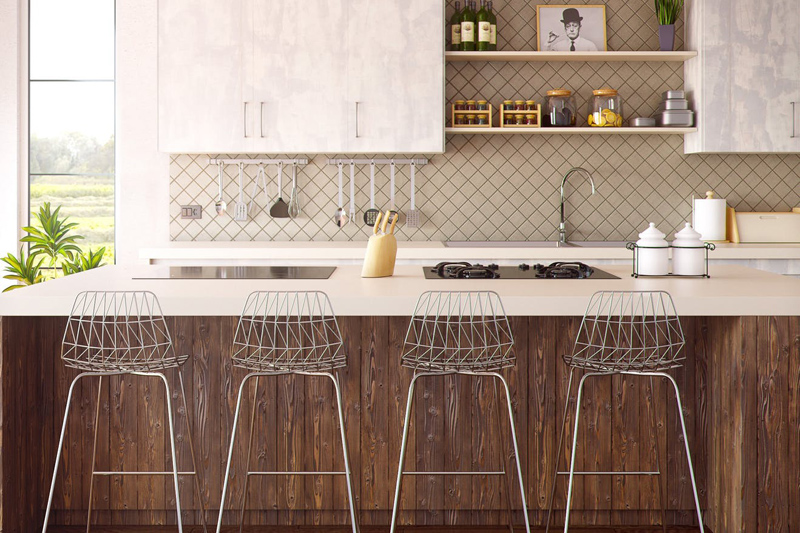 Warm homemade waffles are a welcome, satisfying breakfast on a cold winter day. Waffles drenched in syrup are a traditional brunch and breakfast favorite, but waffle dishes can also be served as part of a hot lunch or dinner. Light and fluffy berry-topped Belgian waffles are a luscious dessert any time of year.

Waffles should be golden brown and lightly crisp outside and baked to the consistency of a light moist cake inside. Batter must be thick, and quick baking is necessary so the waffle remains light and tender inside while the outside bake to just the right crispness. Slow baking will over cook the waffle and make it dry and unappealing. A good basic waffle recipe includes buttermilk, which is thicker than regular milk.
Buttermilk Waffles
This recipe will serve about 4 people for breakfast.
2 cups flour
1 tsp salt
1/2 tsp. baking soda
2 eggs, separated
1 3/4 cups buttermilk
4 T. melted butter.
Preparation -
Heat the waffle maker. Mix dry ingredients in a bowl or measuring pitcher and set aside. In a separate bowl, beat egg whites until they just start to hold a peak...do not beat until stiff. Whisk egg yolks with milk or buttermilk and melted butter. Gradually add this mixture to the dry ingredients mixing with spatula. Do not beat. The batter should still have some small lumps of flour which will disappear as the waffles bake. Gently fold in beaten egg whites
Batter will be thick. Use a spatula to gently push it from a mixing bowl or pitcher onto a preheated waffle maker. Baking time varies with different waffle makers. Check the instruction manual, and bake for the recommended amount of time - usually 3 to 4 minutes for standard waffles; 4 minutes or more for Belgian waffles. Serve piping hot with butter and syrup, jam, jelly, or your favorite fruit toppings.
Printer Friendly Version
Waffle Makers
Waffle makers have either classic chrome or contemporary plastic exteriors. New models feature durable, non-stick grids.
Belgian waffles are thicker than standard waffles. Belgian waffle makers have thicker grids with a deeper waffle pattern. Both Belgian waffle makers and standard waffle makers come in a variety of sizes, and shapes. Many models make classic round waffles.
Square or rectangular shaped waffles fit easily in most toasters for reheating. They're also are best for making ice cream and waffle sandwiches. Oblong waffle makers are usually designed to make either two square or two rectangular shaped waffles. Large square family size models make four square waffles.

| | |
| --- | --- |
| You can start your day by saying "I Love You" with heart shaped waffles. Several top brands of counter top appliances offer waffle makers that make heart-shaped waffles and other novelty shapes. | |


For little waffle eaters.....
The Cinderella waffle iron bakes a round waffle with an impression of Cinderella and Prince Charming leaving the ball in their enchanted carriage.

Kids can now enjoy waffles with impressions of their favorite barnyard characters. This waffle maker makes 3 animal shaped waffles - a chicken, a pig and a cow plus a barn shaped waffle.



Versatile waffle maker combos can be used as waffle makers, as sandwich grills, or as all purpose griddles. Models like the VillaWare 4-square Belgian Waffle Iron and Multi Baker,
on the right, have interchangeable plates. Make up to 4 breakfast or dessert waffles at one time using the Belgian Waffle plate, cook healthy meals on the raised rib grill, or prepare a quick breakfast on the traditional flat griddle.

Today's waffle makers have a variety of convenient features. Ready lights or tones tell you when they are hot enough to add batter. Flexible, self-adjusting hinges allow fluffy Belgian style waffles to rise properly, and accommodates varying sandwich thicknesses on combo models. Many models let you fine-tune doneness. Some have a small light or tone that indicates when the waffles are perfectly done. Many new models will bake faster than older waffle makers. A few models boast that waffles will be ready in as little as 90 seconds.



Non-stick grids eliminate the need to grease waffle makers between each waffle, but before using a new waffle maker for the first time, a light brushing with oil or spraying with a non-stick cooking spray is still usually necessary. If you already have a waffle maker and you haven't used it in a while, lightly brush the grids with vegetable oil and wipe off any excess oil with a paper towel before using them. Older waffle makers without non-stick grids should also be treated with oil or sprayed with non-stick spray between each waffle.
Baking Waffles
Mix waffle batter in a bowl with a pour spout or use a large mix and pour type pitcher. After preparing the waffle batter, plug in and preheat your waffle maker. Most take about 5 minutes to heat to the right temperature before adding the batter. If your waffle maker does not have a ready indicator light, put a teaspoon of water on the waffle grids. When it stops steaming, the waffle maker is hot enough.
The amount or batter needed depends on the size and thickness of the waffle grids. Start with the amount recommended in the manufacturer's handbook. For a family size square standard waffle maker use about one cup of batter, more for the same size Belgian waffle maker. Waffle batter should be too thick to actually pour. Use a spatula and gently push it from the spout of a mixing bowl or pitcher onto a preheated hot waffle maker. Spread an even layer of batter across the lower grid and level off with a table knife. Batter should just barely hide the upright waffle grids. Close the cover gently. If batter oozes out when the cover is closed, you're adding too much. Use less for the next waffle.
Average baking time is about 4 minutes. Don't open the waffle maker too soon or the waffle will separate. It's usually okay to check for doneness after about 3 minutes or after baking is well underway and almost complete. Again, check the manufacturer's handbook. The lid should easily lift away from the waffle. If it does not, or if it does but the color is still pale, the waffles are under baked.... bake about a minute longer. Waffles should be baked to a golden color, about the shade of those pictured on this page. They should never be over-baked to the point where they have dark, hard edges.
| | |
| --- | --- |
| For best taste and texture, serve waffles piping hot, as soon as they are removed from the waffle maker. Even perfectly baked waffles will become limp and soggy within a few minutes if they are lying on a plate or wrapped in foil. To keep waffles crisp on the outside and warm until serving time, while others are being made, preheat your oven to 200º, then turn it off. Place wire cake racks on top of a baking sheet. Lay finished waffles on the racks in a single layer and place in the warm oven. Never put them in an oven that's turned on, since they will continue to bake and become dry and tough. | |
Leftover Batter
Cover and store leftover batter in the refrigerator. If it thickens, stir in additional milk to restore it to it's proper consistency.
Freshly baked waffles can be frozen and used to make toaster waffles. They'll keep for a few weeks. Use leftover batter to make slightly under baked waffles. Allow them to cool for a few minutes, then place them in the freezer, on a cookie sheet for about 30 minutes. Then, place plastic wrap between each waffle, put them in a freezer bag and store in the freezer. Heat frozen waffles in the toaster for a quick and warm weekday breakfast.
Clean Up
The non-stick cooking grids on most new waffle makers really do allow ultra-easy clean up. Some also have non-stick exteriors. After using, unplug the waffle maker, and allow it to cool completely. Brush the grids with a very soft brush to thoroughly remove crumbs after each use. Wipe non-stick areas with a moist paper towel or a damp sponge. Spray a paper towel with window cleaner to clean and shine chrome exteriors.
On waffle makers without non-stick grids, scrape away any dried-on batter, wash with a sponge or dish cloth, then rinse. Repeat the seasoning process before next use.
---
Click on the waffles for a quick and easy waffle recipe made with a baking mix such as Bisquick.

A good Buttermilk Pancake Mix can also be used for waffles. Pancake mix package directions for making waffles usually call for less milk and extra oil.
| | |
| --- | --- |
| | The first Belgian Waffles were introduced to North America during the 1964 New York World's Fair where the popular dessert was sold at the Belgian Village Waffle Shop. The light, tender dessert waffles were made from a yeast batter and served topped with whipped cream and strawberries. Belgian Waffles should be baked on a waffle iron with a deep grid, especially made for Belgian waffles. Click on the strawberry waffle for a yeast raised waffle recipe - perfect for Belgian style waffles. |

Here's a few more waffle maker options.....

The Cuisinart 6-square Traditional Waffle Iron
is a great choice for a larger family or for use when entertaining. It bakes six, traditional-style waffles at once and features six brownness settings. A red light lets you know the waffle iron is on and a green light means it's ready to bake, then ready to eat. An audible tone also alerts you. The baking plates are nonstick so your waffles pop right out. Other features include cool-touch handles. For storing, the lid locks in place, the cord wraps then the entire unit can be placed on its side.



The Krups 2-square Nonstick Expert Belgian Waffle Maker
makes two large waffles that are 1.25-in. thick. An adjustable thermostat can be raised to a higher setting for waffles that are crunchy and crispy; turn the thermostat down and you can use it to re-heat already made waffles without over-browning. The baking plates are removable and dishwasher-safe for ease of cleaning. The stainless exterior is durable, and the insulated handle keeps hands cool and collapses to allow for convenient storage. At the bottom is a nonstick drip tray to catch any batter that spills over during cooking. A red light indicates the power is on; a green light illuminates when the initial cooking temperature is reached.
---
Love Waffles? Get a Waffle Cookbook
---
You Should Also Read:
The Home Cooking Recipe Index and Site Map
Belgian Waffles
Breakfast Recipes for a Winter Weekend


Related Articles
Editor's Picks Articles
Top Ten Articles
Previous Features
Site Map





Content copyright © 2022 by Sandy Moyer. All rights reserved.
This content was written by Sandy Moyer. If you wish to use this content in any manner, you need written permission. Contact Allyson Elizabeth D´Angelo for details.