The Spanish Influence in Mexican Cuisine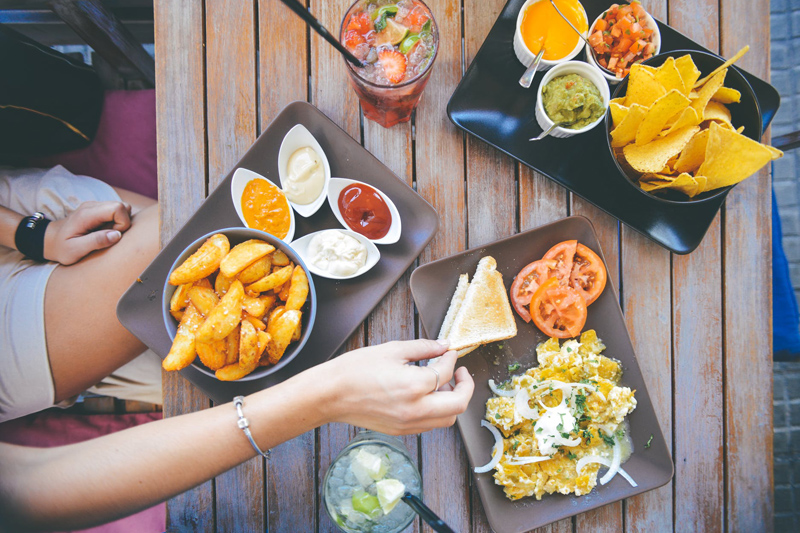 The discovery of the Americas, the "New World", resulted in the dissemination throughout Europe of a multitude of hitherto unknown crops. Hernán Cortés and his conquering army were amazed by the unfamiliar animals, plants and foods they encountered: avocadoes, potatoes and tomatoes, chillies and peppers, squashes and pumpkins, papayas and pineapples, vanilla and chocolate may now be commonplace in kitchens all over the planet, but in the 16th century, they were alien and, in many cases, greeted as a curiosity rather than a form of sustenance. In the great marketplace of Tenochtitlán, the capital of the Aztec empire, the Spaniards found turkeys, quails and plump little dogs bred specially for the table cooking in intensely flavoured sauces thickened with seeds and nuts; beans of different colours – black, red, yellow, tan, speckled - simmered in terracotta "cazuelas" over charcoal braziers; corn dumplings wrapped in corn husks were steamed in underground pits and crushed corn was mixed with lime and made into fragrant pancakes, often more than a foot in diameter: tortillas. And in the royal court, a dark, fragrant drink was served in golden goblets: xocolatl, the Aztecs' "food of the gods".
Just as many Mexican foodstuffs crossed the Atlantic aboard Spanish galleons and were thereby introduced to Europe, so too did ingredients make their way back in the opposite direction. Numerous fundamental elements of the Mexican cuisine of today have only arrived in the last five hundred years. For example, there were few domesticated animals in Mexico before the Conquest: no chickens or their nutritious eggs, no cattle and therefore no milk, butter or cheese; and most importantly, no pigs, and therefore no cooking fat – boiling, steaming and baking on a hot griddle were the main methods of cooking. With the arrival of the pig and its rich, tasty lard, frying became possible and this is still one of the cornerstones of true Mexican cooking, particularly since the Spanish olive trees did not flourish in their new habitat and cooking oil was scarce.
Spanish mission © Philip Hood
Other important additions to the Mexican larder were sugar, wheat and rice, onions and garlic, almonds and sesame seeds, citrus fruit and spices like cumin, pepper, cloves and cinnamon. Grapes also landed on Mexican shores, but like the olive trees, they did not do well and the Spanish settlers were thereby deprived of their favourite drink, wine! Dried grapes, however, in the form of raisins, did make a place for themselves in Mexican dishes, both savoury and sweet.
These post-Hispanic imports, culinary and gastronomic invaders, were willingly assimilated by the native population, and having settled themselves quickly and easily into the fields and the culture, they attached themselves to the indigenous "root stocks" and built the foundations of modern Mexican cuisine, which can be described as "mestiza" or "créole": the identity of real Mexican cuisine in the 21st century lies in the fusion of its historic roots, diverse indigenous civilisations and pre-Hispanic ingredients, traditions and cooking methods, with the contributions of the various immigrants who have made their way to Mexico since 1521, bringing with them the foods of their homelands.
During the years following the Conquest, these "immigrants" included Spanish nuns who were to exert an immeasurable influence on the development of Mexican cooking and the creation of the cocina mexicana mestiza. In the gardens of their convents, they planted seeds from their own country alongside the local crops; and in their crucial role as cooks, they learned to use the "New World" foods and combine them with their "Old World" foods, to cook Mexican ingredients by Spanish methods, to adapt their own recipes to their new environment, and to create dishes from whatever was available. Furthermore, they were assisted in their kitchen tasks by Mexican girls who both taught them and learned from them, and carried their expanded knowledge, the new ingredients and the "mestizo" dishes to the wider population.
The following recipe for a dish of rice flavoured with tomato is a speciality of the state of Veracruz and an excellent example of the fusion of Old and New World ingredients in Mexican cuisine. It is usually served on its own, as a separate course, but it is also delicious with tacos, roast chicken, grilled fish, or topped with a fried egg.
RICE IN THE STYLE OF VERACRUZ - ARROZ A LA VERACRUZANA
Serves 4
400 g/14 oz tomatoes
30 ml/2 tbsp olive oil
125 g/4 1/2 oz onions, peeled and coarsely chopped
1 garlic clove, peeled and finely sliced
1 hot red chilli, deseeded and finely sliced
2 bay leaves
200 g/7 oz carrots, scrubbed and diced
150 g/5 oz brown basmati rice
5 ml/1 tsp bouillon powder
5 ml/1 tsp salt
400 ml/14 fl oz boiling water
125 g/4 1/2 oz frozen peas, defrosted
Purée the tomatoes in a blender or food processor until smooth.
Heat the olive oil in a medium saucepan, add the onions, garlic and chilli and cook gently, stirring occasionally, until soft and just starting to brown. Stir in the bay leaves, carrots and rice and cook for a further 5 minutes. Add the bouillon, salt and tomato purée, and pour in the boiling water. Give it all a good stir, bring back to the boil and turn the heat right down. Cover the pan and cook undisturbed for 50 minutes to 1 hour, until the rice is tender and has absorbed all the liquid.
Remove from the heat and add the peas. Stir the rice gently with a skewer, cover the pan again and leave to rest for 10 minutes.
Stir once more with the skewer and serve immediately.
Buén provecho!
You Should Also Read:
Safeguarding Mexico's Historical Cuisine
UNESCO and the Cuisine of Mexico
Veracruz - Arroz a la Tumbada


Related Articles
Editor's Picks Articles
Top Ten Articles
Previous Features
Site Map





Content copyright © 2022 by Isabel Hood. All rights reserved.
This content was written by Isabel Hood. If you wish to use this content in any manner, you need written permission. Contact Mickey Marquez for details.