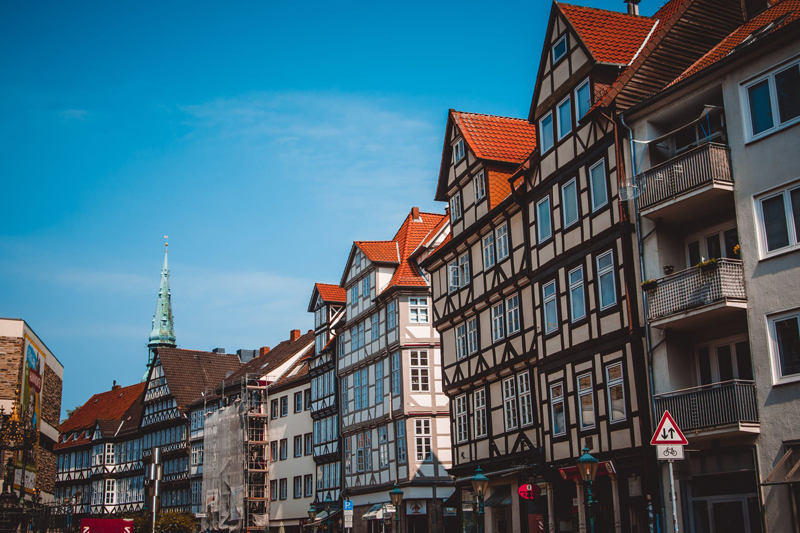 German Culture Information
A German Three Kings Day Cake Recipe


Dreikoenigstag, Three Kings Day or Epiphany, signals the end of the Christmas season and in Germany one of the many traditions for the day is a Three King´s Cake, and the crowning of whoever finds the figure of the Christkind, or a dried white bean, in their portion.
A St. Martin´s Day Weckmann, A Bread Man Recipe


Neither a German St. Martins Day, Martinstag, nor a Sankt Nikolaus, St. Nicholas, celebration would be complete without having bought or baked the traditional sweet yeast dough Bread Man, known as a Weckmann, Nikolaus, Klausenmann or Stutenkerl depending upon the region and the celebration.
Favorite German Christmas Cookie Recipes


Vanilla Crescents and Cinnamon Stars are two of the most popular Weihnachts plaetzen, the traditional Holiday Cookies that are a central, and indispensable, part of Germany´s Christmas culture.
Federweisser, Zwiebelkuchen and Treberwurst


The Federweisser wine season is as short-lived as the yearly harvest, but the traditional accompaniments, such as the rich onion pie ´Zwiebelkuchen´ and ´Treberwurst´, sausages marinaded with grapes and then fried, can be tried at any time of the year.
Feuerzangenbowle, a Traditional Hot Punch Recipe


Germany´s Feuerzangenbowle, Flaming Fire Tongs Punch, made with red wine, rum and sugar flambe, is a traditional New Year´s drink and a winter and seasonal favourite.
German Cold Weather and Holiday Drink Recipes


Gluehwein and Christmas in Germany are a timeless festive combination, but a traditional warming winter drink is a major ingredient of Germany´s cold weather season and not only during the Weihnachten celebrations. From Gluehwein to Pharisaeer, rum, cream and coffee, there are many to try.
German Struwen, A Fried Yeast Pancake Recipe


They are enjoyed throughout the year now, but mouths still water on Good Friday in Muensterland where for generations it has been the tradition to serve Struwen, fried yeast pancakes, on Karfreitag. Few Muenserland Tables would be without a plate of them on a Good Friday.
Maibowle, Woodruff Punch Recipes


A glass of May Punch, Maibowle, made from fresh Sweet Woodruff and white wine, is a popular May time tradition in Germany, joining the Maypoles, Walpurgisnacht and other annual festivals and celebrations. During its brief season it is an ideal beverage for those warm spring evenings.
Pumpkin Potato Pancake, a Rieberkuchen Recipe


Pumpkin left over and no idea what to do with it? Pumpkin Potato Pancakes, (Kurbis Kartoffelpuffer), the traditional German Rieberkuchen with pumpkin added, and Kurbis Schaumsuppe, a Frothy Pumpkin Soup, are two recipes that will use up any extra pumpkin flesh and become family favourites.
Roast Goose, Red Cabbage and Dumpling Recipes


Koelner Martinsgans is a delicious St. Martin´s Goose speciality from Cologne. A meal to be enjoyed at any time, not only on St. Martin´s Day November 11th, it also appears at Christmas and New Year´s Eve. With its traditional accompaniments, Red Cabbage and Dumplings, here are the recipes.
Speculaas, the Original Airline Cookie Recipe


Speculaas are caramelized cookies which are to be found everywhere in Germany, from accompanying that cup of coffee at the hair stylists to a pavement cafe. But they have been part of the St. Nicholas and Christmas holiday traditions for centuries, long before they became known for Biscoff.
Speculoos Spread, Cookie and Spice Mix Recipes


Speculaas started as a Christmas specialty, but both they and their paste, a popular alternative to peanut butter and chocolate spread with the German young, and not so young, have become year round favorites. And sure to become a favorite with you. Here are recipes for quick and easy cookie, the spread and a ´ready to use´ spice mix.
Speculoos, Spread and Spice Mix Recipes


Once a special Christmas cookie, Speculaas and a paste made with the crushed cookies, are year round favorites. Here are recipes for a quick and easy Cookie, the Spread, which is a popular alternative to peanut butter and chocolate spread, and a "Ready To Use" Spice Mix.
Traditional German Caramelized Almonds Recipes


Gebrannte Mandeln are delicious candied almonds that can, and are, eaten at any time, freshly made and bought from festival or street side stalls, or at home with these two authentic recipes. While at Christmas, Weihnachtsmaerkte, Gluehwein and Caramelized Almonds are an unbeatable combination.
Traditional German Christmas Cookie Recipes


Baking Weihnachts Plaetzchen is just one of Germany's centuries old traditional Christmas customs. Holiday cookie recipes vary from region to region and family to family, but during advent, even amongst those who do not follow the Christian faith, few homes will be without a plate of plaetzchen.
Editor's Picks Articles
Top Ten Articles
Previous Features
Site Map
Content copyright © 2018 by . All rights reserved.
This content was written by . If you wish to use this content in any manner, you need written permission.
Contact BellaOnline Administration for details.