Ferrets - Training Ferrets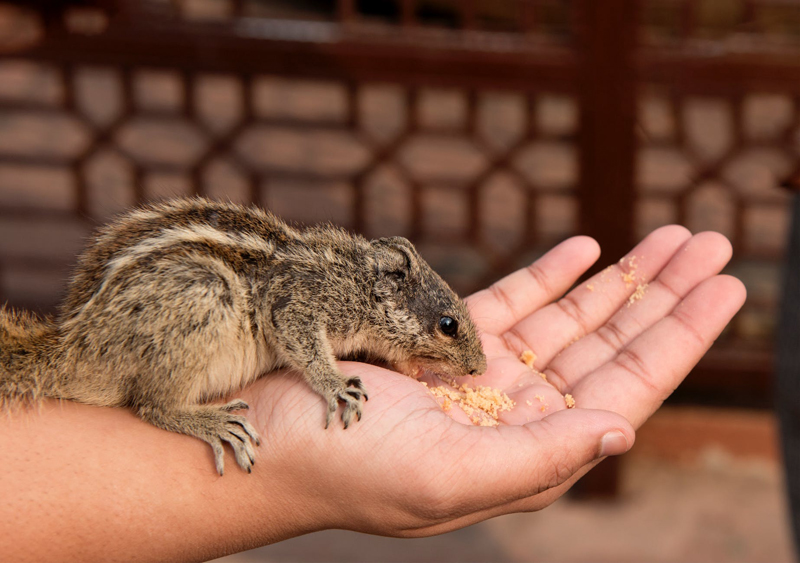 Some people don't think training ferrets or polecats is even possible, I differ on that opinion, – and they are very willing to please you… Training ferrets is quite similar to training dogs or even training a whale.
The key to training any animal is patience, consistency, and most of all training in a positive manner, no punishments. For example, if you see the ferret using the litter box, praise him or her vocally and give him or her a tasty treat. If you catch the ferret or pole cat backing into a corner to do their duty, pick the ferret up, using a firm no, place the ferret in the litter box. At this point, if the ferret does their duty, use a praise and treat reinforcement.
It is a good idea to start a new ferret and/or baby ferret (kit) out in a confined space with a litter box in a corner. Ferrets will always use a corner or corner of an area to eliminate.
One pet ferret litter training mistake people make is cleaning the litter box completely. If there is no feces or urine odor the ferret will think it isn't suppose to eliminate in the box. Always save a bit of feces and a small clump of urine soaked litter to place in the clean litter box.
Another reason ferrets don't use their litter box is because some people are to lazy to scoop the box on a daily basis. I wouldn't want to stand and have waste materials squishing between my toes either. Nor, would I want to stand there smelling the awful odor and neither does your ferret. It takes but a minute, keep the litter boxes clean.
Ferrets do have a tendency to forget occasionally. As they get better at using the litter box you can increase the size of the confined area. As their play area increases and you notice a corner they have started to use to eliminate, put in another litter box.
Sometimes they get in a big hurry. They will back up to their litter box, stop short of it and squat with their little behinds up in the air missing the litter box entirely. I bought plastic carpet protectors and placed a good size square under the litter box where a portion sticks out on all sides.
Ferrets nip each other in play, its natural behavior but it is an unwanted behavior when they are playing with their human family. If they nip or bite you do not punish them. Immediately stop playing with them, with a firm no, and walk away. They are such social, intelligent exotic pets; it doesn't take long at all for them to realize nipping is an unwanted behavior. Hitting a ferret or flicking a ferret on the nose will only cause the ferret to fear you, you are reinforcing a bad behavior and that biting will continue and become worst.
When playing CAVE, ferrets are inclined to nip, this is a natural tendency because they lived in holes/caves. They are protecting their homes.
One of the first things you will want to teach your ferret is to come when called. This is for your ferret's safety. At the beginning, if you have multiple ferrets, you are basically teaching all of them to come to you.
I use vitamin oil (Ferret Tone Skin & Coat Supplement) as a treat, put a drop on your finger, and make a noise by shaking the bottle (a noise that they will consistently recognize). When it comes to award time they will lick the oil off your finger. This also reinforces the bonding process. Other people will use ferret meat treats. These meat treats usually come in a foil-like bag. Shake the bag to associate the noise with the treat. My ferrets hate anything but their own food and vitamin supplements. Except if they get a chance to get at our cat's food (that's stealing and a ferret thing). When they hear the bottles shake or bag rattle the ferrets will come running; unless they are in a ferret coma sleep. Ferrets can sleep so soundly their heart rate slows to near nothing. They can appear dead.
It doesn't take long for the praise and their willingness to please you then you can train your ferret or ferrets to do most anything a ferret is capable of doing, from rolling over, or standing erect on command; teaching ferrets tricks!
When our ferrets go back to their cage after playtime, they each have an individual bowl in their cage with their vitamin supplements. It's cute, because each bowl has their name on it. When someone is visiting, and watch each ferret head for their own bowl, I get some rather amused looks. The truth is, at first, each ferret was placed next to her own dish, over time it just became habit.
Training is simple positive reinforcement. It works with nearly every animal. Never punish physically or emotionally, your ferret or ferrets will never trust you.
As always, learn as much as you can about a pet before you obtain a pet. Ferrets are wonderful pets for the right individual. Never leave children or pets unsupervised!
Look under subjects on the Exotic Pets main page and find ferrets for sale and ferret breeders.
Diana Geiger Exotic Pets Editor
on
Join Exotic Pets Bellaonline on Facebook and Twitter - be sure to click the "like"
Exotic Pets Facebook
Exotic Pets @ Twitter
A series about ferret care from proper nutritional needs, playing, toys, equipment, ferret supplies, personalities, training ferrets, baby kits (baby ferrets), ferret care, breeding ferrets, death and euthanasia and much more!
***
Ferrets
***
Baby Ferrets
***
Breeding Ferrets
***
Ferret Training
***
Pet Ferrets
***
Ferrets and California
***
Ferret Supplies
***
Euthanasia Our Little Ferret has Died
***
Ferrets Adrenal Disease or Shedding
***
Ferret Helps Disabled Man
***
Ferret Clothing
Ferrets: A Complete Guide available in paperback and Kindle. By Diana Geiger (me:) Five star reviews!
Ferrets: A Complete Guide - Paperback
Ferrets: A Complete Guide - Kindle
PDF Version Ferrets: A Complete Guide (Access to free PDF Reader)
Ferrets: A Complete Guide
8 in 1 FerreTone Skin And Coat Supplement 8 oz
This site needs an editor - click to learn more!

You Should Also Read:
Exotic Pet Site Map
Ferrets - A Complete Guide Paperback and Kindle
Exotic Pet Shopping (the safest for your pets)




Related Articles
Editor's Picks Articles
Top Ten Articles
Previous Features
Site Map





Content copyright © 2022 by Diana Geiger. All rights reserved.
This content was written by Diana Geiger. If you wish to use this content in any manner, you need written permission. Contact BellaOnline Administration for details.