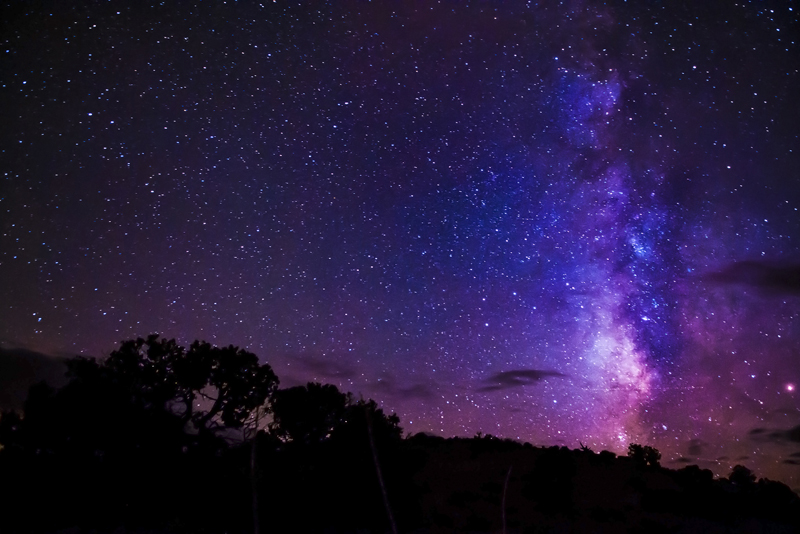 The heart of the Solar System and what sustains life, the Sun is our star. It interacts with the Earth in many ways.
ABC of Astronomy - F Is for Fusion


The Sun is more than just a ball of burning gas. It's also a giant nuclear reactor. Find out about the fusion that supplies the energy to support life on Earth, and the solar flares that can disrupt it. Intense magnetic fields create sunspots and faculae, and suspend filaments a million miles long.
ABC of Astronomy – B Is for Bok Globule


B is for Bok globule, a kind of dark nebula studied by Bart Bok. B is for Bayer who invented a handy system of star designations beginning with a Greek letter. And B is for Baily´s beads. You won´t find them in a jewelry shop, but you might see them in a solar eclipse, as Francis Baily did.
ABC of Astronomy – C Is for Cosmic Rays


Hundreds of cosmic rays zip through your body every minute. They´re a danger to astronauts, and may damage the electronics of satellites and spacecraft. Some aren´t cosmic, none are rays, and a few seem to be impossible. What are they and where do they come from?
Absolute Beginners - Observing the Sun


Study the Sun, but treat it with respect! Protect your eyes and use equipment with care, and you can count sunspots and see solar eclipses and transits. Or from the the comfort of your living room your computer will let you see space telescope images of solar flares, prominences and maybe a comet.
Astrofest 2014


"The Universe comes to London," read the banner on the courtyard wall of the Kensington Conference and Events Centre. Images of the Universe, people who study it, ideas about how it works, and equipment for seeing it occupied the center for the two days of European Astrofest 2014.
Astronomy Photographer of the Year 2014


There´s a serene aurora, both a violent Sun and an eclipsed one, a stellar nursery and a stellar graveyard, and many more superb pictures. The Astronomy Photographer of the Year 2014 winners were announced in September and you can see all of them.
Aurorae - Polar Light Shows


There's a glow on the northern horizon. The Sun set hours ago and there are no city lights there. You could be seeing nature's great polar light show - an aurora. It's most likely if you're fairly far north or south, but a solar storm may include mid-latitudes too.
Carrington Event – Biggest Solar Storm on Record


Dazzling aurorae filled the skies. Birds thought it was morning, people thought the world was ending. The telegraph didn't work. But strangely, sometimes the telegraph operators could send messages without a power supply. This was the Carrington Event, the biggest solar storm ever recorded.
Einstein´s Eclipse


While World War I was tearing Europe apart in 1915, a German physicist presented a theory that would shake up the way we see the Universe. The physicist was Albert Einstein, his face still unknown to the world, his name not yet a synonym for genius. How did a solar eclipse in 1919 change all that?
Four Historic Eclipses


An empire lost, an empire saved, lives lost, lives saved. Read about some unexpected outcomes of solar and lunar eclipses.
Galactic Winter Games


Welcome to the Galactic Winter Games, a starry tribute to Earth´s Winter Olympic Games. It´s a tour of some really cool cosmic sights – as well as some hot ones, such as one of the biggest explosions in the Universe.
How the Sun Was Born – Facts for Kids


The Sun didn´t exist five billion years ago. But the material to make it did. There was even enough to make a number of stars and still have material left over for planets, moons and other small bodies. What was this material, and how did it end up as stars and planets?
How the Sun Will Die - Facts for Kids


The Sun was born in a nebula five billion years ago. It´s going to keep going for another few billion years, but it won´t last forever. Here´s the story of what happens to a sunlike star when it runs out of fuel. And some of it is very strange.
Hurtigruten - Seeing the Northern Lights


What would it be like to take an astronomy tour on the Hurtigruten? Here is an account of some of the highlights of a trip around the coast of Norway in search of the northern lights. We heard stories of the constellations and then found them in the sky. And one night we saw the aurora dancing.
Kew Observatory


An observatory that a king built to watch the 1769 transit of Venus. The place where official time for London used to be set. Where a murderer was sometimes in attendance when the King walked in the gardens. Find out about the history of Kew Observatory.
Life and Death of the Sun


In the distant future the Sun will be many times its present size and thousands of times brighter. It will seed the Galaxy with elements like carbon and oxygen–perhaps for life on a world yet unborn. Then it will collapse into a tiny dead sphere. For a time, a beautiful nebula will mark its place.
Northern Lights Planetarium


Tromso, far to the north of Norway, attracts summer visitors to see the midnight sun and winter visitors to see the aurora borealis. The Northern Lights Planetarium is the northernmost planetarium in the world. It´s worth a visit at anytime, but extra welcome if it´s too cloudy to see the sky.
Our Explosive Sun - book review


The Sun is the star of the Solar System and makes life on Earth possible. But it's also a danger to our technological civilization. Learn all about our fascinating star in the beautifully illustrated "Our Explosive Sun."
Saint Patrick´s Day – Wearing the Cosmic Green


Saint Patrick´s Day is associated with the shamrock and the color green. Although there don´t seem to be any cosmic shamrocks, there are many green phenomena in the skies. Discover a beautiful green nebula, what excites electrons and why con men sold "comet pills".
Solar Eclipses


Is it an ill omen, an amazing or terrifying experience, or a great opportunity for scientists? Solar eclipses have been all of these things and more. Read on to find out what it´s all about.
Tales of the Northern Lights


The aurora is an ethereal, shifting light in the northern sky and is associated with many tales and beliefs. It can look like the dawn, so Galileo named it after Aurora goddess of the dawn. It has reminded others of dragons, spirits, dancers, shield maidens, herrings or the legendary fire fox.
Teaching Why We Have Day and Night


Why do we have day and night? For thousands of years most people thought it was because the Sun went around the Earth. That is certainly what it looks like, so how can you explain that day and night happen because the earth spins on its axis? Here are some ideas.
The Sun - Facts for Kids


The Sun is a star and it´s a big one. It´s bigger than 90% of the other stars in the Milky Way and contains almost all of the mass of the whole Solar System. Find out more about the star that makes life on Earth possible.
Top Astronomy Stories 2012


What were the big astronomy stories of the year 2012? Here is my choice of the top ten plus a non-story. What do you think?
Top Ten Astronomy Stories of 2013


What were the big astronomy events of 2013? Here are my top ten choices and they include a big bang over Russia, a Moon goddess and Jade Rabbit, a telescope in the high Andean desert to look for the first galaxies and the launch one of the most ambitious space missions ever.
Voyager 1 – the First Starship


Has Voyager 1 finally left the Solar System? No, that won´t happen for tens of thousands of years. But it has left the bubble that the solar wind makes in space. The spacecraft is in the space between the stars, moving through a plasma made from ancient supernova explosions.
What Is Space Weather


Everybody knows what weather is - sun, rain, wind, cloud, etc. Although there's no atmosphere in space, space weather can endanger astronauts, and in our technological world, a severe solar storm could affect everybody. So what is space weather?
Why planets have seasons


For people living outside the tropics, June 21st is the longest or shortest day of the year, a solstice. It marks the first day of summer in the northern hemisphere and winter in the southern hemisphere. But why do we have seasons? And do other planets have them?
Editor's Picks Articles
Top Ten Articles
Previous Features
Site Map
Content copyright © 2018 by . All rights reserved.
This content was written by . If you wish to use this content in any manner, you need written permission.
Contact Mona Evans for details.