Mexican Antojitos - Tostadas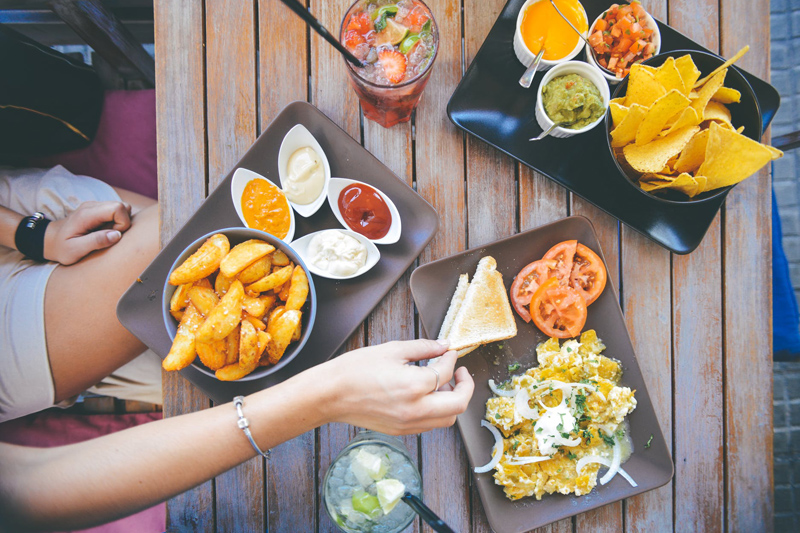 "Tostar" means to toast or to brown, and in the case of the Mexican tostada, it is the corn tortilla which undergoes the toasting process until it becomes golden, crisp and sturdy enough to support a topping. Nowadays the tortilla is actually fried, but in pre-Hispanic times, before cooking in fat – specifically pork lard - became a traditional method in Mexican food preparation, it is likely that the tortilla was merely toasted on a dry griddle or "comal" until it dried out and hardened. It was then ready to be crowned with a richly flavoured "mole" perhaps, or a dense stew of beans, or a mixture of squashes and tomatoes simmered until thick.
Tostadas are rather like an open sandwich: a crisp, crunchy tortilla topped with anything from refried beans to smoked tuna and halibut, shredded pork and chicken to scrambled eggs with chorizo. Restaurant chefs add stylish, modern touches, while street cooks impart their natural flair to simpler, more typical combinations. As with most Mexican antojitos, the topping is up to the cook, how imaginative or traditional he or she is, what is in season and available at the market that very morning, what left-overs there are in the refrigerator – so long as there is a toasted tortilla underneath, it is a tostada.
One of the tostada's hallmarks – and greatest charms - is that the topping tends to be layered: a tostada is constructed brick by brick, as ingredients are stacked one on top of the other. They almost never consist of just shredded pork or roasted vegetables or refried beans. The beans may feature on the first level, for instance, and be followed by some shredded lettuce. The third level could be coarsely mashed avocado, and the fourth thinly sliced tomatoes. A sprinkling of cheese and then a drizzle of sour cream finish the whole thing off, making six different strata on one tostada - which leads me to the dangers inherent in actually eating it!
Once the thin, crisp tortilla has had all these separate – and moist - elements piled on to it, it is a matter of minutes before the stress and weight overwhelm it and the whole tostada collapses onto the plate if you are lucky, into your lap if you are not. Tostadas are finger food at their most perilous and need to be eaten as soon as they are made. There is no really foolproof tostada technique, but I find that the best strategy is to hold the edges with your thumb and index finger and use your remaining fingers to support the underside, thereby giving the tostada some stability and you a chance to eat it without making too much of a mess. And rather than trying to make several tostadas at once, gather all the different elements together on the table and make one, eat one – if there are several of you, let everyone make their own.
Packets of tostadas are available in supermarkets but they tend to be hard and tough rather than crisp and crunchy, and since they are deep-fried, they are not a particularly healthy option. It is easy to make your own, and as you will see in the following recipe, they can be cooked in the oven rather than fried.
Camarones © Philip Hood
Prawn and avocado tostadas – Tostadas de camarón
Serves 4
4 corn tortillas
15 ml/1 tbsp vegetable oil
2 ripe avocadoes
50 g/2 oz red onions, peeled and finely chopped
1 garlic clove, peeled and crushed
1 red chilli, deseeded and finely sliced
60 ml/4 tbsp olive oil
1 lime, juiced
125 g/5 oz cherry tomatoes, quartered
300 g/10 oz raw shelled tiger or king prawn tails/shrimp, deveined
4 large Cos or Romaine lettuce leaves, shredded
125 g/5 oz queso fresco, Feta cheese or ricotta salata cheese, crumbled
15 g/1/2 oz fresh coriander/cilantro, coarsely chopped
Sea salt and freshly ground black pepper
Preheat the oven to 200oC/400oF/gas 6/fan oven 180oC. Spread the tortillas out on a baking tray and brush both sides with the vegetable oil. Bake them in the oven for about 10 minutes, until they are light gold and crisp.
Peel and stone the avocadoes and mash them coarsely in a bowl. Stir in the onions, garlic, chilli, 2 tbsp of olive oil and about 1 tbsp of lime juice. Gently fold in the tomatoes. Set aside while you cook the prawns.
Heat the remaining olive oil in a heavy frying pan over medium heat and when it starts to shimmer, add the prawns and some seasoning. Stir-fry briskly until the prawns just turn pink. Remove from the heat.
Season the avocado mixture and check the acidity, adding more lime juice if it tastes a bit flat.
Place the four tostadas on plates and spread with the avocado. Top with the lettuce and then the prawns. Sprinkle with cheese and finally coriander.
Serve immediately.
Buén provecho!
You Should Also Read:
Antojitos, the Street Food of Mexico
Mexican antojitos - Tacos
Avocado, pear of the Indies


Related Articles
Editor's Picks Articles
Top Ten Articles
Previous Features
Site Map





Content copyright © 2022 by Isabel Hood. All rights reserved.
This content was written by Isabel Hood. If you wish to use this content in any manner, you need written permission. Contact Mickey Marquez for details.