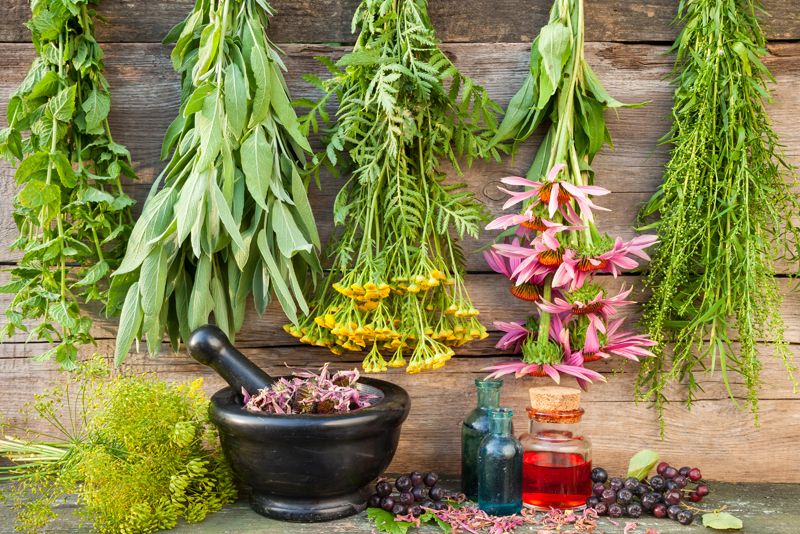 With the warm season is upon us, everyone is eager to get outside planting their garden. But what if you are one of those who are limited for space or don't have a back yard? The solution is quite simple, have an indoor garden where you can enjoy your herbs year round!

Growing herbs indoors can be immensely rewarding. Having a herb indoor garden not only is great for having the plants on hand to add to your cooking, but they cleanse the air and also give you emotional well-being.

You need to pick the right herbs for the area you have and the type of garden you are wanting. For example, some people want cooking herbs while others prefer a medicinal garden. You could be adventurous and grow both! Smaller containers and pots require herbs such as Angelica, Basil, Chamomile, Chives, Dill, Fennel, Geranium, Lavender, Mint, Oregano, Parsley, Rosemary, Sage, and Thyme. If you have a balcony or large room where you can have bigger growing containers, you could add Dill and Coriander to your list. Be sure to do your homework and find what herb is best suited to your growing conditions. A minimum sized pot of 5" in required for any herb.

Your goal with herbs (and most plants) is to let them get at least 18 hours of light, with at least eight hours of direct or artificial light. This part is crucial for a good harvest. Some herbs, such as basil and cilantro (my favourite for salsa) need a bit more light than others which is eight hours or more each day.

The next condition you need to work on is the soil. This is important as some herbs grow better in poor soil quality and will increase better flavour in the plant itself. It is the essential oils in herbs that add flavour to your dishes. Again, basil grows better without the pampering of fertilization and nutrient rich soil. This allows the herb to grow more slowly and become better developed.

You can purchase premixed soil from your local garden centre or mix your own so that the soil has just the right amount of nutrients to establish the plants and nuture their growth. You can try mixing 2 parts coconut fibre compost to 1 part perlite, and then add 20 percent worm castings. Also try including a tablespoon of kelp or fish meal for each gallon of soil to add beneficial micro-organisms and feed your plants.

Watering is always an issue. You either over or under water. One way is to touch the surface of the soil, if it feels dry, give your plant a drink. You can try lifting the pot or container, if it is heavy, it has enough..lighter, it needs something to drink. Herbs tend to like having well drained soil, so be sure to have holes or a hole in the bottom so that extra moisture can draw off. Placing rocks or stones in the bottom can also help. Never over water!

As soon as the herbs have grown enough leaves to be pinched without disturbing their growth, you can begin using some of the herbs for your recipes which typically takes about 4 to 6 weeks, depending on the herbs. Herbs like basil are at their best when harvested before flowers open.

Once your herbs are growing, don't be afraid to snip and use them, trimming them like that actually encourages full, bushy, healthy growth!
Please always do your research and consult with your physician, naturopath, or health care provider before taking any home remedies or supplements or following any treatment suggested on this page. Only your health care provider, personal physician, or naturopath can provide you with advice on what is safe and effective for your unique needs or to diagnose your particular medical issue.



Related Articles
Editor's Picks Articles
Top Ten Articles
Previous Features
Site Map





Content copyright © 2023 by Bettina Thomas-Smith. All rights reserved.
This content was written by Bettina Thomas-Smith. If you wish to use this content in any manner, you need written permission. Contact Bettina Thomas-Smith for details.