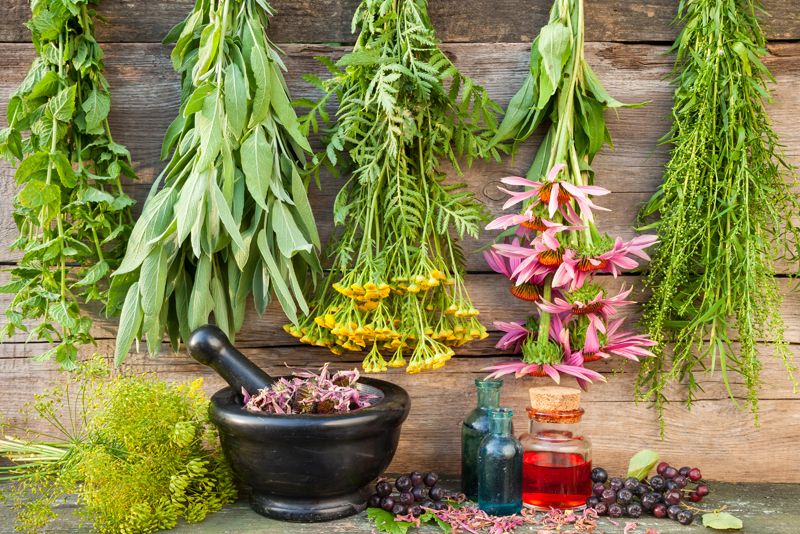 Herbs that can be used for a variety of applications - medicinal and non-medicinal. ie)bug repellents for both human and pets, cold & flu season, ailments, etc.
Calendula - Europe's "Wonder Flower"


With its bright orange and sunny yellow flowers calendula has been used for centuries because of its healing properties. This beautiful flower is so renowned for its medicinal powers it can be found in virtually every medicine cabinet. Why not see what it can do for you!
Echinacea


Once of the most popular herbs in North America and has been used by Native Americans for over 400 years as a cure-all. Echinacea, or purple cone flower is an herbal supplement that we personally have called our flu shot for the upcoming winter season. See why it should be yours!
Grow Your Own Medicine


With spring around the corner you can turn every day meals to health boosting wonder meals. How do you do this? Just add herbs! These tasty plants are easy to grow in your garden or indoors, and can be as powerful as those prescription drugs (without the side effects)!
Herbal Brews


Whether it is hot or cold, tea alone has huge antioxidant properties. Mix teas with herbs and you have a wallop of goodness that no vitamin can compete with. Try out these different recipes and see which one quenches your thirst!
Herbal Sunburn Spray


When you have spent the day in the sun, sunburn relief is foremost on your mind. Here are some ideas for a soothing spray, that cools your skin with herbs.
Herbal Throat Remedies


It seems that this is the time of year when the flu, colds, coughs and sore throats are more prevalent. There is nothing worse than having a sore throat, it hurts to talk, laugh and swallow. Herbs can help. These lovely plants can help sooth your irritation and heal the inflammation quickly.
Herbs for a Sore Throat


What do you take for that bothersome sore throat? Is there an herbal remedy that will provide relief?
Herbs for Hair Loss


It seems that we're bombarded with products that make us look younger, healthier, reverse aging, stop hair loss, etc. The choices are overwhelming, but in reality what works? Losing hair is stressful, so here is a look at what options we have to stopping hair loss and stimulating new growth.
How To Make Coughdrops


This is a good time to make cough drops. Great for cold and flu season on its way. These drops are easy to make with common ingredients. Why buy cough drops when you can make your own?
Lyme Disease


Every summer when the weather heats up we encounter bugs…or more importantly Wood Ticks. Ticks are external parasites that live off the blood of mammals, birds and humans. Here is how you can prevent and take care of yourself should you have a close encounter with the eight legged parasite.
Top 10 Herbs For A Bug Free Summer


With the arrival of summer, so comes those dreaded gnats, flies and mosquitoes. Don't worry, this year fight back with herbs from your garden and pantry. Simple solutions that have great impact on the bugs, but not on the environment.
Editor's Picks Articles
Top Ten Articles
Previous Features
Site Map
Content copyright © 2018 by . All rights reserved.
This content was written by . If you wish to use this content in any manner, you need written permission.
Contact Bettina Thomas-Smith for details.