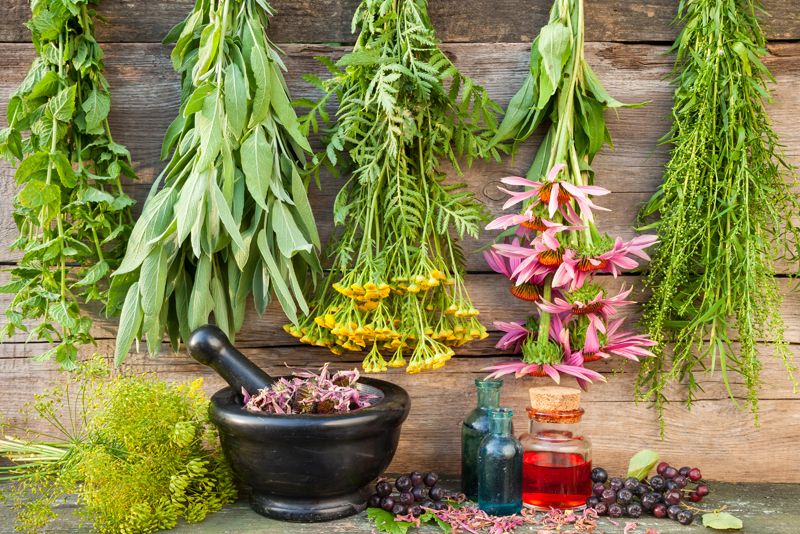 Used for centuries, herbs have powerful properties that can promote health, healing and wellness. Always check with your naturopath and/or doctor first before trying any herbal remedy.
7 Herbs That Can Help You Cope With Stress


Are you stressed to the max? Is day-to-day activities wearing on your last nerve? If you are finding you can't seem to cope like you used to, try these wonderful herbs that can bring some calm and order back to your world.
A Little Holiday Rest


This holiday season, with the hustle & bustle of Christmas shopping, get-togethers, eating, drinking & being merry, our bodies take quite the beating & we all handle stress different ways. From sleeplessness, to irritability taking time to look after yourself should be on your "to do" checklists.
A, B and C of Herbs


There are three herbs that I thought would be a great addition to anyone's medicine cabinet. They are beneficial for cuts, scrapes, cough, aches and pains, arthritis, your digestion, blood and even your heart. Who could have knows these three herbs could do so much?
Aloe Vera Soothes Burns


The gel inside the plump leaves of the aloe vera soothes burns, including sunburn.
Anti-aging Dandelions


While most consider dandelions a weed that needs to be demolished, the majority of the public aren't considering the huge health benefit this herb has to our overall health. Next time you consider killing this beneficial plant, try adding it to your daily diet instead, you might be surprised.
Anti-Aging Herbs


With most of us living longer these days, we need to stay as healthy and active as we can. Good news is we can arm ourselves with herbs that fight every aspect of the aging process and may indeed reverse those dreaded years that have crept up on us.
Aromatherapy and the Treatment Methods


Aromatherapy treatments can be experienced in several effective ways.
Aromatherapy for the Elderly


Essential oils and herbs are a wonderful way to provide comfort for your elderly loved one.
Changes to Make You Healthier in the New Year


A few simple tips for changing your life to a healthier path.
Changes to Make You Healthier in the New Year


A few simple tips for changing your life to a healthier path.
Dandelions for Healing and in your Diet


Dandelion - Taraxacum officinale (Other names: Priest´s Crown, Blow-Ball and Swine´s Snout.)Should you remove it or use it?
Depression Hurts But Herbs Can Help


In the US alone, it is estimated that 1 in 10 have depression, with the majority being women between the ages of 40-65 years of age. Do your homework, learn all you can about antidepressants and herbal alternatives so you can make and informed decision on what course of action is best for you.
Fertility Herbs


If you are among the 6.1 million women in the Unites States, between the age of 15 to 44 years old, and are having difficulty getting/staying pregnant, you aren't alone. Introducing herbs to your diet might just be the answer that can increase your chances of bringing home that baby you desire.
Five Immortality Herbs


It seems that we all want to live longer. We do everything we can to look better…exercise, eating right, even cosmetic surgery to turn back the clock. But what if your "pill" so-to-speak was growing in your garden? Check out these five herbs that can help!
Gotta Have Heart


We get up each day, go about our usual routines and for the most part forget about the most important thing,our heart. We assume it is going to keep beating, but with stress factors, junk food, sedentary lifestyles & smoking, our hearts are slowly deteriorating. Start now to make a difference!
Hangover Herbs


With the get-togethers, over-eating, over-drinking and being generally a little too merry, our bodies take quite the beating. Why not try some of these great herbs to ease the holiday pressure and alleviate some health issues associated with this great time of year.
Healing Herbs of Tuscany


The Italian region of Tuscany is famous for its outstanding cuisine thanks to their local herbs. These herbs are packed with so many antioxidants they are among nature's most powerful immune system boosters and you don't even have to travel to Rome to reap the benefits.
Herbal Adaptogens


There are so many stresses that are bodies encounter daily. Stress comes in all shapes and styles. It causes our bodies to be vulnerable. Herbal adaptogens are being sought after by many to help the human body adapt to the stresses of everyday life.
Herbal Allergy Relief


Are you affected with seasonal allergies? Are you looking for a natural remedy? Take a look at what herbs can do for you this spring.
Herbal Anti-Inflammatories


Young or old, injured or not, inflammation can occur in any part of your body at any time.With many herbs & spices having the same effect as ibuprofen, aspirin & even naproxen, we can choose to see what other remedies might be out there. Check out these herbs & see what works best for you!
Herbal Anti-Spasmodics


Who has not had muscles cramps or muscles that spasm and cause discomfort? We all have. We have also turned to medications called anti-spasmodic medications. They relieve us of our pain and comfort us. Turning to herbal anti-spasmodics could be a healthier alternative.
Herbal Antioxidants


Everywhere you go you hear about antioxidants. They are beneficial to your body and come in a variety of health, natural ways including herbs. Several herbal antioxidants are available to protect your body.
Herbal Carminatives


Digestive discomfort can be very painful. It can be downright debilitating. Gas can cause pressure and even lead to nausea and further upset stomach. Herbal carminatives can help relieve the gas pain and give relieve to the digestive system.
Herbal Comfort


Did you know that Comfrey was known in medieval times as Knitbone–indicating its healing properties? It has been shown to heal fractures with amazing progress. You can add it to Olive Oil to make a salve to relieve pain, reduce bruises, stop insect bites and help with inflammation of Arthritis!
Herbal Cough Drops


There doesn't seem to be one place you go these days to hear that dreaded cough. Before you go racing to the pharmacy and load up on over the counter medicine, take a few minutes and make your own healthy and natural cough drops.
Herbal Demulcents


An irritated throat screams for relieve. Any time membranes are irritated we will do almost anything to ease the pain. Irritation of a mucous membrane demands the action of an herbal demulcent.
Herbal Digestion


Even though it is a topic you either don't talk about, or you laugh about we all do it. Some people pass wind and others sound like a sonic boom…any way you look at, it happens to the best of us. Some more than others, some more extreme than others. Try these herbal remedies to prevent gas today!
Herbal Expectorants


There is nothing worse than a nagging cough. Oh wait, yes there is! Having a cough with chest congestion is not only a big irritation, it is troublesome. That is where natural expectorants come in. Reach for natural expectorants instead, you will be relieved at what they can do.
Herbal Flash


If you are among the 50 million women suffering from hot flashes, night sweats, memory loss and fatigue you aren't alone. Here you will find a list of herbs that can help you cope with menopause.
Herbal Medicine


What do you think of when you hear "herbal medicine"? It is a phrase that gets tossed around a lot when discussions turn to herbs and ailments. What is so unique about herbal medicine? What makes it different from what you get at the drug store?
Herbal Pain Relief


Our lives today are extreme. We push ourselves to our furthermost limits on a daily basis and whether we realize it or not, it will catch up to us in one way or another. Pain is the number one problem faced by 75% of us today. Instead of reaching for those harsh pain killers, why not try herbs?
Herbal Solutions to Mouth Problems


Herbs are a great and effective way to help treat common mouth issues.
Herbal Stress Relief


If you are feeling a bit on the stressed side, why not take some time to look at the different herbal solutions? From nerve tonics to sedatives and demulcents, herbs can not only aleviate your symptoms, they can put you back on the right path to health!
Herbal Tonics


If you have ever read older books or watched old movies, you might have heard of someone taking their "tonic". Many were referring to herbal mixtures that they took on a regular basis for particular ailments or regions of the body. These were their herbal tonics.
Herbs and Drugs


Herbs are drugs. Too many people do not see this connection. Being "natural", herbs are usually considered so safe that any can be used at any time with no side effects. This belief could not be more wrong. Being uninformed could be harmful to your health and to your life.
Herbs for Circulatory Health


Your circulatory system is incredibly important to your overall health. You can boost its efficiency by taking a few herbal supplements.
Herbs for Digestive Health


Herbs can be a wonderful way to ensure great digestive health.
Herbs for Flu and Cold Season


With the holidays behind us and the winter in full swing, our immune systems are down and more susceptible to catching those nasty little bugs that creep up on us. Try turning to Mother Nature for natural herbal remedies this cold and flu season and be amazed what these great plants can do for you.
Herbs For Holiday Indigestion


This holiday season, with the hustle and bustle of Christmas shopping, get-togethers, eating, drinking and being generally merry, our bodies take quite the beating. Try some of these great herbs to alleviate some health issues associated with this wonderful time of year.
Herbs For Leukemia


It is estimated that 1,638,910 people will be diagnosed with cancer this year and that each of us will know or have someone we care about affected with this disease. Some of these leukemia alternatives include herbal and natural foods and supplements that are rich in antioxidants and vitamins.
Herbs for Pain Relief


Our lives today are extreme. We push ourselves to our furthermost limits on a daily basis and whether we realize it or not, it will catch up to us in one way or another. Pain is the number one problem faced by 75% of us today. Instead of reaching for those harsh pain killers, why not try herbs?
Herbs for PMS


Many herbal remedies are extremely successful for treating your PMS symptoms.
Herbs for the Holidays


As the holiday hustles and bustles peak up this season, it is important to keep yourself fit and healthy naturally, and you won't even need to purchase over the counter drugs to keep cozy in the coolness of the coming months. These healing herbs should keep you going this Christmas.
Holiday Spice Mixes For Your Health


Traditional herbs and spices for Christmas treats also have wonderful health benefits.
How Aromatherapy Works


The process of Aromatherapy is fascinating and easy to understand.
Lavender


With just one whiff, this herb can relax and destress you all at once. Whether it is for a bath, aromatherapy or even as a tea, Lavender is one of nature's most intoxicating and valuable herbs, great for many beneficial uses.
Pain Relief Herbs


Our lives today are extreme. We push ourselves to our furthermost limits on a daily basis and whether we realize it or not, it will catch up to us in one way or another. Pain is the number one problem faced by 75% of us today. Instead of reaching for those harsh pain killers, why not try herbs?
Prostate Health


Prostate health isn't something that should be taken lightly. It is an issue that hits close to come for all of us in one way or another. Herbs can provide the prevention and treatment in prostate issues and should be added to your loved one's daily regimine to ensure great overall health.
Quit Smoking With These Great Herbs


With every New Year comes a new resolution. Stop smoking, lose weight, etc. Herbs are a effective & natural way to kick the habit. Arm yourself with the right information, tools & products (herbs) to help you not only achieve your goals but to break through that ribbon at the end of the road.
Spring Cleansing


While you are spring cleaning your home, now is the time to Spring Cleanse your body! Take time out to do something good for your health.
Sunburn Remedies


If you have worshipped the sun a bit more than you should have, check out the herbs that can not only sooth your tender, burnt skin, but also aid in healing it too!
The Many Ways of Healing


Herbs can be incredible for healing and treatment of various complaints both physical and psychological.There are many methods of utilizing these lovely plants for great results.
The Medicinal Use of Herbs


The medicinal use of herbs is nothing new. To many, this is a new fad. The truth is that the use of herbs medicinally has been around for many thousand years.
The Psychological Use of Herbs


Herbs are used to cook, clean, deodorize, and even heal. It is not a far stretch to believe that herbs can have some psychological benefits. Many people use herbs to help with emotional problems, psychological disorders, additions, and mood swings.
Tips for Using Herbs for Healing Safely


Herbal treatments require careful thought and caution especially when you are combining the herbs with drugs or other herbs.
Top 4 Herbs For Diabetes


With an estimated 22 million people living with type 1/2 diabetes in 2012, it is growing at a staggering rate. The costs were about $245 billion in 2012, an increase of 41% since 2007. That is up over 17 million in only five years! Here are four herbs that can have a huge impact!
Editor's Picks Articles
Top Ten Articles
Previous Features
Site Map
Content copyright © 2018 by . All rights reserved.
This content was written by . If you wish to use this content in any manner, you need written permission.
Contact Bettina Thomas-Smith for details.